Jim Conklin
---
8/3/16 #8: Website upgrade ...


Invest in your website, it is an absolute must in this day and age.. The web is the very first place people go when researching their projects. A consumer looking to upgrade their kitchen isn't going to contact a local builder or architect. Your website has to sell them why they should work with you and not go to Lowe's or Home Depot.
$5k is a reasonable budget to start.
You have the opportunity to connect directly with your end user and customer via your website. Why in the world would you waste time and money kissing builders butts? I thought most cabinet guys hated working with contractors any way.
---
8/3/16 #9: Website upgrade ...


To take a step back, the choice on whether to invest in your website depends on your customer base. If it's GC's and designers, then there's little incentive to put much money into your website. If you're going after the end customer, then of course it makes sense. You haven't told us about your customer base.
But even if you do go after end clients and decide to invest in your website, you are still better off going on to Upwork or one of those sites and hiring someone to do the work you need. Why? Because in most cases, the person you find locally to do the work for $5k is going to hire someone in India to do the work anyway and pocket $3k or more to meet with you for a couple hours and act as a middleman.
---
8/4/16 #10: Website upgrade ...


Website: http://www.jhconklin.net
Pat lured me out :)
I will always argue that an informative website is an asset. B2B is a little different from B2C, but IMO an online digital capability brochure will get a lot of tire-kickers.
There's nothing there to get them to stay, or call or come back again. Or become buyers.
Are you showing authenticity? Conveying trust? Answering common questions? Telling stories about problems you have helped?
Here's a big one - giving some indications of price? Folks are hungry for price signals.
I cover a 60 mile service area. 75% of my new inbound work comes from the website. I started the year with a 90K casino job where the millwork company got pissed at his current upholstery shop and googled for other shops.
People ARE looking. In your area. Google has some tools that let you look up volumes for search terms. Constrained to your area. Do some research. Check out your competitors. And if you do something with your website, raise the bar with information and
helpfulness before sweating the design.
---
8/5/16 #11: Website upgrade ...


Jim Conklin is exactly correct. An online portfolio without a compelling story and/or useful information for your prospects will get you nowhere fast.
How much of your gross sales are you spending on advertising and marketing expenses? 5%-10% is a common figure for businesses who have a mature marketing plan and are looking to maintain existing business and grow market share. If you spend nothing or little like most woodworking shops, that is exactly what you will get in return.
My suggestion is that if you don't have the cash to start a marketing program, immediately raise your prices by 5-10% and spend the extra income on marketing and advertising.
There is loads of work in my area, as there likely is in most other areas, and fewer people to do the work. If you can actually show up for an appointment with a prospect and answer your phone or email, you will be at least 2 steps ahead of your competitors and can pretty much name your price.
Get a decent website (not one that only shows only past projects, pictures of your shop etc) that sells what you do, and has compelling information as well as calls to action. You'll leave your competitors in the dust! Then start or expand various methods to get your prospects to your website so you can sell them on buying from you alone.
Dave
---
8/6/16 #12: Website upgrade ...


Website: http://Morantzcabinets.com
I have revised my site several times over the past 12 years. Last change was about 3 years ago. The same company that redesigned the site is also doing my SEO work. Costs me 250.00/month. I get a mix of good and bad calls from highly motivated buyers to tire kickers and weed them out through phone conversations to see if they fit my criteria as a client that I can satisfy and that can be profitable for me. I also have a strong presence on Houzz.com and have 59 excellent reviews from clients, designers and fellow cabinetmakers as well as some contractors. The Houzz site is more up to date in terms of projects as I can upload the latest project in seconds with my iPad which is easier and cheaper than adding to my website. I pay Houzz 350.00/month which covers Miami dade and Broward county. Anyone think I should be adding or subtracting from this mix? I have three employees and we are doing about 450k in sales, but I would like to do more. Thanks, Harold.
---
8/7/16 #13: Website upgrade ...


The very first thing a person does when they are interested in a product or service is go to the web to see what they can learn.
If you don't believe this, test this on yourself.
Why, in this day & age, a cabinetshop owner would be resistant to learning how to set up and maintain their own website is beyond me. We all hope/expect our employees to learn and improve their skillset but somehow go into a fetal position because learning website is hard.
Same thing goes for photography. If you want to see truly stupid photography spend your time looking at the average cabinet shop website.
We all want to make the perfect dovetail drawer box but couldn't care less how the world perceives this.
The companies that are so busy they can't take on any new work are precisely the ones who need a great website most. The web is how you train your customers or explain your offering.
The companies that have time on their hands need a website so they can get more customers.
It's an arithmetic thing.
---
8/7/16 #14: Website upgrade ...


Ok Tim where did you learn how to take smart photographs?
---
8/7/16 #15: Website upgrade ...


Pat, You are right. There are no stupid photographs.
Please substitute "non-inspiring" for the word stupid.
---
8/7/16 #16: Website upgrade ...


No no no, where did you learn how to take inspiring photographs?
---
8/7/16 #17: Website upgrade ...


Pat,
The first step to becoming a better photographer is to decide that it is important. The second one is to recognize that you don't learn much by just putting a book under your pillow. You have to put your time in. You have to read, participate in forums and practice.
My first photographs look terrible to me now but gave me a platform upon which to improve. I was smart enough at least to capture all of my images in RAW format so that one day I could go back and improve on them with photo editing software. Whenever I had a problem I would post it on the DPReview platform and ask other photographers to tell me why my photo sucked. There are a lot of very helpful people on that forum. I find it is useful to start every question with the disclaimer than I am dumber than a sack of rocks. This usually brings out the helpful responses.
A good thing to recognize is that a digital camera is just another computer. When you are on the job site you want to focus on composition. It is helpful to know what you are trying to get done with the photo.
Sometimes you just want a glory shot and sometimes you need to capture a detail to explain it later to someone else.
Sometimes you want to get a great "before" picture so you can give your customer something to brag about your work with. They have no war story without some basis of comparison.
Another useful thing is to recognize is that you make every dollar you are ever going to make on the day you close the sale. Good pictures will pay for a camera faster than great cabinetmaking. A decent camera & lens is maybe $5K. I can sell five cabinets for that much money so the tradeoff seems worthwhile. I would always advocate for cameras that have low-light capability. Low light means fast shutter speeds. Fast shutter speeds mean clear shots. Shoot with a tripod when you can. Figure out where you want to stand on photo day and shoot from that perspective for the "before" photos.
After you buy your camera buy 3 or 4 videos about how to run that camera. Watch chapter 1 from one author then watch chapter 1 from the next author. By the time you watch chapter 1 the third time it will start to make sense. You will be able to predict what the 4th author has to say. These videos are chapter based and usually run about 2 hours total. You should be able to digest the information over a couple of week period. Go back three months later for a tune up and keep asking questions on the forum. (I am up to 273 questions.)
To go back to the beginning: You have to decide that good pictures are important.
This feeds into the website: If you want to be able to curate your own presentation you need to be able to produce your own presentation. Most website writers know a lot about coding a site but very little about the story that needs to be told.
One of my friend's website states that his company is "an important thread in the tapestry of local architecture". My website says " A kitchen will cost you between $14K & $30K". Which of these statements do you think resonates better with a customer?
If it is not important to your customer don't do it.
---
8/7/16 #18: Website upgrade ...


What is the name of this website?
Please p .ost some of these picture.
---
8/7/16 #19: Website upgrade ...


Website: http://www.jhconklin.net
In early 2010 amidst the 'housing' crisis outwash, I had an "Aha!" moment that brought cabmaker's sentiments home.
I was picking up a piece from my #1-perfect-profile-ideal-customer, Jean. She had just had her kitchen extended and re-worked. I asked her a simple question about her piece and she said "Oh, like this." And sat down in front of her laptop in a little nook built into her kitchen and clicked on a bookmark she had saved.
And it hit me. This is how my target market gets their info. I HAVE to be there.
Two websites, 4 CMS's, and an entirely new study for me is bearing continual fruit. I am the outside rep and the marketing/web guy.
I gave up one set of tools for another to save my company. And it is an ongoing thing - despite much of our content proving to be 'evergreen' as compared with paid advertising. Google moving into 'semantic search' and the growing importance of a wide digital presence being the latest evolution.
I take stupid inspiring photos and parse them through editing tools, write web pages and blog articles as if I'm speaking with Jean, and overcome my resistance to social media to post and bleat and engage in the bleating of others.
But we are growing.
---
8/7/16 #20: Website upgrade ...


This is a picture I would use to explain a pullout spice cabinet: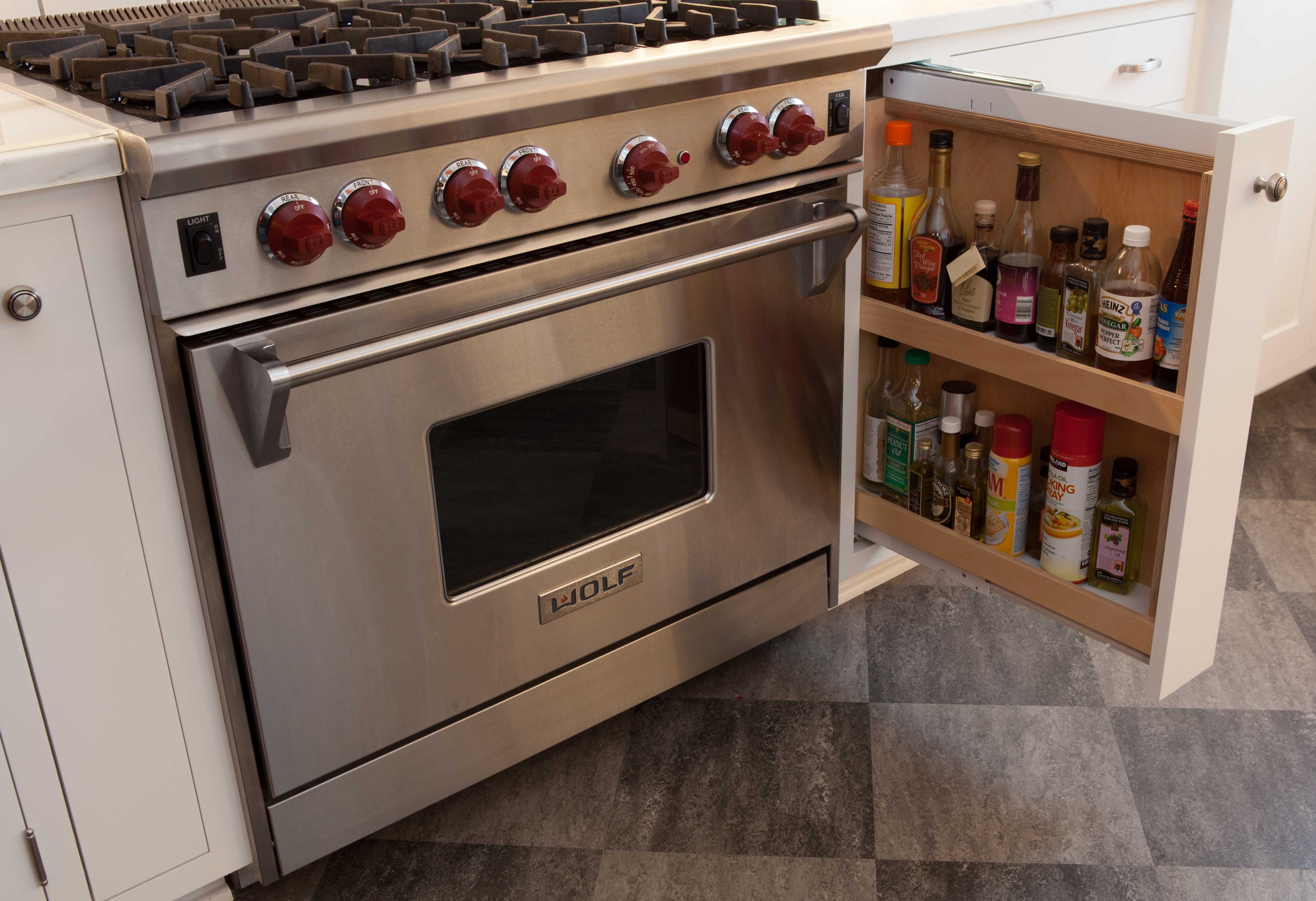 View higher quality, full size image (4943 X 3386)

---
8/7/16 #21: Website upgrade ...


Here is a pic I would use to solicit an emotional response from a customer. This was one of my early ones.
As you can see:
The hallway needs some light.
The iconic morris chair brings your eye through the shot and makes you want to live in a house like this. The framework of the chair is too dark and reading lamp too bright.
With better photoshop skills (and time) I would mask & fix the light and brighten the chair. The shot would be improved considerably by cropping the hallway out altogether and maybe moving the chair that is in the dining room out of the shot.
You can see a reflection of umbrella light in the glass doors. That's a real bozo moment on my part.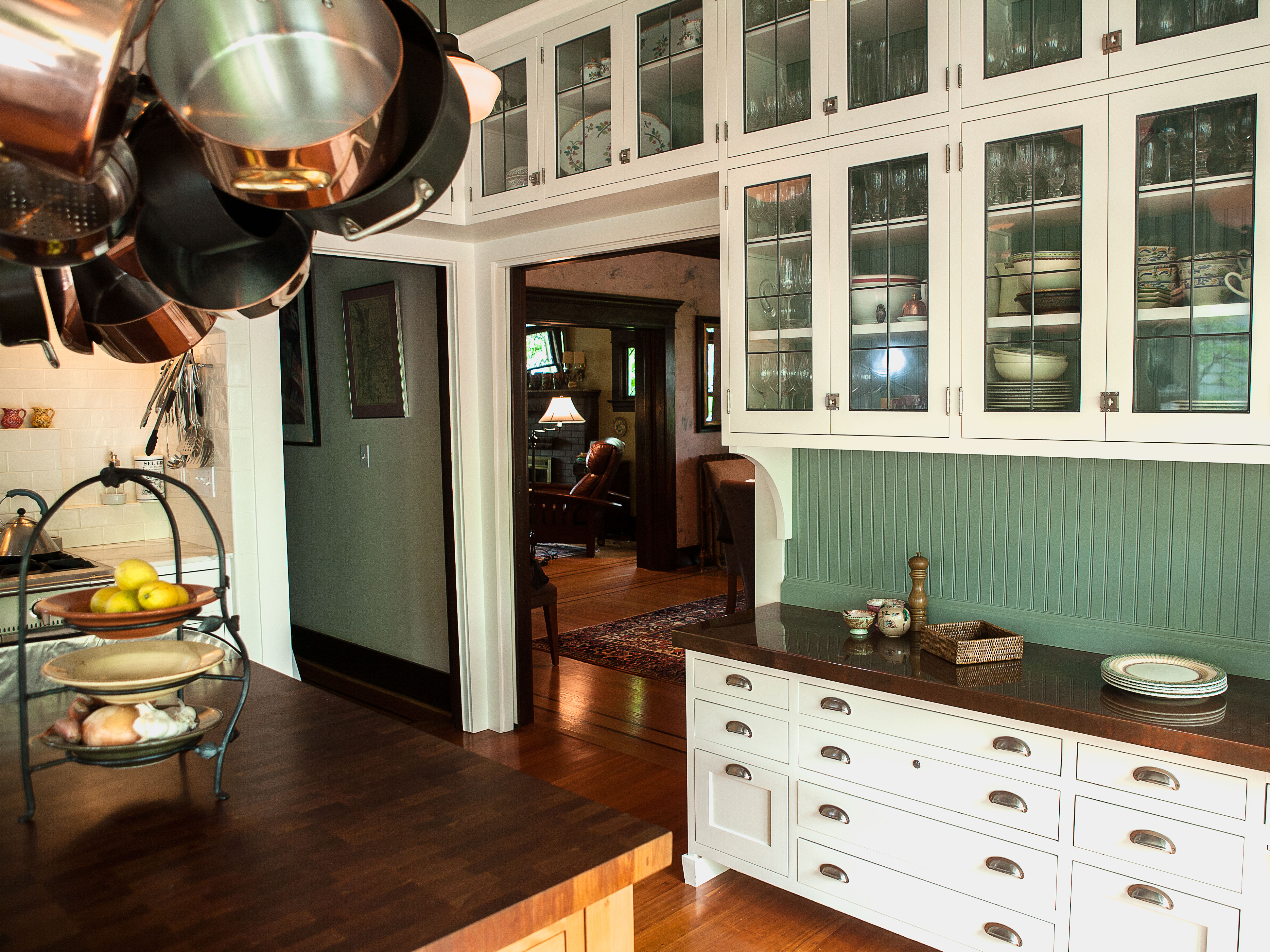 View higher quality, full size image (3883 X 2912)

---
8/7/16 #22: Website upgrade ...


Here is that same shot slightly improved.
The umbrella light in the window still sucks but the pots & pans no longer distract from the story.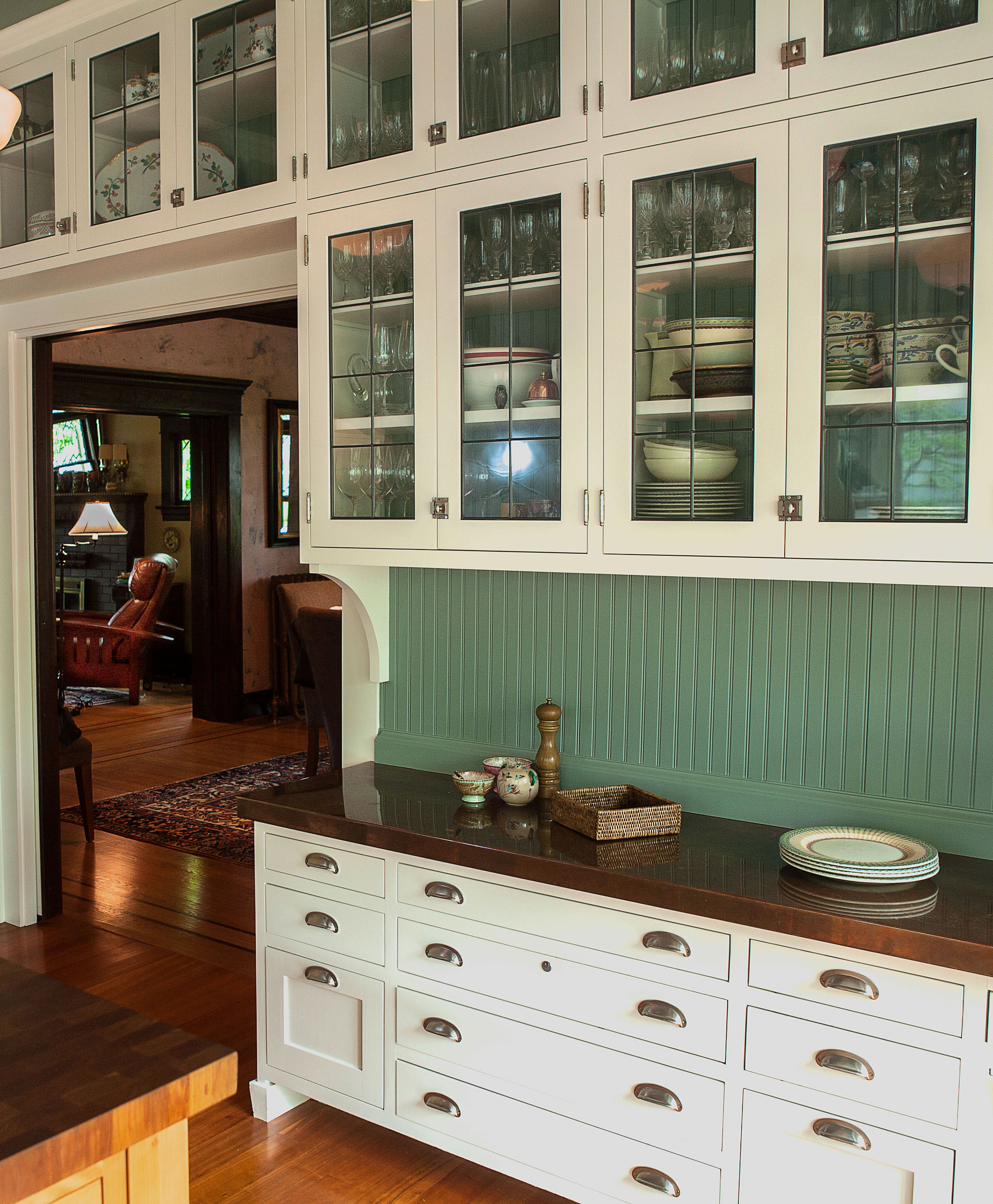 View higher quality, full size image (2402 X 2912)

---
8/7/16 #23: Website upgrade ...


Imagine what that would have cost me and how long it would have taken to happen if I had to hire the photo processing work done?
A professional photog would probably have not crashed the umbrella light but he wouldn't know dick about the story I want to tell. His photo would be great technically but he would not necessarily remember to even close the drawers before taking the pic.
Picture day gives you a chance to bond with the customer one more time after the pain of the remodel has gone away. Standing in the same room gives you a chance to pet the project and ask for a referral.
---
8/7/16 #24: Website upgrade ...


Website: http://www.jhconklin.net
The emotional response thing.
I wanted a banner image for an informational article about fabric protective treatment.
One photo is the 'media kit' image.
The other is mine with an shorter exposure tweak and a slight contrast boost.


View higher quality, full size image (1799 X 350)



View higher quality, full size image (1200 X 449)

---
8/7/16 #25: Website upgrade ...


I do mostly commercial work and a little resi through designers. I'm curious how cabinet makers market directly to end clients like this. In my experience, all the big residential jobs worth doing are going to go through a designer before they get to me. What I have found when I advertised residential on my website was a whole lot of inquiries for really small jobs that I didn't want. Are you then marketing yourself primarily as a designer?
---
8/8/16 #26: Website upgrade ...


What is the address of the websites you mention?
---
8/8/16 #27: Website upgrade ...


I was reading this article and remembered some stuff about marketing.
One obvious thing that is not so obvious is people buy from people they like. You have to be amiable which for some us is not easy.
Another one that I learned at great expense was that PR comes before marketing. This is why networking is so effective. PR sounds ambiguous, it is just finding out about your customer and communicating with them in a way that creates good will.
I have no doubt that good photos help with advertising but in pales in importance to this.
At the end of the article, that none of you will read, he says:
How would you market yourself if the Internet didn't exist? Answer that, and it'll help your online marketing too.
Avert your eyes from this article
---
8/8/16 #28: Website upgrade ...


OTOH
This is some good advertising.
Good Advertising
---
8/11/16 #29: Website upgrade ...


Since you are not intimidated by creating your own website my suggestion is that you refresh you website with a newer paid template website that has a higher end 2016 feel to it, it should be less than $200 for the template. Create a free Pinterest account and post 20 of your best photos, create free Instagram account and post 10 of your best photos and post a new photo every week. Create a free MailChimp account and add all your clients emails and send an email quarterly with a consistent marketing message, keep it clean, concise, with a beautiful image. Create a business Facebook page place ten of your best photos on it and add a new one each week. Spend some time getting familiar with Facebook targeted ads, it is probably the least expensive most effect advertising. You can target Builders, Architects, Designers, Zip Codes, the Red Hat Ladies or whatever, you can be as broad or specific as you like. Before you spend $5000 dollars try some of the free and inexpensive things first.
---
8/11/16 #30: Website upgrade ...


I agree with what Robert said.
In addition. I would suggest that you create or claim your business listings on Google My Business and Bing Places for Business.
Fill out the profiles as fully as you can, making sure your NAP (name, address, phone) info is exactly the same as everywhere else. Fill in hours, upload photos, define service areas, etc. You'll have to go through a phone-code verification process. Do it.
An on-going thing is to claim your business listings and flesh out the free profiles on the many directory listings that pop up: MerchantCircle, YP.com, Foursquare, Yelp(!!).
Google yourself and see where you are listed, go there, claim the listing and fill out the info. Many have a basic free profile with NAP, website URL and hours.
---

---
Buy & Sell Exchanges | Forums | Galleries | Other Resources | Site Map
---

Buy and Sell Exchanges

Job Opportunities and Services Exchange
Employment opportunities and services within the woodworking industry

Lumber Exchange
A worldwide buy/sell exchange for lumber and wood products

Machinery Exchange
A worldwide buyer and seller exchange for woodworking machinery and equipment.

Classified Ad Exchange
Classified advertising for the woodworking industry (for advertisements that do not include machinery, lumber products and employment listings)


---

Forums

Adhesives Forum
Discussing topics related to adhesives within the woodworking industry

Architectural Woodworking Forum
Discussing quality standards and production of architectural wood products

Business and Management Forum
A forum for the discussion of business topics: from sales and marketing to dealing with difficult customers.

Cabinet and Millwork Installation Forum
Discussing all aspects of installation issues encountered by cabinet and millwork installers.

Cabinetmaking Forum
Discussing 32mm and face frame cabinet construction including fabrication, casegoods design, and installation.

CAD Forum
Shedding light on the all-too-often shadowy world of CAD.

CNC Forum
Discussing CNC (computer numerically controlled) woodworking equipment, software, and automated product manufacturing.

Dust Collection, Safety and Plant Operation Forum
Discussing topics related to maintaining a safe and productive working environment.

Professional Finishing Forum
Finishing issues for the production environment

Forestry Forum
The science and art of forest cultivation and timber management, planting, surveying, tree diseases, silviculture and timber harvesting

Professional Furniture Making Forum
Helping professional furniture makers improve quality, save time, and increase profits

Laminating and Solid Surfacing Forum
Issues related to laminating and solid surface materials and processes

Commercial Kiln Drying Forum
Discussions covering issues faced be commercial drying operations that process at least 750,000 bd. ft. of lumber per year

Sawing and Drying Forum
Discussing topics related to primary processing and drying of lumber

Solid Wood Machining Forum
Discussing topics related to the machining of solid wood

Value Added Wood Products Forum
Learn how to improve your output, find new markets, and boost sales of your lumber products

Veneer Forum
Discussing topics related to veneer processing, manufacturing, and fabrication

WOODnetWORK
An electronic discussion group for woodworkers throughout the world


---

Galleries

Project Gallery
Where professional woodworkers can post examples of their work

Sawmill Gallery
Professional primary processing companies display and describe their sawmill facilities

Shop Gallery
Professional woodworkers display and describe their shop facilities, products and equipment

Shopbuilt Equipment Gallery
Professional woodworker's jigs, rigs, and shopbuilt equipment


---

Other Resources

Industry News
Late-breaking news from all sectors of the wood industry

Video Library
Index of industrial woodworking related digital videos on the web

Auctions, Sales and Special Offers
Advertisers offering woodworkers discounted prices on good and services, and announcements of upcoming auctions

FORUM GUIDELINES: Please review the guidelines below before posting at WOODWEB's Interactive Message Boards (return to top)


WOODWEB is a professional industrial woodworking site. Hobbyist and homeowner woodworking questions are inappropriate.
Messages should be kept reasonably short and on topic, relating to the focus of the forum. Responses should relate to the original question.
A valid email return address must be included with each message.
Advertising is inappropriate. The only exceptions are the Classified Ads Exchange, Machinery Exchange, Lumber Exchange, and Job Opportunities and Services Exchange. When posting listings in these areas, review the posting instructions carefully.
Subject lines may be edited for length and clarity.
"Cross posting" is not permitted. Choose the best forum for your question, and post your question at one forum only.
Messages requesting private responses will be removed - Forums are designed to provide information and assistance for all of our visitors. Private response requests are appropriate at WOODWEB's Exchanges and Job Opportunities and Services.
Messages that accuse businesses or individuals of alleged negative actions or behavior are inappropriate since WOODWEB is unable to verify or substantiate the claims.
Posts with the intent of soliciting answers to surveys are not appropriate. Contact WOODWEB for more information on initiating a survey.
Excessive forum participation by an individual upsets the balance of a healthy forum atmosphere. Individuals who excessively post responses containing marginal content will be considered repeat forum abusers.
Responses that initiate or support inappropriate and off-topic discussion of general politics detract from the professional woodworking focus of WOODWEB, and will be removed.
Participants are encouraged to use their real name when posting. Intentionally using another persons name is prohibited, and posts of this nature will be removed at WOODWEB's discretion.
Comments, questions, or criticisms regarding Forum policies should be directed to WOODWEB's Systems Administrator
(return to top).

Carefully review your message before clicking on the "Send Message" button - you will not be able to revise the message once it has been sent.

You will be notified of responses to the message(s) you posted via email. Be sure to enter your email address correctly.

WOODWEB's forums are a highly regarded resource for professional woodworkers. Messages and responses that are crafted in a professional and civil manner strengthen this resource. Messages that do not reflect a professional tone reduce the value of our forums.

Messages are inappropriate when their content: is deemed libelous in nature or is based on rumor, fails to meet basic standards of decorum, contains blatant advertising or inappropriate emphasis on self promotion (return to top).

Libel: Posts which defame an individual or organization, or employ a tone which can be viewed as malicious in nature. Words, pictures, or cartoons which expose a person or organization to public hatred, shame, disgrace, or ridicule, or induce an ill opinion of a person or organization, are libelous.

Improper Decorum: Posts which are profane, inciting, disrespectful or uncivil in tone, or maliciously worded. This also includes the venting of unsubstantiated opinions. Such messages do little to illuminate a given topic, and often have the opposite effect. Constructive criticism is acceptable (return to top).

Advertising: The purpose of WOODWEB Forums is to provide answers, not an advertising venue. Companies participating in a Forum discussion should provide specific answers to posted questions. WOODWEB suggests that businesses include an appropriately crafted signature in order to identify their company. A well meaning post that seems to be on-topic but contains a product reference may do your business more harm than good in the Forum environment. Forum users may perceive your references to specific products as unsolicited advertising (spam) and consciously avoid your web site or services. A well-crafted signature is an appropriate way to advertise your services that will not offend potential customers. Signatures should be limited to 4-6 lines, and may contain information that identifies the type of business you're in, your URL and email address (return to top).

Repeated Forum Abuse: Forum participants who repeatedly fail to follow WOODWEB's Forum Guidelines may encounter difficulty when attempting to post messages.

There are often situations when the original message asks for opinions: "What is the best widget for my type of shop?". To a certain extent, the person posting the message is responsible for including specific questions within the message. An open ended question (like the one above) invites responses that may read as sales pitches. WOODWEB suggests that companies responding to such a question provide detailed and substantive replies rather than responses that read as a one-sided product promotion. It has been WOODWEB's experience that substantive responses are held in higher regard by our readers (return to top).

The staff of WOODWEB assume no responsibility for the accuracy, content, or outcome of any posting transmitted at WOODWEB's Message Boards. Participants should undertake the use of machinery, materials and methods discussed at WOODWEB's Message Boards after considerate evaluation, and at their own risk. WOODWEB reserves the right to delete any messages it deems inappropriate. (return to top)



Forum Posting Form Guidelines

Your Name
The name you enter in this field will be the name that appears with your post or response (return to form).
Your Website
Personal or business website links must point to the author's website. Inappropriate links will be removed without notice, and at WOODWEB's sole discretion. WOODWEB reserves the right to delete any messages with links it deems inappropriate. (return to form)
E-Mail Address
Your e-mail address will not be publicly viewable. Forum participants will be able to contact you using a contact link (included with your post) that is substituted for your actual address. You must include a valid email address in this field. (return to form)
Subject
Subject may be edited for length and clarity. Subject lines should provide an indication of the content of your post. (return to form)
Thread Related Link and Image Guidelines
Thread Related Links posted at WOODWEB's Forums and Exchanges should point to locations that provide supporting information for the topic being discussed in the current message thread. The purpose of WOODWEB Forums is to provide answers, not to serve as an advertising venue. A Thread Related Link that directs visitors to an area with inappropriate content will be removed. WOODWEB reserves the right to delete any messages with links or images it deems inappropriate. (return to form)
Thread Related File Uploads
Thread Related Files posted at WOODWEB's Forums and Exchanges should provide supporting information for the topic being discussed in the current message thread. Video Files: acceptable video formats are: .MOV .AVI .WMV .MPEG .MPG .MP4 (Image Upload Tips) If you encounter any difficulty when uploading video files, E-mail WOODWEB for assistance. The purpose of WOODWEB Forums is to provide answers, not to serve as an advertising venue. A Thread Related File that contains inappropriate content will be removed, and uploaded files that are not directly related to the message thread will be removed. WOODWEB reserves the right to delete any messages with links, files, or images it deems inappropriate. (return to form)