You are not logged in. Consider these WOODWEB Member advantages:

A personal "member history" that displays your posts at WOODWEB
Your forms at WOODWEB will be filled in automatically
Create your personal "My Favorites" page
Numerous automatic notification options
Just put them on sanding...
7/26

Bit of a rant. I get a kick out of it every time someone local or someone I know comes in the shop asking to put their kid, nephew, neighbor, niece, whatever on the payroll and they say "just put them on some mindless task like sanding". I immediately have a flash back to the dozens of people Ive taken on for shop clean up and I watch them wondering if they have ever in their lives run a broom?
When I tell them I even struggle with my "trained" staff with regards to sanding and that its the farthest thing from "mindless" that I can think of, they just look at me like Im some anal retentive fussy nut.
As of late Im finding it funny that hiring people who will do a good job at sanding, and cleaning, is about as difficult. Breaking down boards, feeding material through the planer/sander, cutting parts to length, all seem to be pretty easy finds. But finding someone who REALLY cleans, runs a broom and vac' with proficiency, is willing to get down in the nooks and crannies,.. THATS a tough find. As is finding someone who will sand on a batch of hard maple doors and go through all the grits never falling into a mindless daze (skipping over areas because they just want to be done).
At the moment Im feeling like these two positions, which are usually defaulted to the "flunkies" should actually be much more highly compensated.
We just lost a girl that would clean til' the cows came home. Shop was never cleaner. She lost her daycare. We are running a batch of hard maple doors and Im having to break balls over under-sanding.
Long day
---
7/26 #2: Just put them on sanding... ...

All hand machine sanding (orbital) or do you have a widebelt?
---
7/26 #3: Just put them on sanding... ...

I think you had a good point when you said you had a girl that was good at that type of work. I now work with my wife who is type A. Best sander I have ever seen. She also likes a nice tidy work station. I think women bring a great dynamic to the wood shop.
---
7/26 #4: Just put them on sanding... ...

Website: http://closetdr.com
Sweeping drives me nuts. I can spend 20 m8nutes with a guy showing him how and where to sweep. Start in the corners and work to the middle, dont sweep an area thats clean. You come back the next day and they are going around in circles in the middle of the shop floor thats already clean!
I run into the parent every now and then at church who think your a miracle worker and can miraculously turn there lazy video game champion into something of a man. My response is, you had them for 17 1/2 years and couldn't do it what makes you think I can hav3 success with him
---
7/27 #5: Just put them on sanding... ...

A good strategy is to offer a job that runs during school hours. You get stay at home moms, thrilled to have a job that caters to their hours and on average tend to be better sanders. There is some baggage with it but it increases your capacity and delivers an employee that is happy to be able to have a job.
---
7/27 #6: Just put them on sanding... ...

Mark B - Good rant. I know, I have been there. The way the volunteer/unwanted employment agent states the simplistic nature of the work shows the low level of respect and understanding they have for our chosen profession. 'Video game champ' - love it.
Two things:
Do you have room for daycare? Don't think it impossible, I have almost set it up, but could not get a firm commitment.
Also, watch the terms. You may do better in future hiring if you do not refer to a young woman a "girl". It is fine if you collectively call the males "boys", but to single out one and call him a boy can be demanding. Same with girl.
I know you don't need me kicking your shins after your long day, but you can think about it when you are not so beat up.
---
7/27 #7: Just put them on sanding... ...

Packaged response,
Leo, Yes, this is all just finish/detail sanding after its gone through the sander. Crossgrain scratches, profiles, and so on. When I say all the grits I just meant 120 and 150 but when there is a pile of work you almost always see the "zombie mode" kick in where its just mindlessly run the sander up and down the board for x minutes and done. No visual, no feel, no looking all the time to catch that little flaw in your peripheral vision or the flaw you missed on the last board you put in the finished stack.
I also agree fully that hiring women can be very advantageous. We have had several "young women" in the shop and its usually great. No bravado, no machismo, usually a genuine interest in learning and doing well. Hard finds around here in rural America where many have kids in their teens.
And Kilgore, with this last one I actually got to wondering about daycare some form of it. The hard thing would be having enough staff involved to make it profitable. Im no where near that point yet but I'd bet they'd be beating the doors down if it were an option.
I like the idea of flexible school time hours and will definitely keep that in the plan.
Funny one about the sweeping the perimeter and into the center. I have a friends son working for a bit on summer break from college. The other day I watched him sweep several areas of the shop into piles. We have brooms and shovels everywhere and rolling barrels. Once he got the piles he proceeded to go get the shop vac with a large crevice tool (like to vac your automobile) and was going to proceed with vac'ing up the piles. I literally almost lost it.
---
7/27 #8: Just put them on sanding... ...

I start on one side of the room and end up sweeping into a corner. Then I can use the shovel or the dust pan to pick it up.
But then again, I only sweep once a week.
Cleaning doesn't make me money, unless I've been extremely busy and the place is full of goat paths.
---
7/27 #9: Just put them on sanding... ...

Im with you there Leo, When Im solo in the shop it gets out of hand real fast. Im not anal about it in any way but I really like it when the shop is clean. Its worth a 30 hour a week payroll to me to have someone to clean up and put stuff away. When they are gone (like losing this last young woman), their value is really apparent.
---
7/27 #10: Just put them on sanding... ...

I work alone and I despise cleaning the shop. I feel it is a waste of my time when I could be building cabinets instead. I use a student at our high school that is participating in several sports and does not have time to have a regular job after school.These are usually very dependable people. I allow them to clean the shop anytime on the weekend after lunch on Saturday. ( I work most Saturday mornings) Sometimes they will clean it at night. I pay a set amount ($30) every week. Most weeks it takes about 1 hour and sometimes 3 hours. Averages about 1 1/2 hours. This helps these good kids to make a little money and keeps me from having to do it.
---
7/29 #11: Just put them on sanding... ...

It's interesting how many people think that the last step in the prep process before finishing can or should be done by an unskilled person. It took me a long time to appreciate what it takes to achieve a consistent smooth flat or fair surface. It's not hard at all to screw up a nice piece of work with poor sanding technique.
The other day in a local custom shop I saw a just completed painted curved garden bench, nearly flawless but for the fact that the experienced woodworker had oversanded the flatsawn Accoya with a DA, resulting in a washboarded surface under the paint. I am sure the wood came out of the widebelt flat and could have remained so had a little finesse been used in finish sanding.
---
7/29 #12: Just put them on sanding... ...

Thats exactly my point Kevin. We do 95% stain and clear and when someone flubs the sanding its a nightmare if its caught when the stain hits and a disaster if it doesnt rear its head til its in the booth. If its an non-super custom part, at that point it just goes in the trash and gets re-made because cutting the finish and stain back is a waste of time.
Recently had one I hadnt had before. Work goes to stain and it looks like a racoon walked all over the work. Finger prints from one end to the other. Turns out one of the guys sanding was applying lip balm (type from a tube) incessantly smearing it on his lips with his finger(s). I never saw the lip balm but Im honestly not sure I would have caught it in the moment.
Seems every new trainee in the sanding deals with something. Mainly in my world its the zombie mode. Young kid, bored to tears, looking at the walls, the ceiling, staring off into space, swaying back and forth like the middle schooler at their first high school dance with a girl/guy, mindlessly sweeping the sander across the work looking at anything and everything other than the workpiece. The constantly ask if we can play music in the shop and Im always of the mindset that you cant focus on your work when its all you have to focus on, much less when your favorite song pops on the box. But Im sure there is an argument for better work when someone is happy to hear music.
---
7/29 #13: Just put them on sanding... ...

You may already be doing this, but good inspection lighting raking flat across the work can help identify sanding problems prior to stain/ finish. I have a cheap setup made up of led floodlights in clamp-on reflector housings mounted on a height adjustable stand. Carter makes some more professional setups. I don't know if you could have caught the fingerprints, but it can help spot dents, holidays, swirls, etc.
The key is someone has to be paying attention- maybe the inspector should be the finisher as he is the last guy in the chain and doesn't want to waste his time buffing turds. I know at my last gig nobody wanted the finisher to pay them a visit saying "You got a minute? I want to show you something."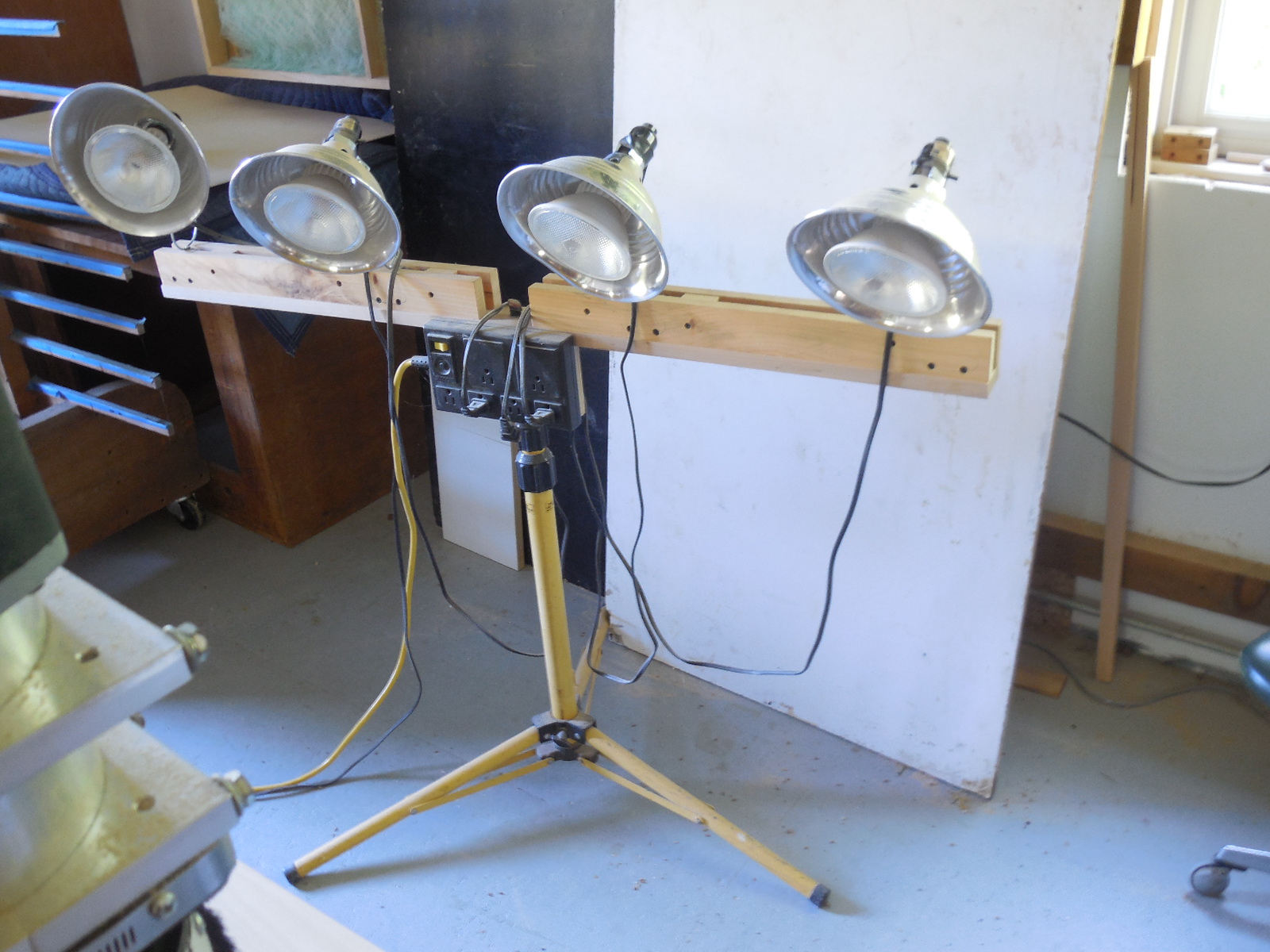 View higher quality, full size image (1600 X 1200)

---
7/29 #14: Just put them on sanding... ...

With sanding, you either have it or you dont...you either get it or not. Over the years i have seen very few guys who can sand properly, consistently AND efficiently.
---
7/30 #15: Just put them on sanding... ...

Kevin has a great idea about raking light across the surface. This is a trick that fashion photographers use if they want to make very smooth skin look like Ernest Hemingway.
If they want to make the model's skin perfectly smooth they set up a pillow of soft light right outside the image frame. The overhead lighting in your shop is like this pillow of soft light. The angles of illumination are so diffuse they come from every direction. This volume of light fills in every crevice so there are no shadows to show contrast.
Something I have meant to do was experiment with LED floodlights. They throw out a tremendous volume of light yet use very little electricity. More importantly they don't generate heat which would make them more comfortable to stand in front of (think about standing in front of halogen work light vs automobile headlight).
The things to evaluate with floodlights would be the actual cone of the light and the color temperature. You don't want too much color cast in the light. A bulb rated as matching day light (6000K) would probably work best.
The cone of light would be a function of how far the light is away from where you are standing with the sander in your hand. You probably want some kind of overlap but I am not sure about too much overlap would hurt. The goal is to get even lighting across the surface to be sanded.
Something called "barn doors" are used in commercial photography to focus light where you want it. It could be that some reflective surface like this would help even the light out and keep it where you want it.
Another thing to consider might be orientation of the product when it is being sanded. It could be that you're better off having the product angled like on a faceframe easel. The lights in this case would come from the top down.
When you can't see the scratches you have to carpet bomb them with sandpaper. Seems like some illumination would be much easier.
---
7/31 #16: Just put them on sanding... ...

One of the best sanders I've ever had was a man in his 40s that had a masters degree and a PHD. The only thing in the shop he could do well was sanding. You can't get a good finish if the sanding isn't.
---
7/31 #17: Just put them on sanding... ...

Great ideas. We have good lighting and raking light for the sanding. We also raise the grain with a damp rag often which shows a lot. But even with raking light and raising the grain with water on woods like Hard Maple the field is so white and even colored sanding scratches, either from sander, or moving through grits, can be hard to see.
For me personally, I seem to be able to sand twice as fast and four or five times as good as any of my guys and thats always using the sander they frequently try to avoid using.
Honestly, to me, it just about giving a sh(t. You have to be engaged in the process, period. No matter how boring, how monotonous, or how miserable, you still have to do your job and give a sh(t.
I can often times get through a project much faster and with fewer grits, but I, looking, feeling, listening, to the the sander at all times. My focus doesnt waiver. My peripheral vision is seeing cross grain scratches, hard/knots, that need more attention, and I am never rocking/edging the sander to focus on a given spot very much. I take the entire area down to keep it flat.
Getting guys to do all of that can be tough. They realize they are missing trouble areas and the next thing you know they are seeing a defect, and focusing on it, and either cutting it more deeply than the surrounding area (no feathering) or focusing so much on the defect that they miss things in the surrounding area. It just goes on an on.
Of course having 150k worth of 3-4 head orbitals, rotary sanders, etc. would make it all easier but we are not there.
Been a good conversation. Lots learned.
---
7/31 #18: Just put them on sanding... ...

I'll add a few things to this.
Attitude is very important. You get somebody with the right attitude you can train them to do anything. The wrong attitude it doesn't matter what you train them, they are what they are. Its not easy but you have to find the best employee's and that is a hard job.
Have a standard. This is in 2 second lean where they talk about having a standard. If you don't have it written out, preferably with pictures, then its left open to interpretation. I went to Japan on a lean tour and they talked about having a standard for everything and I was like ok I get it. Then we went to do some training that involved a stop watch and they pulled out a standard sheet on how to use a stop watch. OK NOW I GET IT. What seems simple and common sense some, could be complex and foreign to someone else. With a Standard, everyone is on the same page.
Once you set the standard, it can't just hang on the wall. This is has been hard for me to grasp because I assume that I showed them once, that they will always do it that way. Pull it down and train them on this is what we are looking for and this is how we get it. The beauty of the Standard is that it becomes the manager. Now when someone isn't doing something correct, we bring out the standard and review it. We clarify if they have been trained properly on how to complete the task (if they haven't great we can fix that with some training) they normally say yes I got it. I then point out that they are deviating from the standard and ask why. I also explain to them that if they continue to deviate from the standard, it will effect there longevity at the company. The nice thing about this is I'm not the bad guy and I'm not attacking them personally, which I was good at in the past. I also don't feel bad about it.
Training is important to do regularly.
If you have a sander that gets better results than other sanders, take away the ones that don't do a good job and leave them with the one you want used.
---
8/1 #19: Just put them on sanding... ...

We have all been down this road with trying to teach people how to sand. Unfortunately, it takes everyone including ourselves a long time to understand what shows and what doesn't. It's a necessary evil.
It may be worth your time to make a couple of sample boards. Take a couple of pieces of maple ply. Maybe 6" x 24". Layout the typical bad sanding mistakes in 6" x 6" squares. Cross grain scratches from the wide belt, pinholes(made with an awl), scratches, sanding only with 150 grit paper, and the rest. Write at the bottom with a marker. Mask over the writing. Do one stain grade the other white paint. Leave one of the squares perfect. It will show them what is expected and what to not do.
These boards should be shown to the new person on their first day sanding. Make it very clear that he/she is responsible for making the final product look good or bad. Show them how to use the sanders, sand paper sponges, everything. Don't wait until after they do a poor job.
Make it abundantly clear that missing one spot on a door or panel requires it to be redone. They can permanently damage the wood by excessively rounding over corners.
Write down the prep steps on the wall. Whatever schedule you use(grits, putty, etc). There are no questions about what to do next.
---
8/19 #20: Just put them on sanding... ...

For someone to become a good Sander you must know how the sander works then you have to sand a lot and I mean years not a month . Next you have to care about what you are doing ,it's not just a job. I think people think sanding is like playing right field put the person there that's not as good . I really think it comes down to caring about what you do and that's hard to find today.
---

---
Buy & Sell Exchanges | Forums | Galleries | Other Resources | Site Map
---



Buy and Sell Exchanges



Job Opportunities and Services Exchange
Employment opportunities and services within the woodworking industry

Lumber Exchange
A worldwide buy/sell exchange for lumber and wood products

Machinery Exchange
A worldwide buyer and seller exchange for woodworking machinery and equipment.

Classified Ad Exchange
Classified advertising for the woodworking industry (for advertisements that do not include machinery, lumber products and employment listings)


---



Forums



Adhesives Forum
Discussing topics related to adhesives within the woodworking industry

Architectural Woodworking Forum
Discussing quality standards and production of architectural wood products

Business and Management Forum
A forum for the discussion of business topics: from sales and marketing to dealing with difficult customers.

Cabinet and Millwork Installation Forum
Discussing all aspects of installation issues encountered by cabinet and millwork installers.

Cabinetmaking Forum
Discussing 32mm and face frame cabinet construction including fabrication, casegoods design, and installation.

CAD Forum
Shedding light on the all-too-often shadowy world of CAD.

CNC Forum
Discussing CNC (computer numerically controlled) woodworking equipment, software, and automated product manufacturing.

Dust Collection, Safety and Plant Operation Forum
Discussing topics related to maintaining a safe and productive working environment.

Professional Finishing Forum
Finishing issues for the production environment

Forestry Forum
The science and art of forest cultivation and timber management, planting, surveying, tree diseases, silviculture and timber harvesting

Professional Furniture Making Forum
Helping professional furniture makers improve quality, save time, and increase profits

Laminating and Solid Surfacing Forum
Issues related to laminating and solid surface materials and processes

Commercial Kiln Drying Forum
Discussions covering issues faced be commercial drying operations that process at least 750,000 bd. ft. of lumber per year

Sawing and Drying Forum
Discussing topics related to primary processing and drying of lumber

Solid Wood Machining Forum
Discussing topics related to the machining of solid wood

Value Added Wood Products Forum
Learn how to improve your output, find new markets, and boost sales of your lumber products

Veneer Forum
Discussing topics related to veneer processing, manufacturing, and fabrication

WOODnetWORK
An electronic discussion group for woodworkers throughout the world


---



Galleries



Project Gallery
Where professional woodworkers can post examples of their work

Sawmill Gallery
Professional primary processing companies display and describe their sawmill facilities

Shop Gallery
Professional woodworkers display and describe their shop facilities, products and equipment

Shopbuilt Equipment Gallery
Professional woodworker's jigs, rigs, and shopbuilt equipment


---



Other Resources



Industry News
Late-breaking news from all sectors of the wood industry

Video Library
Index of industrial woodworking related digital videos on the web

Auctions, Sales and Special Offers
Advertisers offering woodworkers discounted prices on good and services, and announcements of upcoming auctions


FORUM GUIDELINES: Please review the guidelines below before posting at WOODWEB's Interactive Message Boards
(return to top)
WOODWEB is a professional industrial woodworking site. Hobbyist and homeowner woodworking questions are inappropriate.
Messages should be kept reasonably short and on topic, relating to the focus of the forum. Responses should relate to the original question.
A valid email return address must be included with each message.
Advertising is inappropriate. The only exceptions are the Classified Ads Exchange, Machinery Exchange, Lumber Exchange, and Job Opportunities and Services Exchange. When posting listings in these areas, review the posting instructions carefully.
Subject lines may be edited for length and clarity.
"Cross posting" is not permitted. Choose the best forum for your question, and post your question at one forum only.
Messages requesting private responses will be removed - Forums are designed to provide information and assistance for all of our visitors. Private response requests are appropriate at WOODWEB's Exchanges and Job Opportunities and Services.
Messages that accuse businesses or individuals of alleged negative actions or behavior are inappropriate since WOODWEB is unable to verify or substantiate the claims.
Posts with the intent of soliciting answers to surveys are not appropriate. Contact WOODWEB for more information on initiating a survey.
Excessive forum participation by an individual upsets the balance of a healthy forum atmosphere. Individuals who excessively post responses containing marginal content will be considered repeat forum abusers.
Responses that initiate or support inappropriate and off-topic discussion of general politics detract from the professional woodworking focus of WOODWEB, and will be removed.
Participants are encouraged to use their real name when posting. Intentionally using another persons name is prohibited, and posts of this nature will be removed at WOODWEB's discretion.
Comments, questions, or criticisms regarding Forum policies should be directed to WOODWEB's Systems Administrator
(return to top).

Carefully review your message before clicking on the "Send Message" button - you will not be able to revise the message once it has been sent.

You will be notified of responses to the message(s) you posted via email. Be sure to enter your email address correctly.

WOODWEB's forums are a highly regarded resource for professional woodworkers. Messages and responses that are crafted in a professional and civil manner strengthen this resource. Messages that do not reflect a professional tone reduce the value of our forums.

Messages are inappropriate when their content: is deemed libelous in nature or is based on rumor, fails to meet basic standards of decorum, contains blatant advertising or inappropriate emphasis on self promotion (return to top).

Libel: Posts which defame an individual or organization, or employ a tone which can be viewed as malicious in nature. Words, pictures, or cartoons which expose a person or organization to public hatred, shame, disgrace, or ridicule, or induce an ill opinion of a person or organization, are libelous.

Improper Decorum: Posts which are profane, inciting, disrespectful or uncivil in tone, or maliciously worded. This also includes the venting of unsubstantiated opinions. Such messages do little to illuminate a given topic, and often have the opposite effect. Constructive criticism is acceptable (return to top).

Advertising: The purpose of WOODWEB Forums is to provide answers, not an advertising venue. Companies participating in a Forum discussion should provide specific answers to posted questions. WOODWEB suggests that businesses include an appropriately crafted signature in order to identify their company. A well meaning post that seems to be on-topic but contains a product reference may do your business more harm than good in the Forum environment. Forum users may perceive your references to specific products as unsolicited advertising (spam) and consciously avoid your web site or services. A well-crafted signature is an appropriate way to advertise your services that will not offend potential customers. Signatures should be limited to 4-6 lines, and may contain information that identifies the type of business you're in, your URL and email address (return to top).

Repeated Forum Abuse: Forum participants who repeatedly fail to follow WOODWEB's Forum Guidelines may encounter difficulty when attempting to post messages.

There are often situations when the original message asks for opinions: "What is the best widget for my type of shop?". To a certain extent, the person posting the message is responsible for including specific questions within the message. An open ended question (like the one above) invites responses that may read as sales pitches. WOODWEB suggests that companies responding to such a question provide detailed and substantive replies rather than responses that read as a one-sided product promotion. It has been WOODWEB's experience that substantive responses are held in higher regard by our readers (return to top).

The staff of WOODWEB assume no responsibility for the accuracy, content, or outcome of any posting transmitted at WOODWEB's Message Boards. Participants should undertake the use of machinery, materials and methods discussed at WOODWEB's Message Boards after considerate evaluation, and at their own risk. WOODWEB reserves the right to delete any messages it deems inappropriate. (return to top)



Forum Posting Form Guidelines

Your Name
The name you enter in this field will be the name that appears with your post or response (return to form).
Your Website
Personal or business website links must point to the author's website. Inappropriate links will be removed without notice, and at WOODWEB's sole discretion. WOODWEB reserves the right to delete any messages with links it deems inappropriate. (return to form)
E-Mail Address
Your e-mail address will not be publicly viewable. Forum participants will be able to contact you using a contact link (included with your post) that is substituted for your actual address. You must include a valid email address in this field. (return to form)
Subject
Subject may be edited for length and clarity. Subject lines should provide an indication of the content of your post. (return to form)
Thread Related Link and Image Guidelines
Thread Related Links posted at WOODWEB's Forums and Exchanges should point to locations that provide supporting information for the topic being discussed in the current message thread. The purpose of WOODWEB Forums is to provide answers, not to serve as an advertising venue. A Thread Related Link that directs visitors to an area with inappropriate content will be removed. WOODWEB reserves the right to delete any messages with links or images it deems inappropriate. (return to form)
Thread Related File Uploads
Thread Related Files posted at WOODWEB's Forums and Exchanges should provide supporting information for the topic being discussed in the current message thread. Video Files: acceptable video formats are: .MOV .AVI .WMV .MPEG .MPG .FLV .MP4 (Image Upload Tips) If you encounter any difficulty when uploading video files, E-mail WOODWEB for assistance. The purpose of WOODWEB Forums is to provide answers, not to serve as an advertising venue. A Thread Related File that contains inappropriate content will be removed, and uploaded files that are not directly related to the message thread will be removed. WOODWEB reserves the right to delete any messages with links, files, or images it deems inappropriate. (return to form)