Message Thread:
Shaker style cabinets
2/3/18

I am building a set of shaker style cabinets with over lay doors queston is what style of crown will look best cieling 8' I will use either 2 3/4" or 3 1/4" Thanks
---
2/3/18 #2: Shaker style cabinets ...

What will look beat is what your customer will like. What styles of crown did you offer them with the job?
---
2/3/18 #3: Shaker style cabinets ...

That's it she wants my ideals I have 3 cutters for different style crowns but not sure if they will look the best on the shaker style
---
2/3/18 #4: Shaker style cabinets ...

Shaker crown is just a flat board with 45º angles cut on the front and back. Very simplistic.
---
2/3/18 #5: Shaker style cabinets ...

I do it like Leo, use the back cutter on the front and back.
---
2/3/18 #6: Shaker style cabinets ...

Although harder to make I always liked this shaker crown; it has a lower bead which makes it easier to hide a nail and adds a simple detail. You could also use a simple cove molding.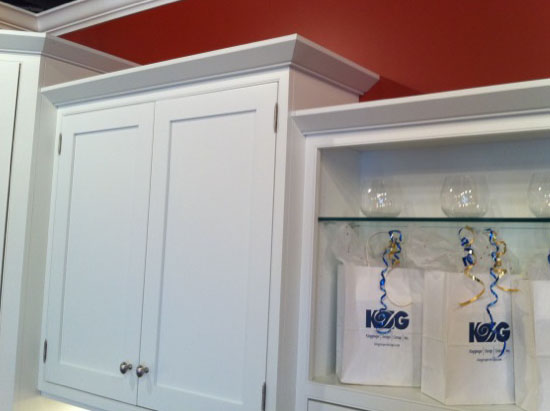 View higher quality, full size image (550 X 411)

---
2/3/18 #7: Shaker style cabinets ...

Thats what I am sorta liking the most i'm afraid that the flat one may be just to plain. Thanks
---
2/3/18 #8: Shaker style cabinets ...

Too plain? That's frigging hilarious! That's the major point of being Shaker!!!!!!!
---
2/3/18 #9: Shaker style cabinets ...

Well Rich we all have our opinions!!!!
---
2/4/18 #10: Shaker style cabinets ...

People often refer to 5 piece flat panel doors as shaker. It has nothing to do with the cabinet style. Many of our beaded ff cabinets have them and the crown can be small or big. Typically done with the colonial 3 1/4" crown.
I think I've done two cabinets like Mike's in my entire career. The two piece crown makes a major aesthetic difference in my opinion.
---
2/4/18 #11: Shaker style cabinets ...

Website: mcgrewwoodwork.com
The Idea of Shaker (The only architecture Americans ever provided in cabinetry) was simple, they had few options back in the day,
Simple is the key, a single angled or cove moulding is needed to hold historical consistency, otherwise stack or ogee it
---
2/4/18 #12: Shaker style cabinets ...

Thanks for the input glad to see we do have some open minds out there.
---
2/4/18 #13: Shaker style cabinets ...

Originally there was little ornamentation and detail and crown molding was considered an embellishment and typically not used on Shaker pieces .
---
2/4/18 #14: Shaker style cabinets ...

To use an abstract example, Michelangelo's sculpture of David is a representation of the biblical hero David, however the sculptor took the liberties to design the piece based on his own vision and aesthetic. Based on typical body proportions the piece is inaccurate if looked at from an anatomical perspective, but that misses the point. The piece was initially conceived to be viewed from far below and Michelangelo enhanced certain features to amplify their visual impact from the vantage point of the viewing audience.
As designers, makers, fabricators it's important to understand the historical significance of different design periods and aesthetics, however we also have the freedom to experiment, blend and use different aesthetics. The evolution of design whether it be architectural, music, food, etc is the one constant. If we're only allowed to make "shaker style" cabinets as intended by the originators of the trend from the early to mid 1800's we might as well tell the client they need to trade their indoor plumbing for an outhouse and scrap the electric power for gas lamps.
---
2/4/18 #15: Shaker style cabinets ...

William, there is a restriction to prevent contributing your experiences after retirement? History has no place in the forum? Sorry, didn't read that in the rules.
My comments here have nothing to do with design or being open minded. It has to do with irony and humor. Someone says he wants to add a bead on a shaker crown because the single bevel looks too plain. Shakers were plain, that's all. Man, you guys need to lighten up.
---
2/4/18 #16: Shaker style cabinets ...

I am actually in a similar situation. I don't have any cutters yet though so the option is wide open. My client wants it simple and also wants whatever I think looks good :o! I decided on a profile similar the first posted here but it has a square "lip" on top and bottom.
This client is getting frameless cabinets and I dont know how straight the ceiling is yet. I was planning stop the uppers 4 inches short of the ceiling, and making a finished "L" shaped piece to go on top of the uppers flush with the front face and mitered all the way around the kitchen. Top of crown will attach to the ceiling and the bottom will land somewhere on the "L" piece. Is that how you guys would do it? The picture shows the L coming out flush or beyond the door but I was thinking to stay flush with the carcass face. Sorry to jack your thread, just figured it was a similar enough question to the OP!
---
2/4/18 #17: Shaker style cabinets ...

Over the years the term shaker has become over used. I have done many jobs in what we call craftsman style that basically has shaker style doors . I use a 3 piece crown that makes for a beautiful look either to the ceiling or not. It gets a 1/2" back board about 4 " tall and a @ 2 3/4" standard crown then a thin bead at about an inch under the back board.
When you have a tall lid or ceiling in the room this helps with the scale as well.
---
2/4/18 #18: Shaker style cabinets ...

Website: http://www.mr-moulding-knives.com
Daniel
We have hundreds of shaker / mission style crown moulding designs available for you and your client to review. Just input the width size you want to view.
If we can be of any help please feel free to contact us.
All the best
Russ @ MR
https://www.mr-moulding-knives.com/moulding-catalog/crown
---
2/5/18 #19: Shaker style cabinets ...


Website: http://www.mr-moulding-knives.com
To expand upon rich's ironic and humorous comments:
Yes, Shakers were/are plain. Ornament, like applied crown molding, was seen as superfluous and could lead to the path of damnation. Most parts of daily life were closely prescribed for the faithful. Their communities once thrived by taking in abandoned or widowed adults, and orphaned children. They also were expert at garden seed production and genetics.
Their doors were never overlay, always inset. The panels were raised on one side - the inside - to fit into the plow.
One who asks for Shaker will get Shaker from my shop. I will assume they know what they are asking for. The location of the plumbing is up to them. I have done Shaker reproductions that required extensive research and a few new skills to pull off. Same with 18th Century work - with one stalwart customer that has no electricity or plumbing in the house, but he has both in the Summer kitchen.
By the way, it was a Shaker Sister that first conceived of the circular saw in the US. She watched as a sash saw went up and down, and noticed that 50% of the time it was not doing any work (return stroke). She thought about it for a while, with the idea of wasted time/energy driving her, and then had "chisels on a wheel" made up to try. It worked.
---