https://www.youtube.com/watch?v=5APCVuxhxOM
---
1/2/18 #13: Contemplating a cnc router ...


Mike,
You actually can do it for $25k. Check out Omni CNC. It's chinese. You can get a decently equipped router for about $20k, and you'll need another $5k to upgrade KCD to the CNC version and get a post processor for your machine. Then you're off and running.
I use KCD too. It's kind of a no brainer. In this economy, you'll earn your investment back in less than a year.
---
1/2/18 #14: Contemplating a cnc router ...


Mike,
I'm going to weigh in on the opposite side of this somewhat. I did what you did and examined all of the data. CNC is awesome under the right circumstances. If you are doing quantity, trying to cut labor costs at certain quantity levels or do a wide range of radius, cut outs, etc.
But I'm never going to cut out music notes and I have no desire to get into radius work that a CNC would speed up.
At the price point you are looking at I can do at least double, possibly triple, the amount of cutting and milling of parts with manual equipment versus the CNC of that price point in the same time frame. Certainly racing one of the bigger machines is a fool errand in the long run. Of course the machines are going to be more accurate, but not enough to make a difference to those in the field. The installer won't be able to tell, let alone the client.
There is no doubt at a certain quantity level a CNC is a no brainer, hands down or if you want to do some of the things the other gentlemen are talking about and wanting to expand your product line. So in other words I think it comes down to what you want to do quantity wise and range of work you want to do.
Much like when I'm working on something I want to focus-loading a sheet and walking away for a couple minutes to sand, band, etc would drive me nuts and lower my efficiency- I also like to focus my product line.
I know it's a minority opinion. CNC are great. They just aren't for my business. Perhaps they are for yours. Good luck with your decision. Hope it works out for you.
---
1/2/18 #15: Contemplating a cnc router ...


Hi mike, I am a small mom and pop shop that is in the same boat as yourself. I have been subbing my CNC work to another local company and so far it has been going well. I bring this up as you might want to try this first to see how things go and how efficient things can be. Why, at your age, it might not be worth it to buy a machine, but just sub out to other shops. I have found that with my lifestyle, itís better to not take on debt and overhead, but to ride the economic work waves as they come. Just another thought.
Hey Paul, where are you in NorMich? Iím up in Harbor Springs, good to meet someone close on Woodweb
---
1/2/18 #16: Contemplating a cnc router ...


Have you considered a pod and rail machine? Most have a router spindle and stand alone machining software that can be programmed right at the machine.
I have a Weeke BP 60.
I cut sheet goods on a Striebig then machine for dowel or confirmat screw assembly.
It does construction holes, line bores for adjustable shelving, bores attachment holes for slides and hinge plates and can saw the groove for the back (though I build frame less and confirmat the 18 mm back)
I would second that you could sell
frameless ... you just have to sell its benefits to yourself first...
I honestly haven't been asked about construction method in 20 years, but most homeowners are impressed with the strength of the confirmat screw assembly.
I have been asked about material used for cases.. (I use 18 mm veneer core birch- sides, top, bottom, back and shelves, also requires stocking just one sheet product other than finish species)
Most homeowners have a phobia, justified or not, regarding particle board, and 1/2" wouldn't work with frameless
Going frameless would lend itself to less assembly labor (assuming you have an edgebander), allow you to lose the face frame material and labor, and standardize assembly and hardware installation
---
1/2/18 #17: Contemplating a cnc router ...


Great video James. I was watching a YouTube video earlier today of an IWF video on the CAMaster router where they were talking to a Jim Mcgrew, I thought that had to be you, to big of a coincidence.
Wondering if you cnc owners could give more info on table size. It seems that the difference Iím seeing on many brands is only 1k to go from a 4x8 to a 5x8? I donít know why a 5í wide would be needed unless you process 5x5 sheets, which I do occasionally.
Also, in my learning process of bit changing it appears that an automatic bit changer is an option but expensive, or what appears to be a main spindle and two additional routers which hold different bits. This seems to be the best option to me or is it?
Sorting through brands is like trying to get the pick of a litter of pups, some are pretty but will it be a good dog or lie on the porch and want you to scratch his belly? The CAMaster at this point looks like a good option but which one would I want is up in the air, itís hard to know what your needs are when you donít know yourself. I have a history of getting a piece of equipment that I can afford only to wish six months later that I had gone bigger. I donít want to make that mistake on this. The ShopBot is another option, it kinda looks generic compared to others but I realize that has nothing to do with performance. The Legacy machines looks like itís full of options also, Iím not sure Iíd want to do the turnings, looks like even with a cnc there would still be a lot of sanding to do. Is it still better to outsource some things even though you have a cnc that can do it?
Anyway, at this point my plan is to read and research, learn all I can until August and go to the IWF and look first hand. I think Iíll know a lot more about what Iím looking at and the options available and what I plan to do by then.
---
1/3/18 #18: Contemplating a cnc router ...


Family Man, this same question was posted earlier this past year and my reply to it was almost identical to yours. I can cut a pretty big kitchen worth of sheet goods in a days time and line bore, etc. but then another reply on that thread someone mentioned it was like hiring another worker that knew what I know to do my job while I went and done something else. That made a lot of sense to me. I canít tell you at the times when Iíve told potential clients my time frame and they have told me that I need to hire more help, to which my reply was, I donít need more help I just need more me. So with me being short handed now I see this as a possible opportunity to hire someone with my knowledge and not have to pay them like they know what I know. I really think it will help with some of the time consuming things that I do. I try to be creative in my designs and this would open up new possibilities. Not to mention the older I get I could possibly do some things on it to bring in income that is not back breaking work.
Matt, I have let another shop do some cnc work for me before, wasnít any problem with it, just took me a while to get there and get back. I try to keep as much in house as I can. As far as my age goes, Iím not in my prime but not over the hill either. Iíve been a fairly smart businessman I think. Iíve never financed or leased and equipment, Iíve grown as my wallet did. Iím not in debt other than a Kubota tractor that will be paid off in June, which would be about the same payment as a cnc would be. Plus Iím not talking about an investment thatís going to take forever to pay off, if we are realistically talking about 20-30k you canít hardly buy a new truck for that anymore?
---
1/3/18 #19: Contemplating a cnc router ...


Website: mcgrewwoodwork.com
My first machine was 4 feet wide, my 2nd thu the current 5 x 8 have all been 5 feet wide, i neede the 5 feet for a lot of reasons as we now cut commercial at 61 x 97 sheets, well worth the extra money, to me a cabinet maker needs 5 x 8 table 5 zone vac plenum, good vacuum hold down and an ATC of 5-8 tools
---
1/3/18 #20: Contemplating a cnc router ...


This is probably not what some want to hear but I will say it because it needs to be said.
Before we had a router we had the saw guy. I was the saw guy for years. There is a lot of knowledge in the saw guys head. He also likes to cut standard stuff. When something custom or unusual comes up he slows down a lot. Sometimes he cuts the normal version before he cuts the correct custom version. He also goes on vacation, gets sick, takes another job, has a bad day and may have an issue that makes him miss weeks of work. A saw no matter the quality no matter the operator is not perfect every time.
Right now my newest employee can run my router cell, rout all the parts, edgeband and bore. I did not set out to have him do it and he is not my main guy but he can run the machine. As can I, as can the shop manager. I have 4 people that can run that machine efficiently. It is faster than a sawyer could ever be. It can do things that can not be done easily on a saw. It can do complex things over and over and it comes out the same. If a part is damaged it can easily be redone quickly. There are no special setups or fixtures.
I can't really speak for a two man shop, I did not approach it that way but a router is a way for any shop to be much more efficient, flexible, accurate and creative.
If you are in the $30K range ask yourself a question. Who could you hire for $30K for the next 10 years to cut all your sheet goods (plus other things you don't realize right now). Even if you are the saw guy your time is best spent elsewhere.
An example that might resonate would be the thinking "I am not using that new circular saw, my hand saw is tried and true it took me years to become an expert." Another example is when sheet goods were created and the cabinet maker said solid wood is the best solution, that plywood is not real craftsmanship. Sounds ridiculous now but I am sure that thinking was prevalent.
The market has changed, the technology has changed. Routers are affordable. Do you really want to stick with the handsaw?
Our first router was the best investment I have ever made in anything. I bought a stout European machine, I sweated the purchase price. In hindsight I should have gone larger. Eventually I did and now we run 2.
Some things that have been mentioned and some things that have not.
A router has nothing to do with radius work. Sure it does that well but that is not the point.
Our router saves money on tooling. We can cut more sheets with a less expensive tool that cost less to sharpen than a saw.
Your yield will go up no matter the person on the router.
Your creativity will be enhanced not taken away.
Your ability to solve problems will be taken in another direction not taken away.
There is less scrap to throw away.
Get a toll changer, I always want more tools.
Get a drill head if at all possible.
Some downsides.
You must have a company with excellent service.
You must have a company with excellent service.
Saving money on the front end will be lost if the machine is not reliable. They must have people in the field that can help. Not a guy but a company that will continue to function for years for sure. If you can't afford the machine you know you should buy wait. Don't buy a no name router. I would stick with known names, companies that have been around, proven.
Once a company reaches critical mass it is time for a router. I do not mean to offend anyone but this to me in hindsight is obvious.
Good luck to the OP.
---
1/3/18 #21: Contemplating a cnc router ...


Website: mcgrewwoodwork.com
Bill, That was well written and some damn good advice.
I am going larger this year, trying to make a new building decision and incorporate machinery installs on that
---
1/3/18 #22: Contemplating a cnc router ...


We have had our router for 8 years now.
4x8 Omnitech and Cabinet Vision software.
Best thing I ever did.
We are a 3 person shop and can now take on larger projects then I ever would have tackled before.
Another option is to find a local shop with a CNC and have them cut for you.
We cut for 3-4 shops right now. For one of them we cut all of their work.
He emails me his cabinet list, I enter into our software and send him simple drawings of each cabinet. He signs off on the job, we machine, band and assemble for him.
He now has the supplier drop his plywood at our shop.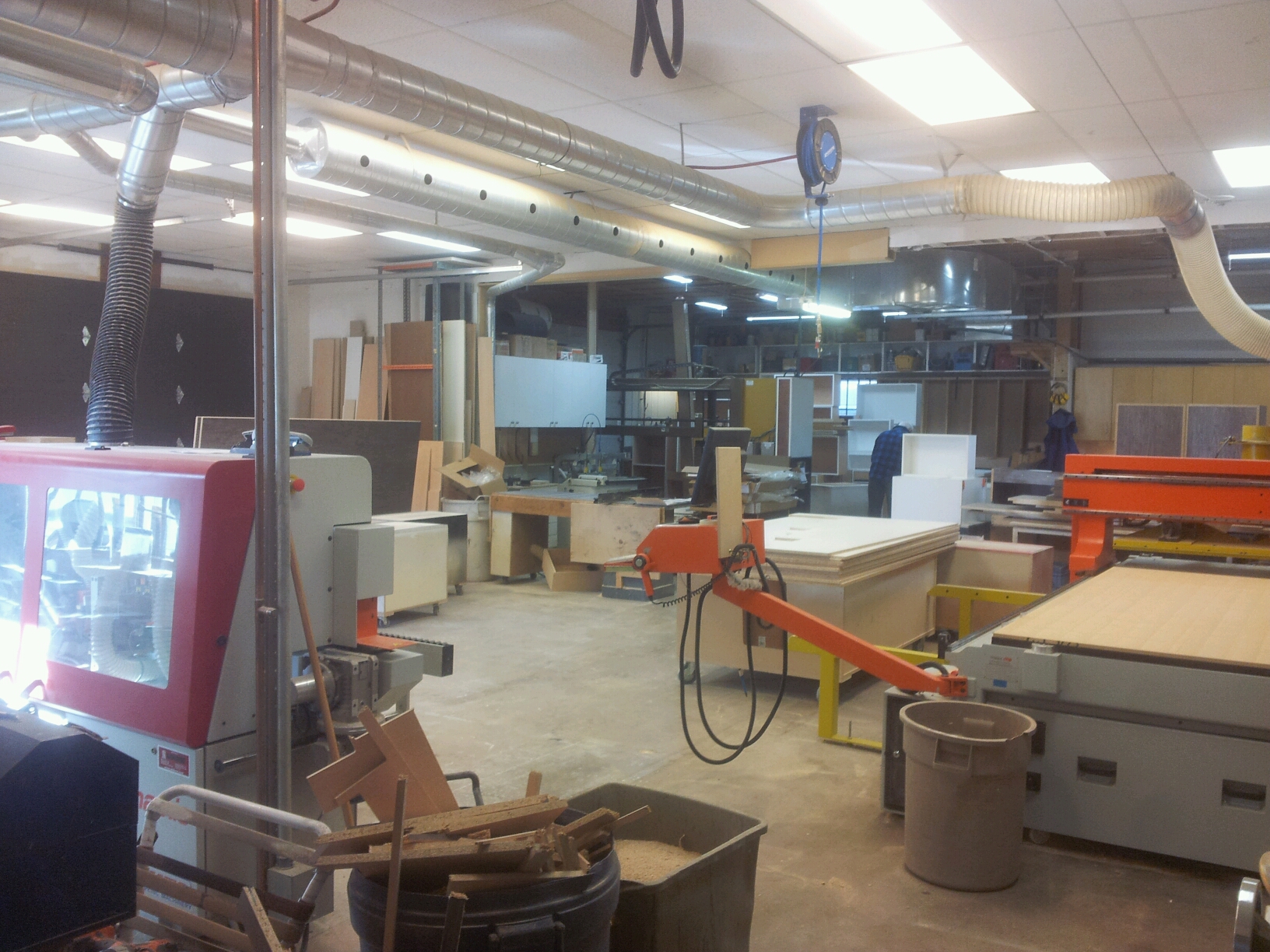 View higher quality, full size image (1632 X 1224)

---
1/3/18 #23: Contemplating a cnc router ...


Website: http://MCCWOODWORKING.COM
Some great posts here. Bill said it all as did Jim. One comment I noticed. "At my age". The CNC is a lot of fun. I just turned 68 and I have no interest in retiring. I work for people that have retired. A lot of them set up little wood shops in their garages or pole barns. Most of them watch way too much TV. I cannot imagine anything more fun than what I am doing now. And, the CNC makes that possible.
---
1/3/18 #24: Contemplating a cnc router ...


If I was a two man shop, using KCD, I'd send a few jobs to Cabinotch to test how much speed you would gain by outsourcing the boxes. It's a lot cheaper than a CNC, you know the exact cost of the boxes to the penny, and you won't loose any time while learning software and machine operation. Also no time on the phone with tech, with both the software and CNC machine company. Then if you don't see the advantage of outsourcing, then shop for the CNC. You can really make some time with the prefinished plywood box parts.
---
1/3/18 #25: Contemplating a cnc router ...


More good points and info that I appreciate.
Jim Herron, I didnít even know what a pod and rail machine was, had to watch a YouTube video to know what you were referring to. It appears to be similar to a router but I just donít know the difference. Iím in kindergarten on all this stuff.
Bill your comments make perfect sense, and I agree with James, itís good advice. I guess I just always assumed that these routers were for the bigger shops bringing in more revenue and it was out of reach so I never gave it much thought, much less researched the possibility of owning one myself. Your comments make me realize that I probably should have done this several years ago.
Paul Miller, I like your outlook. When I say ďat my ageĒ Iím saying that itís not like Iím nearing retirement even if I did want to. I think a previous poster was saying ďat my ageĒ I might want to think about not investing. I was thinking at my age it would be safe. If that makes sense, I plan on working for a long time yet. As far as the fun part goes, I think itís fun now, I enjoy working and creating the things that Iíve done, and evidently Iíve been going about it the hard way. I can see a router letting me get off my feet a little more also and not constantly walking back and forth between a table saw and a plywood rack. I do have some back issues.
rich.c
I understand what your saying, Iíve checked out cabinotch a little. There has always been a debate on here about outsourcing and whether it is profitable or better to build in-house. I guess itís all about what we want our end game to be. I outsourced doors until about 3 years ago and then I bought the equipment to do it myself and it paid for itself in no time. So I guess if one wanted to they could outsource the doors, let cabinotch or as some of the others have said another Shop could cut the parts. I think it was Bob that said he even bands and assembles another shops cabinets for them. If you sub out the finish work as well then youíre no longer a cabinet shop but a middle man. And thatís fine if thatís your end game and what you want to do to make your living, nothing at all wrong with it. I know a guy right now that has amazing talent and was doing good in his shop, then just quit and started buying rta cabinets and assembling. His reasoning was that he could buy a set of cabinets and put them together cheaper than he could buy a set of doors for. He still does it and has done well. As for me, itís not all about the money. Iím like Paul, I thinks itís fun and I like doing it. Main thing is be happy at whatever you do, life is to short to work a job that youíre not happy in doing. That just my opinion on it.
---
1/3/18 #26: Contemplating a cnc router ...


I'm not in business to make cabinets, I'm in business to make money.
---
1/3/18 #27: Contemplating a cnc router ...


I know a lot of folks don't like outsourcing, saying they want to keep the craftsmanship in house. But the difference between having someone else pushing a button to cut boxes out, vs. you pushing a button to cut boxes is pretty thin in my opinion.
---
1/3/18 #28: Contemplating a cnc router ...


We have a decent sized shop with a cnc router, a larger bander and dowel/insert, we run a lot of commercial casework and lots of corian I am getting ready to get a cnc saw for our stone shop @ the end of this year for the automation
We own two forklifts, the Blum machines we added 20 years ago came with the same " why did we wait so long ?" same as the edgebander, wide belt and then the cnc. We run CabinetVision, again beating our heads against the wall we just went to CV10 and hear the what took so long ? We have 5 seats and 2 s2m keys. All of the upgrades and all the equipment has been great, but hands down the cnc, soft ware, bander and forklifts have saved us years on our bodies
So my friend runs a hi end residentail shop and would never buy a cnc, I cut a house full of cabinets for him with mine in 4 hours, And I am talking 40 plus cabinets He bought my older edgebander, a cnc and now uses prefinished plywood, outsources his doors with Walzcraft, does all his own finishing and pays one of my installers on the weekend to help him goes through guys like water, but the cnc keeps cutting
---
1/21/18 #29: Contemplating a cnc router ...


Get a auto toolchanger. Unless it's just a hobby machine, you're going to be really really glad you did.
CNC is bunch of money to a new buyer and a bunch of learning and messing around at first. You will probably change some things on how you build your boxes.

---
4/3/18 #30: Contemplating a cnc router ...


Website: http://www.hicasmachinery.com
The cnc router is a very versatile function. For engraving purposes, efficiency is not to be discussed because of patterns, textures, and graphics. Both limit efficiency. Used to make panel furniture production, atc cnc router, will be the best choice. High efficiency, low labor costs.
This video will be more clearly expressed.https://www.youtube.com/watch?v=PUQvXA_ZC6s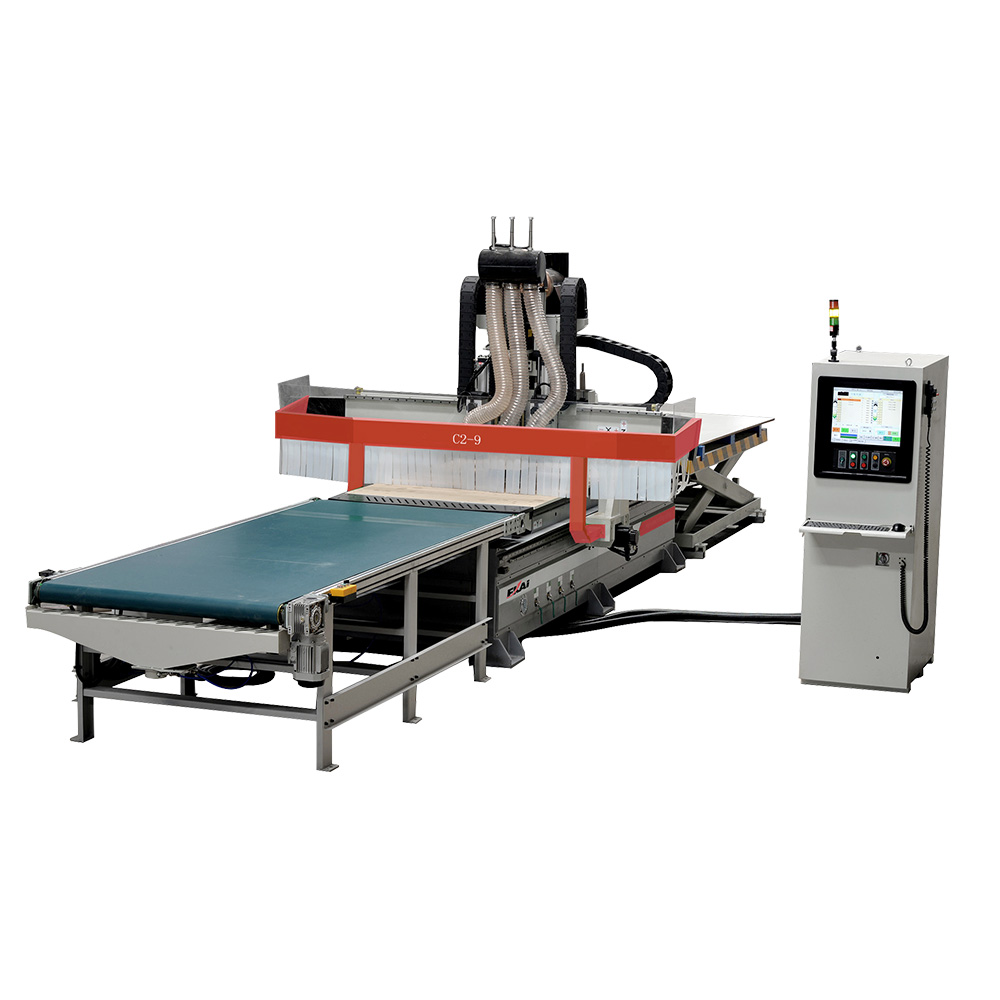 View higher quality, full size image (1000 X 1000)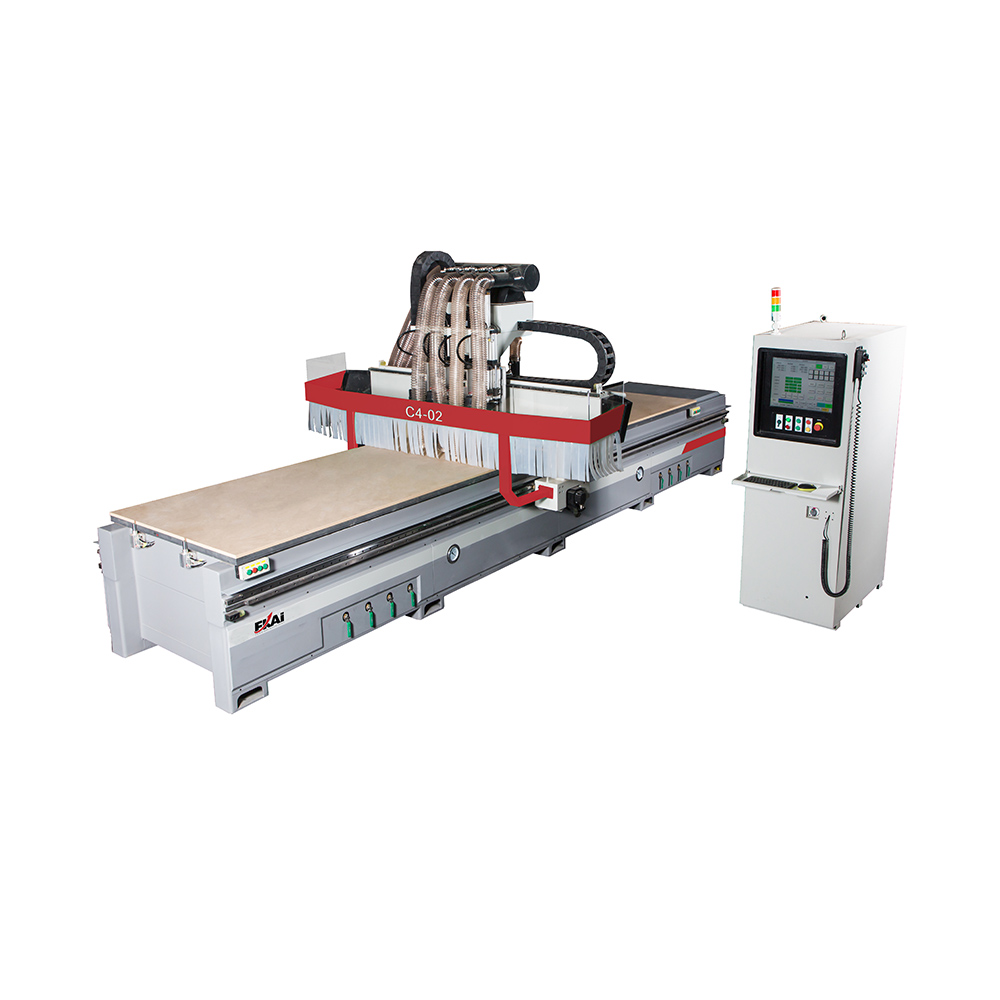 View higher quality, full size image (1000 X 1000)

ATC CNC Router
---
9/28/20 #32: Contemplating a cnc router ...


Website: http://forsuncnc.com/
If you are looking at buying a CNC Router, please consider these insights:
1. Choose a suitable CNC Router model with an ideal working size
2. Choose the Right Type of Spindle
3. Get to Know More about the Transmission
4. Know the Servo Motor and Stepper Motor
To learn more, you can check this article: What is a CNC Router? (Buying Guide)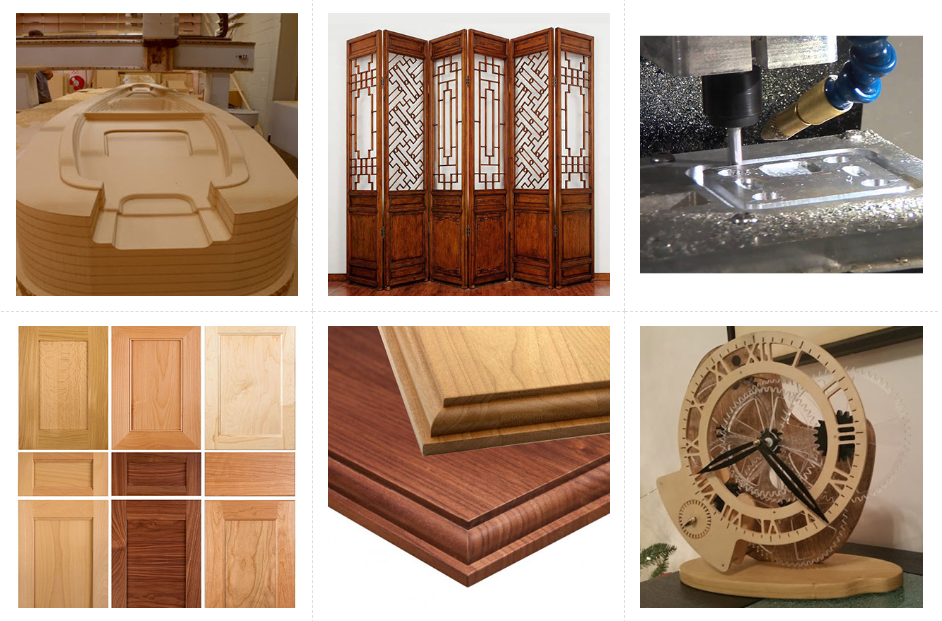 View higher quality, full size image (942 X 621)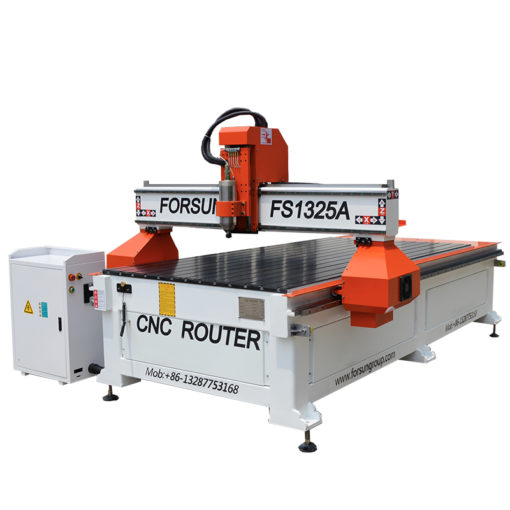 View higher quality, full size image (510 X 510)

What is a CNC Router? (Buying Guide)
---

---
Buy & Sell Exchanges | Forums | Galleries | Other Resources | Site Map
---

Buy and Sell Exchanges

Job Opportunities and Services Exchange
Employment opportunities and services within the woodworking industry

Lumber Exchange
A worldwide buy/sell exchange for lumber and wood products

Machinery Exchange
A worldwide buyer and seller exchange for woodworking machinery and equipment.

Classified Ad Exchange
Classified advertising for the woodworking industry (for advertisements that do not include machinery, lumber products and employment listings)


---

Forums

Adhesives Forum
Discussing topics related to adhesives within the woodworking industry

Architectural Woodworking Forum
Discussing quality standards and production of architectural wood products

Business and Management Forum
A forum for the discussion of business topics: from sales and marketing to dealing with difficult customers.

Cabinet and Millwork Installation Forum
Discussing all aspects of installation issues encountered by cabinet and millwork installers.

Cabinetmaking Forum
Discussing 32mm and face frame cabinet construction including fabrication, casegoods design, and installation.

CAD Forum
Shedding light on the all-too-often shadowy world of CAD.

CNC Forum
Discussing CNC (computer numerically controlled) woodworking equipment, software, and automated product manufacturing.

Dust Collection, Safety and Plant Operation Forum
Discussing topics related to maintaining a safe and productive working environment.

Professional Finishing Forum
Finishing issues for the production environment

Forestry Forum
The science and art of forest cultivation and timber management, planting, surveying, tree diseases, silviculture and timber harvesting

Professional Furniture Making Forum
Helping professional furniture makers improve quality, save time, and increase profits

Laminating and Solid Surfacing Forum
Issues related to laminating and solid surface materials and processes

Commercial Kiln Drying Forum
Discussions covering issues faced be commercial drying operations that process at least 750,000 bd. ft. of lumber per year

Sawing and Drying Forum
Discussing topics related to primary processing and drying of lumber

Solid Wood Machining Forum
Discussing topics related to the machining of solid wood

Value Added Wood Products Forum
Learn how to improve your output, find new markets, and boost sales of your lumber products

Veneer Forum
Discussing topics related to veneer processing, manufacturing, and fabrication

WOODnetWORK
An electronic discussion group for woodworkers throughout the world


---

Galleries

Project Gallery
Where professional woodworkers can post examples of their work

Sawmill Gallery
Professional primary processing companies display and describe their sawmill facilities

Shop Gallery
Professional woodworkers display and describe their shop facilities, products and equipment

Shopbuilt Equipment Gallery
Professional woodworker's jigs, rigs, and shopbuilt equipment


---

Other Resources

Industry News
Late-breaking news from all sectors of the wood industry

Video Library
Index of industrial woodworking related digital videos on the web

Auctions, Sales and Special Offers
Advertisers offering woodworkers discounted prices on good and services, and announcements of upcoming auctions

FORUM GUIDELINES: Please review the guidelines below before posting at WOODWEB's Interactive Message Boards (return to top)


WOODWEB is a professional industrial woodworking site. Hobbyist and homeowner woodworking questions are inappropriate.
Messages should be kept reasonably short and on topic, relating to the focus of the forum. Responses should relate to the original question.
A valid email return address must be included with each message.
Advertising is inappropriate. The only exceptions are the Classified Ads Exchange, Machinery Exchange, Lumber Exchange, and Job Opportunities and Services Exchange. When posting listings in these areas, review the posting instructions carefully.
Subject lines may be edited for length and clarity.
"Cross posting" is not permitted. Choose the best forum for your question, and post your question at one forum only.
Messages requesting private responses will be removed - Forums are designed to provide information and assistance for all of our visitors. Private response requests are appropriate at WOODWEB's Exchanges and Job Opportunities and Services.
Messages that accuse businesses or individuals of alleged negative actions or behavior are inappropriate since WOODWEB is unable to verify or substantiate the claims.
Posts with the intent of soliciting answers to surveys are not appropriate. Contact WOODWEB for more information on initiating a survey.
Excessive forum participation by an individual upsets the balance of a healthy forum atmosphere. Individuals who excessively post responses containing marginal content will be considered repeat forum abusers.
Responses that initiate or support inappropriate and off-topic discussion of general politics detract from the professional woodworking focus of WOODWEB, and will be removed.
Participants are encouraged to use their real name when posting. Intentionally using another persons name is prohibited, and posts of this nature will be removed at WOODWEB's discretion.
Comments, questions, or criticisms regarding Forum policies should be directed to WOODWEB's Systems Administrator
(return to top).

Carefully review your message before clicking on the "Send Message" button - you will not be able to revise the message once it has been sent.

You will be notified of responses to the message(s) you posted via email. Be sure to enter your email address correctly.

WOODWEB's forums are a highly regarded resource for professional woodworkers. Messages and responses that are crafted in a professional and civil manner strengthen this resource. Messages that do not reflect a professional tone reduce the value of our forums.

Messages are inappropriate when their content: is deemed libelous in nature or is based on rumor, fails to meet basic standards of decorum, contains blatant advertising or inappropriate emphasis on self promotion (return to top).

Libel: Posts which defame an individual or organization, or employ a tone which can be viewed as malicious in nature. Words, pictures, or cartoons which expose a person or organization to public hatred, shame, disgrace, or ridicule, or induce an ill opinion of a person or organization, are libelous.

Improper Decorum: Posts which are profane, inciting, disrespectful or uncivil in tone, or maliciously worded. This also includes the venting of unsubstantiated opinions. Such messages do little to illuminate a given topic, and often have the opposite effect. Constructive criticism is acceptable (return to top).

Advertising: The purpose of WOODWEB Forums is to provide answers, not an advertising venue. Companies participating in a Forum discussion should provide specific answers to posted questions. WOODWEB suggests that businesses include an appropriately crafted signature in order to identify their company. A well meaning post that seems to be on-topic but contains a product reference may do your business more harm than good in the Forum environment. Forum users may perceive your references to specific products as unsolicited advertising (spam) and consciously avoid your web site or services. A well-crafted signature is an appropriate way to advertise your services that will not offend potential customers. Signatures should be limited to 4-6 lines, and may contain information that identifies the type of business you're in, your URL and email address (return to top).

Repeated Forum Abuse: Forum participants who repeatedly fail to follow WOODWEB's Forum Guidelines may encounter difficulty when attempting to post messages.

There are often situations when the original message asks for opinions: "What is the best widget for my type of shop?". To a certain extent, the person posting the message is responsible for including specific questions within the message. An open ended question (like the one above) invites responses that may read as sales pitches. WOODWEB suggests that companies responding to such a question provide detailed and substantive replies rather than responses that read as a one-sided product promotion. It has been WOODWEB's experience that substantive responses are held in higher regard by our readers (return to top).

The staff of WOODWEB assume no responsibility for the accuracy, content, or outcome of any posting transmitted at WOODWEB's Message Boards. Participants should undertake the use of machinery, materials and methods discussed at WOODWEB's Message Boards after considerate evaluation, and at their own risk. WOODWEB reserves the right to delete any messages it deems inappropriate. (return to top)



Forum Posting Form Guidelines

Your Name
The name you enter in this field will be the name that appears with your post or response (return to form).
Your Website
Personal or business website links must point to the author's website. Inappropriate links will be removed without notice, and at WOODWEB's sole discretion. WOODWEB reserves the right to delete any messages with links it deems inappropriate. (return to form)
E-Mail Address
Your e-mail address will not be publicly viewable. Forum participants will be able to contact you using a contact link (included with your post) that is substituted for your actual address. You must include a valid email address in this field. (return to form)
Subject
Subject may be edited for length and clarity. Subject lines should provide an indication of the content of your post. (return to form)
Thread Related Link and Image Guidelines
Thread Related Links posted at WOODWEB's Forums and Exchanges should point to locations that provide supporting information for the topic being discussed in the current message thread. The purpose of WOODWEB Forums is to provide answers, not to serve as an advertising venue. A Thread Related Link that directs visitors to an area with inappropriate content will be removed. WOODWEB reserves the right to delete any messages with links or images it deems inappropriate. (return to form)
Thread Related File Uploads
Thread Related Files posted at WOODWEB's Forums and Exchanges should provide supporting information for the topic being discussed in the current message thread. Video Files: acceptable video formats are: .MOV .AVI .WMV .MPEG .MPG .MP4 (Image Upload Tips) If you encounter any difficulty when uploading video files, E-mail WOODWEB for assistance. The purpose of WOODWEB Forums is to provide answers, not to serve as an advertising venue. A Thread Related File that contains inappropriate content will be removed, and uploaded files that are not directly related to the message thread will be removed. WOODWEB reserves the right to delete any messages with links, files, or images it deems inappropriate. (return to form)