cnc-v-groove-miter-fold-signmaking-router-bits-with-solid-carbide-insert-knives
---
2/3/17 #8: Mitering with CNC router ...


Website: http://www.southeasttool.com
I would highly recommend the 91 deg. Much better for miter folding.
Pg 115 of our catalog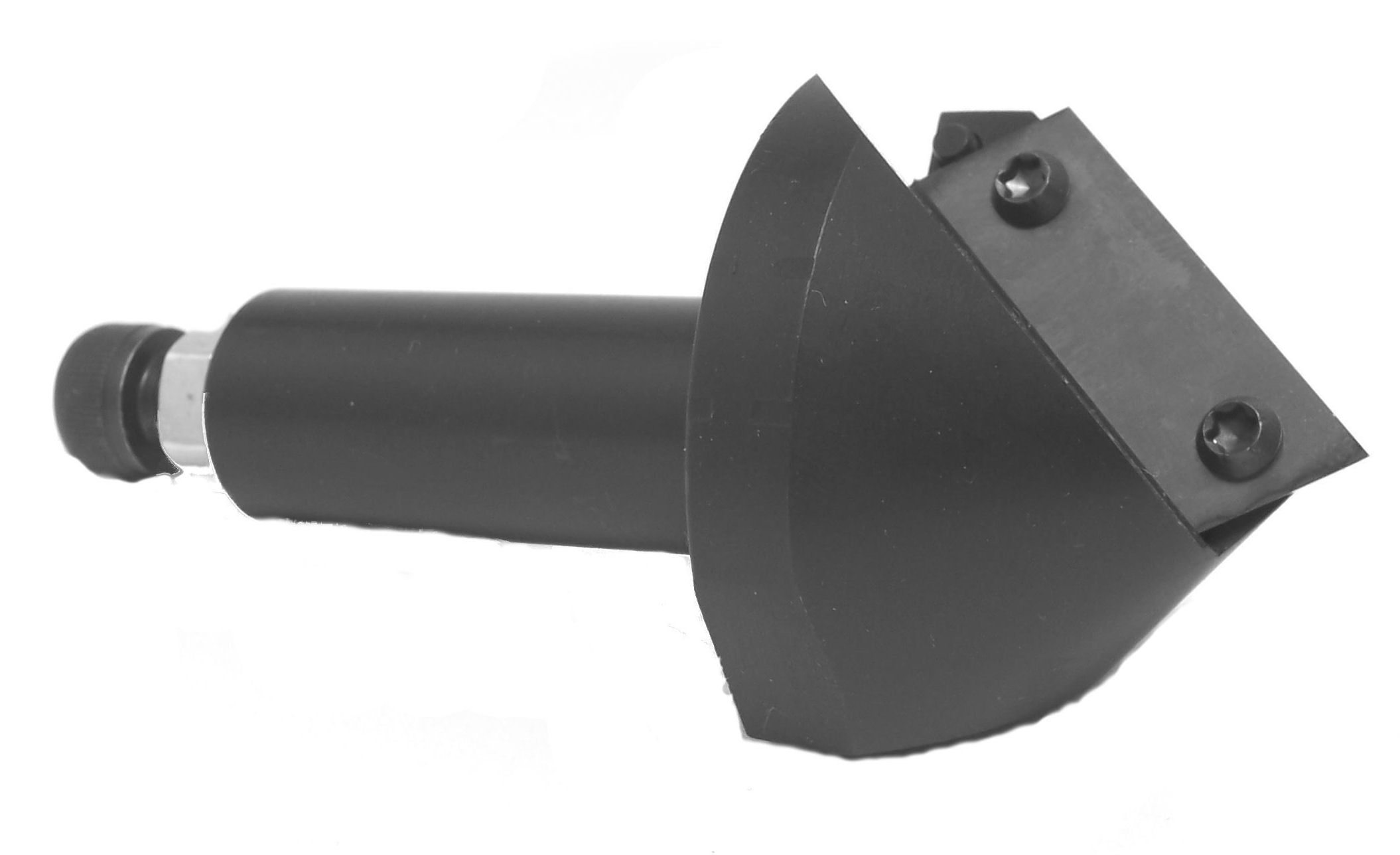 View higher quality, full size image (2110 X 1288)

---
2/5/17 #9: Mitering with CNC router ...


I find that plywood I get is not flat enough to get good miter folds with. The PB and MDF core stuff works well with the insert cutter.
---
2/6/17 #10: Mitering with CNC router ...


Well we're on the topic; are you guys cutting through the parts completely then taping and assembling, or are you taping then putting on the machine and folding as it comes off.
---
2/7/17 #11: Mitering with CNC router ...


In response to Gary:
We cut to tape depth if we can, but if the parts are not rectangular, or the yield is terrible, we cut though and then tape off the machine. For anyone deciding on a machine, a V-groove saw with insert tooling is far superior to routing a mitre in a production scenario. We saw when we can, but still use a router bit when we can't. My advice is to add a fixed or servo controlled saw if you can. Aggregate heads are a step up, but not as rigid as a saw.
---
2/8/17 #12: Mitering with CNC router ...


We tape off the machine. Just never tried the other way so can't say id one is better than the other.
---
2/8/17 #13: Mitering with CNC router ...


we use a v-grooving aggregate. you need c-axis.
---
2/8/17 #14: Mitering with CNC router ...


Website: http://MCCWOODWORKING.COM
We miter folding all the time. Have made many boxes like you describe. You can use a CNC or an edge profile machine if you have one works better. We use 2" clear packing tape and tape it extensively. Also, you should cut a square piece the size of your inside opening and wrap the edges with tape to keep the glue from adhering to this piece. This piece will help to keep the box square. You should also cut hand holds into this piece so that you can pull it out when the corner joints have dried. The only time we use our CNC for this is when we are making tapered columns. Great fun, good luck.
---
2/10/17 #15: Mitering with CNC router ...


You can miterfold on a CNC using either a bit, though an aggregate would be better. This issue with the bit is at the tip there is little cutting happening and the bit is more plowing thru the material. The cut at the point is the most important and will determine how good the product turns out.
A couple other suggestions I agree with is that plywood (veneer core) is probable the most difficult to miterfold. MDF core is the best to work with. A bit slighty over 90-degrees is better such as 90.5 or 91.
Precision of the machine is crucial as all you want left is the tape and should be cutting thru the veneer. Any deviations will show up in the finished product.
---