Message Thread:
New to CNC need your thoughts
6/15/18

Hi all I have been on this site doing research on getting into a CNC, we specialize in commercial and do some residential casework as well, mostly plastic laminated work. Now I had narrowed it down to 2 machines and made my mind up on the one. I decided on the Shop Sabre IS510 with the following specs. I would like to have some of your professional input on if this is enough machine or maybe even overkill for my needs. I want an unbiased opinion not just what the salesman is feeding me. I thank you in advance for your thoughts.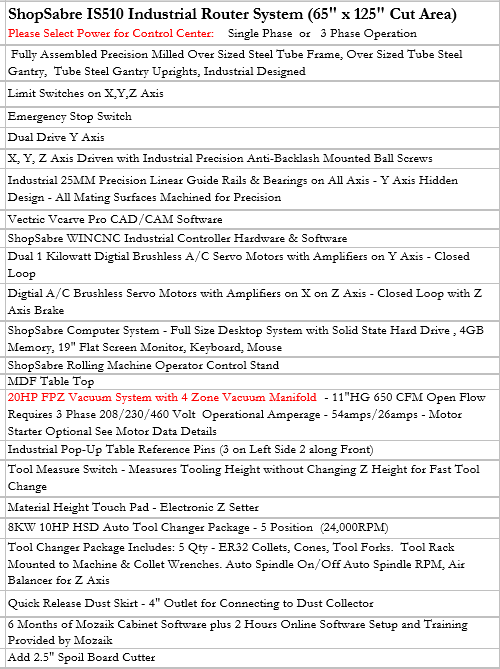 View higher quality, full size image (500 X 669)

---
6/15/18 #2: New to CNC need your thoughts ...

I have the IS408. That machine is a beast and heavy duty. I'd have you reconsider two of your choices. I have the 10 tool changer and consider it to be a minimum, even if some of them sit empty for a few years while you discover new things to make. I'd also look at the upgrade to a phenolic top with t-tracks...more stable and versatile.
---
6/16/18 #3: New to CNC need your thoughts ...

Website: mcgrewwoodwork.com
I have the Camaster Cobra 508 since 2012 and it does all that well, that said the machine you listed will do the work well as well !

---
6/16/18 #4: New to CNC need your thoughts ...

Weve had their 408PRO with about the same specs as yours other than at 10 position ATC for 3 years now. Not a single issue. Been a great machine and stellar support in my opinion. Super fast response on any questions or issues all of which have been operator issues. We havent had a single hiccup out of the machine other than issues on our end.
When we setup our package it was tempting to add all sorts of bells and whistles, the old if your going to do it you might as well go all the way, but in hind sight Im glad we didnt opt for a lot of extras that would not make money or be of use regularly.
My input on your options listed and what jbiddle mentioned based on our use would be that the 10 position ATC would be great if you do a lot of varied work but if the machine is going to be panel processing the majority of the time it wouldnt be necessary. If you are going to be panel processing exclusively I would be seriously considering a drill block. We do quite a bit of melamine and ply cabs and between construction boring, fasteners, and shelf boring, a drill block would speed up the process as well as take a lot of wear of the Z axis. Without it its still super fast but I do find myself thinking about the wear when you have sheets with hundreds of 5mm holes.
We considered the phenolic top as well as installing tracks in the MDF plenum (T tracks we would do our self) but its one of the options Im glad we kept the money in the bank. In three years we have literally never run the machine without a spoil board on it. We run 5x10 MDF for the spoil and machine the pin holes in the spoil board so the entire plenum is completely covered at all times. We would have paid for the tracks to just live buried under the spoil board. Weve made a few fixtures with tracks in them (just t-slots milled in 1 1/8" MDF) that we use for fixturing odd parts but that is rare. Most odd parts we will just box in with scraps of melamine or ply and vac them down. If you were potentially going to be milling aluminum or material running a mister the phenolic would be handy but again, glad we kept that money in the bank.
I dont know how many sheets a day/week you expect to run or what the breakout point for jumping from the PRO to the IS would be buy when we were looking I felt like 2 shifts would be the breakout for the IS but if youve got the budget for it it would be a no brainer. I dont think we would be taxing our machine running a 40 hour week which it never runs 8 hours a day 5 days a week as our work is varied.
Id advise you to scrap that 2.5" spoil board cutter and just include an extra ISO30 holder with a 3/4" collet and pickup a cutter like the Amana 2259. Surfacing your spoil board often a monster cutter is a dream. The bigger the better. We run that cutter and dont waste a spot in the tool changer with it and just load it manually when we resurface. Night and day with regards to surface and speed. We considered one of the large Vortex fly cutters but just couldnt justify the cost but they are highly rated as the best of the best.
Just my $0.02
---
6/19/18 #5: New to CNC need your thoughts ...

Website: http://www.coloradocncshop.com
I would drop that vacuum pump and buy one outside. If they are pushing the 20HP it is likely a regenerative blower as opposed to a rotary vein pump which is just going to be much louder. If you are going to have the pump in the same area I would just go with a 10HP Becker or even a 5HP Becker if you are just cutting large sheets of stuff.
I would also buy the spoilboard cutter outside the quote and manually load as it is not too difficult to store that tool offset value and call it up later to quickly surface.
I personally would recommend adding a phenolic table instead of the MDF but that is more of a personal preference and I really don't know how they break down the cost.
Mozaik is a solid choice for software that I think you will be happy with.
I am not sure with the "material height touch pad" is and am going to assume that is to set your tool zeros and not your actual material zero. If that is something that will basically tell you where your material zero is then I would skip that and just job your machine down with a handwheel until you cannot move a piece of paper and save the cost. If that is indeed what is being used to automatically measure your tools heights then I would keep it 100%.
Unless you are cutting 20+ sheets a day I would skip the popup pins unless they were under $600-$800 but that is just me. Can very easily get a sheet of 5x10 MDF and simply route an indent and place a thin piece of wood to do the same thing. Again just giving you input if you are looking to save cost.
That's all I got! Good luck friend!
---
6/19/18 #6: New to CNC need your thoughts ...

Website: mcgrewwoodwork.com
I have a Machine with WINcnc controller and the Macros that have been created are pretty dang good,
Andrew makes some good points yet i do know that it is not uncommon nor is it difficult to have many extra tools added to the ATC macro, You mention a 5 tool package but not machine tool capacity, For example i have 15 on a side mounted rack (not a fan of end table racks as it fouls one end of table, (I sometimes do work on 12 foot length materials) not sure if you have a carousel changer but my next machine will. when you need tool six just place it in holder 5 (for example) call it up , do a measure t5 and cut away. the only inconvenience id the time to "click one out click one in"
the touch pad is a must have, with WINcnc you set machine bed , then set Bed zero then do a measure all tools, we set it and forget it, We do check our spoil swell every day and if a reset of "Z" zero is is a few seconds to the touch pad from a button and done, WINcnc is a very stable controller and once mastered is a joy to use.
I have had six maxhines with WINcnc controllers, i had a phenolic top on machine 5 but was never happy about using it with a mdf spoilboard (No pop up pins) I have a mdf plenum and i use the "Glue down method" for my spoil boards i have to change them 4-5 times a year and we do 40 + sheets a day (And a lot of Custom work) it is a preference but i do have a phenolic 5 x 10 board stored somewhere. On that note (for me) Pop up pins are a must have, remember you will increase work load with new tech, My next machine will have them, We would by another machine but are looking to move again this year so placing another much larger machine will be a new building toy.
I have two 25 hp regen FPZ blowers (one spare), plenty of power yet noise sucks, so it is on the opposite side of a CMU wall with enough door crack so we can hear it. to qualify i have never had a pump so I have no Idea of a pro/con but mine have always worked well.
SS is a good machine, i have things i like about mine yet I have seen the machines and have friends who own them, they are all happy so i cannot think otherwise.
Smartest thing to do is go see machines and make friends, most everyone I know still likes showing them off (unless you are a direct competitor LOL) most of Us are still pretty amazed we figured this out go see the plants were machines are made try to see some different ones and do not buy the first one you see, you probably will but have some comparative knowledge.
And Good Luck !!
---
6/22/18 #7: New to CNC need your thoughts ...

Pop up pins would be a must for me. If you make dedicated jigs to hold odd parts you need to be able to exactly locate them. If you have a part that got made w/o some feature (bad CAD work) you can save it if you can locate it perfectly, PINs! I'd go for a Becker vane pump rather than the cheaper regen. Twice the vacuum level for holding smaller parts. True, you can onion skin or tab but it takes a lot longer and leaves an edge that needs a bit of hand work. We have a Quincy 40hp screw. We also do only commercial work and have a 5x10, sure wish it was a 5x12. All materials are available in 5x12 and they often optimize better and we make a fair # of large items requiring a work around to use the 12' board. A 4" spoil board surfacer is much better than the 2.5". Tool changer: the more spaces the better. We only have 8 and I can tell you from experience what happens when you change out a tool manually and the next day run a program with the normal set of tools in the program, not good. Drill block, an absolute necessity. The more drills the better. You will be drilling a lot of holes (5, 8, 20, 35mm) The more 5mm holes you can make with each Z-axis stroke the faster you will turn out parts. And you don't want to take up tool space with drill bits. I would go for the phenolic top, but have never had an MDF top so don't know how to compare. We run a fair amount of aluminum and manually mist to keep the end mill from getting stuck with the aluminum chips. I have no experience with PC based controls. Have always used Fanuc, bullet proof but expensive.
You will be surprised at the increase in output your shop will have by going to CNC. And it will increase with time as you learn how to market your capabilities.
---
6/22/18 #8: New to CNC need your thoughts ...

We have an IS 510. Great machine.
Pins are nice if you do double sided machining.
We went with the 25 hp fpz vacuum. No problems there.
I think it is fine for what you do.
---
6/23/18 #9: New to CNC need your thoughts ...

I just thought I'd elaborate on the use of tabs or onion skin use. You can set your software to only onion skin or tab parts below a certain area. That way if a sheet only has a couple of small parts they will be the only ones onion skinned. The rest will be thru cut in one pass as usual. just keep a trim router at the CNC to take the tab or skin off those parts. Some brands of melamine board have crappy cores that will be inclined to chip a bit when onion skinned.
If you need to process 12' parts on a 10' table, make a reference stop that allows you to machine 2'+ and then move the panel down to do the rest. Not ideal and not as accurate as doing it all in one pass but usually works OK.
If you order reference pins get the kind with sensors that tell the control that hey have fully retracted. Carbide bits and pins don't mix well!
---
6/24/18 #10: New to CNC need your thoughts ...

we just bought a Biesse Rover S FT, with sweep and conveyor with zoned vac @ 20 HP, and a Rover 30 FT sits on the other side of the shop with a 40HP parts do slip on the 40hp but not the 20hp zoned table
we are a commercial shop, you will need a tool changer, heavy duty pin stops, a boring head and a solid electrospindle- I recommend one with HSK 63 tool holders
I am not into bashing one company over another, but buyer beware and do you research
We run 2 shifts sometimes and currently looking into 3 4 days a week to keep up you need a machine that is solid and will not break down parts need to be available and phone support is crucial
---
6/25/18 #11: New to CNC need your thoughts ...

Many good posts. I'll 2nd the use of HSK tooling. We have one machine with it and one with BT30 (ISO30). The HSK design is better. You will regret buying a machine W/O a boring block.
I know we operate at a different level of output and I tend to go for heavier machines, but your output will likely rise when you get a router. Watching a machine drill one 5mm hole at a time is painful. If you don't have some capability you will never know whether it would be helpful or not. Go visit some shops that have a bit higher output (where you are going!)
---