My opinion.
If your budget is that high and you are looking for support, software and quality there are really only two companies to look at. Stiles and Biesse. I am certain they can offer all you are looking for with a level of support you will surely need and will help minimize the learning curve you will have when upgrading to this technology.
There are a ton of companies like those mentioned out there and i am sure they are fine but when you watch their speeds in comparison to an industrial cnc you will see the extra dollars you will save or time spent in front of the machine.
You are very close to IWF, wait until August and go see them all in person.
Kevin is right,, I am soo busy i have yet to key in that IWF is just a couple of months out, every machine worth its salt will be there this year.
http://totalcutcnc.com
---
6/20/18 #7: CNC Router Suggestions ...


You have described needs for both a nested machine and a machining center. Could you get away with a flat table set up for pods? Maybe, but it would not be as fast as a machining center for machining those 2 - 3" thick parts. Fixtures for furniture parts can be time consuming unless all your parts are standardized for dedicated fixtures.
Here is an example of cutting window and door parts on a Biesse machining center. I know you are not making doors or windows, but the concept is the same. I suspect you will have small parts where you need to machine all faces, and that can make things challenging when the parts are small.
https://www.youtube.com/watch?v=zdlWuofwRyY
If you want to use pods to cut your furniture parts here is a video from CR Onsrud.
https://www.youtube.com/watch?v=Uy8Xs-qFSng
The key to all of this is that when your parts come off the table they are ready to assemble with minimal steps. For that, I bet you will need aggregates to complete the drilling or boring steps.
The flatbed machining you mention is a piece of cake on any industrial flat bed machine. For that part it comes down to the speed you need to cut, and the software.
Go to the IWF and look at all the options.
---
6/20/18 #8: CNC Router Suggestions ...


Website: http://www.coloradocncshop.com
Get the Multicam out of those three. 100% the way to go if that is what you have narrowed it to.
Personally I would buy a CR Onsrud for that money but that is just my two cents.
---
6/20/18 #9: CNC Router Suggestions ...


Website: http://zoulamisfinewoodworking.com
We bought a limtech last year and it has been a great machine. There support has been awesome! Great machine and a great value!
---
6/21/18 #10: CNC Router Suggestions ...


Biesse service, at least here in Canada, is amazing.
---
6/22/18 #11: CNC Router Suggestions ...


James - excellent advice, I have learned the hard way with a double miter saw I bought from a turkish manufacturer, it took us 6 months to get the thing running. AXYS is about 30 minutes from our shop - so they definitely have that going for them. Our metal vendor has a CamMaster and loves it, I think I will take a trip over to them and see if they let me look under the hood!
Kevin - for speed comparison, do you mean mostly in the travel/tool change speed? Is it true that my material will limit the cutting speed before the machine will?
IWF was great last year, but I wasn't there specifically to look at routers. I'm looking down the barrel of a long production list and starting to panic a bit haha, the thought of waiting till October to get something installed seems too far off. You are 100% right though, I would be a damn fool to pull the trigger this close to being able to see them all in person.
Jim - The idea is that we would cut fabric and leather on Fridays and Saturdays initially and then if our volume continues to grow at this rate add a half shift to the end of each day. I think with our current volume we could probably fit the two processes in together even if there was a 2 hour clean up and change over. Another option would be for us to get a separate machine (probably a laser) to do the fabric and leather - but at 54" wide for rolls of fabric, its an equally large table needed so I worry a bit about shop space although we probably could fit it. It seems like about a $12000 commitment to add the knife setup (it needs to be oscillating according to most I've talked to for the fabric) - I haven't yet compared the cost of a laser but I imagine its going to be more than that. I have definitely lost out on the swiss army knife approach before though - I am very interested to know if anyone else thinks adding the oscillating knife is too ambitious!
Brad - Very good to know. We don't make wood chairs nor a ton of wood joints. But we do a fair mount of simple edge work on table tops - those machines in the video are pretty amazing. Would you get one as a stand alone, or would you get one in addition to a traditional router? It seems to me like I should start with the router for the bulk of my stuff and if I get slowed down from there add another machine? 100% the goal is to get things assembled as quickly as possible.
Andrew - excellent to know, I will check them out.
Gregory - good info - I will add them to the list!
Dropout - they keep popping up so I will have to call them. Definitely feel comfortable with a brand like that!
---
6/28/18 #12: CNC Router Suggestions ...


It is easy to start out thinking one machine can do it all. The volume and staff levels you mention suggest you will be heading into the path of multiple machines. You are going to quickly see how valuable this type of equipment is for your production levels. Right now it would be very easy to create a bottle neck in your production and buy a machine that has all sorts of things for something that does not fit your daily production. I would sift thru say your last 2 - 3 months of sales and make a simple spreadsheet of the bulk of your sales. If drawers are wasting the bulk of your time, aim for a machine to cut those parts. That machine can cut cabinet parts very easily too and this will allow you to gain some experience.
It will be important for you or your lead person to be very involved in the implementation and operation at the start. You need to understand the capability of the machine(s). Long term it is common to have separate operators and programmers. The trick is developing a system that is efficient and finding good people.
As for the solid stock, it is not uncommon to have both a nesting machine and a machining center. That Biesse machine will eat up all of your budget and then some. Post a few pics of your solid stock parts and I am sure you will get some more opinions.
---
6/29/18 #13: CNC Router Suggestions ...


I re-read your comments, and I see you mention table tops. In the CR Onsrud video the only reason the table top was suspended on pods was for the sanding step. A sanding head does not have a cutter of any sort on the bottom so it cannot plunge below the stock into a spoilboard. The sander in that video also requires an aggregate because of spindle power curves. That aggregate is basically a gearbox, but a very precise $5k touch that requires Z clearance. If you sand elsewhere you can find any number of suppliers to sell you cutters that can plunge thru for the profiling step.
---
7/19/18 #14: CNC Router Suggestions ...


Thank you for your opinions, tremendously helpful for us.
So after looking at the different options available we have decided to go with a Biesse Rover S. Ultimately it seems that we can get most everything we need done with a nested set up and can do the other items we need with a pod and an aggregate.
It came down to the need for a drill bank for our pieces, and once the other companies we looked at added the drill bank to their setups they were actually more expensive than the biesse, while the biesse offered more robust features at each level. We also felt like their service reputation could not be overlooked since this is our first machine (of course we'll see on that one).
Multicam was really impressive however and was able to cut our fabric and our leather very convincingly on their machine. I would definitely recommend their unit for someone who is looking for maximum versatility.
Now we are on to software. We make made to order case goods mostly (dressers, credenzas, stuff of that nature)
We are currently looking at KCD and Mozaik. Basically we need to make a library of our standard pieces and then easily configure them once they are ordered. Most of the software we have seen is geared toward kitchen cabinets - so looks like we will have to do some finagling to take those aspects and make them work for us. Any suggestions on software that might work for us?
---
10/22/19 #16: CNC Router Suggestions ...


Website: http://www.cnclaserengraver.com
Hi Riley, Regarding your working requirements, we recommend the automatic furniture panel prodution line, this machine is equipped with automatic loading and unloading ssytem, can save much labor cost at pretty high working efficiency, also, it can carry out different works of cutting, engraving, drilling, labelling, etc.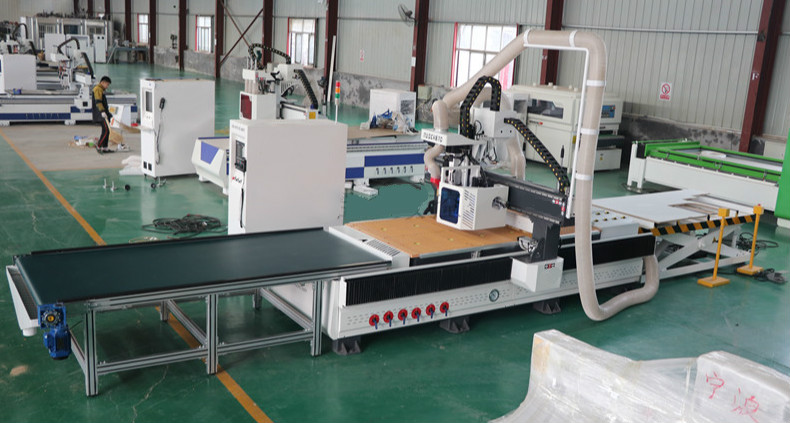 View higher quality, full size image (790 X 423)

Jeesun CNC
---
7/18/21 #17: CNC Router Suggestions ...


Website: https://forsuncnc.com/
Do you consider China's CNC router machine supplier? Jinan FORSUN CNC Machinery Co., Ltd. is one of the professional woodworking engraving machine manufacturers and suppliers in China. For 20 years, it has been focusing on providing high-quality CNC wood router machines and solutions to global customers.
Our products have a wide variety, high quality, reasonable price and fashionable design, which are widely used in cutting/marking/welding and other industries.
---