You are not logged in. Consider these WOODWEB Member advantages:

A personal "member history" that displays your posts at WOODWEB
Your forms at WOODWEB will be filled in automatically
Create your personal "My Favorites" page
Numerous automatic notification options
CNC router recommendations for a small shop
3/30/21

Website: http://www.tjdfurniture.com
I am looking for recommendations on CNC Routers for a small Custom Furniture Shop. I am a one man shop and make custom furniture and some catalog pieces for someone as well. I see using the CNC for sheet goods and solid wood parts like chair parts and some table parts that i make as repeat projects. Solid wood could be up to 2" thick that i would need to cut. I realize i would need to make multiple passes. It would not be a machine that right away would be used daily and currently limited to single phase power with out a converter anyways and have limited space as well. Any thoughts?
---
3/30/21 #2: CNC router recommendations for a sm ...

Similar situation here. Very varied work. Commercial cabs. Commercial interiors. Oddball 3-D work once in awhile. Furniture once in awhile. 10 horse power minimum. Machining 2" thick solids in my opinion you gonna want as rigid a machine as you possibly can get multiple passes or not..
Furniture parts can be rough on the flat table nested base machine. Lots of fixtures that have to be stored. But it gives you versatility. We have a shop sabre 408 pro. IS would be nice. I personally go with a heavy iron machine if your gonna be machining a lot of solid wood the more rigidity you can get the better.
---
3/30/21 #3: CNC router recommendations for a sm ...

What size do you want? 4' x 4'? Limited space doesn't help with a recommendation.
---
3/30/21 #4: CNC router recommendations for a sm ...

looking for 4x8
---
3/30/21 #5: CNC router recommendations for a sm ...

4x8 with a small foot print I've looked at avid, CAMaster, DB CNC,Shop sabre

---
3/31/21 #6: CNC router recommendations for a sm ...

Website: mcgrewwoodwork.com
Go see the machines, there is a Massive difference in Quality of some you mentioned, contact owners on the ones who have forums and find some shops in and hour or so driving distance, two tings will happen
1) you will see a machine and hear the eaxperience of the learning curve..
2) you will make a friend you will need to help you along...
---
3/31/21 #7: CNC router recommendations for a sm ...

james e mcgrew I realize the difference in quality, when i first saw the Avid it made me think it would be a good way to get my foot in the door of CNC. But after hearing feed back it seems like i would be better off to spend the money up front rather then starting with something cheep then updating later. I see you have a CAMaster how do you like it and what do you use it for?
---
3/31/21 #8: CNC router recommendations for a sm ...

Mark B. i had not seen the shop sapre before reading your post. Looks like a nice machine. How do you like it and what do you use it for. Their web site was very well done and had the most info on there machines compared to the other company's i have mentioned.
---
3/31/21 #9: CNC router recommendations for a sm ...

I have owned an FMT Patriot 4 x 8 with a Buusch vacuum pump since 2011. One man shop doing a mixture similar to yours. I have not had any problems in that time. Mine is a simple machine no ATC but I would consider getting an ATC right off the start.
There are a number of North American cnc builders of did weight machines that can fill your needs: Camaster, Axyz, Shop Sabre.
I chose FMT because it was a fully welded chassis and industrial control (I'm not sure that the control makes a big difference but I thought it would be more dependable in hot dusty conditions).
---
3/31/21 #10: CNC router recommendations for a sm ...

Website: mcgrewwoodwork.com
I stepped up over the years and Have had this 5 x 8 ATC since 2012, it stays on daily runs 35-40 sheets and makes money, A decent CNC and a good edgebander Will make some good changes, feel free to join camheads.org and find a machine near you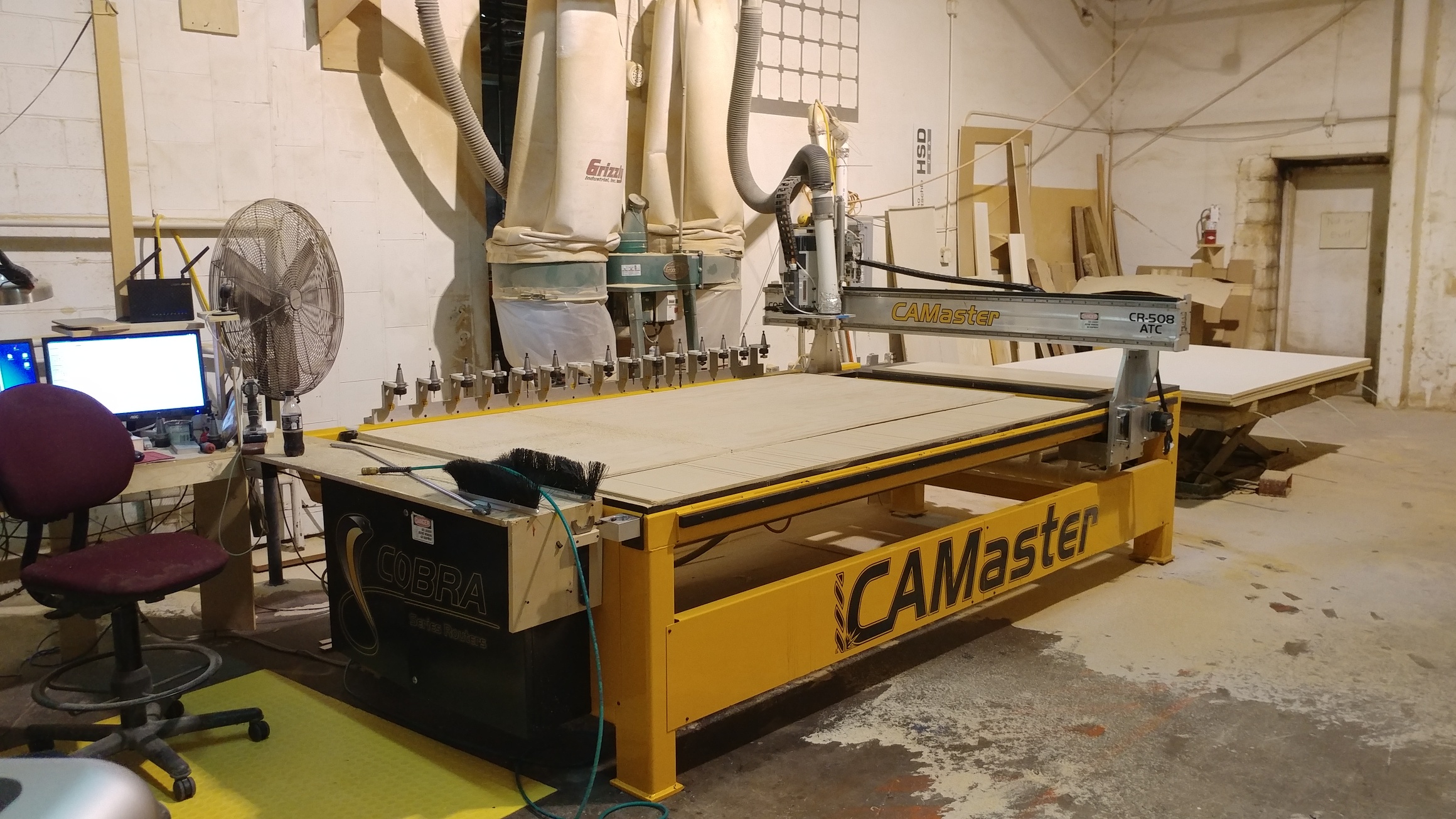 View higher quality, full size image (2320 X 1305)

---
3/31/21 #11: CNC router recommendations for a sm ...

Tom,
We have had zero issues with our machine other than operator error. We run everything from non-ferrous, plastics, paper, wood, laminates, solid surface, etc.. As mentioned very varied work.
I agree with your notion of pulling the plug at the onset and not getting started with something that causes you a bit more headache or requires a bunch of extra effort on your part. That said, to many, Camaster and SS, and the like, are entry level machines compared to the big boys but getting a machine that hits the ground running was very important to me and I had no desire to be fiddling with a machine.
We offloaded our machine and were cutting test parts in about 4 hours but we had everything in place (power, dc, air) prior to the machine landing so it was just wiring and putting some small bits and pieces together.
As I mentioned mainly for the solids, rigidity, the biggest tool changer package you can afford, and 10hp would jive with your single phase (we are single phase as well) with a VFD.
---
3/31/21 #12: CNC router recommendations for a sm ...

You should seriously consider talking to Jack at Limtech. Excellent machine, excellent value, and excellent service. I have ordered my second Orion 5x10 and would not consider anything else. Hope this helps.
---
3/31/21 #13: CNC router recommendations for a sm ...

So as a tech that works on various MFG machines. Let me say and I can't stress this enough.
SERVICE
SERVICE
SERVICE
and I don't mean service when the machine is now and still in the warranty period, but when the machine is 8 years old.
Is the MFG asking you for a credit card to get support, are they telling we dont support that machine or component anymore and you will have to upgrade before we can hero you, or we don't repair keypads or control boards we only sell replacement, but we will take your old so we the MFG can get repaired to sell you a refurbished one.
Are you beholden to the MFG for parts because this is a OEM part, rarely do customers have a bad experience when the machine is new, its after the shine rubs off is when you find out who the MFG really happens to be.
BTW if you have to come to the shop at 8pm for tech support, after you were already there at 5am and work 12-14 hours, you might not want to add that machine to your shop.
---
3/31/21 #14: CNC router recommendations for a sm ...

Website: http://www.sogncabinets.com
When I was shopping, I was looking at Biesse, Giben/Anderson, and Weeke.
I still think those three are the best options.

---
4/1/21 #15: CNC router recommendations for a sm ...

Tom, it depends on your needs and budget. Spend the most you can for the best you can. We use Shop Sabre and love the machine. Ours is single phase. We looked at Camaster also. They are great machines too. If you have a mfg close to you, go look at their machines. I would stay away from bolt together machines. The heaver the machine the smoother it runs. A good cnc will be one of the best investments you can make when it comes to production. You will have a virtual employee that works hard, never complains and is extremely accurate.

---
4/1/21 #16: CNC router recommendations for a sm ...

Maurice's post was heavy on my mind when we made the jump. The machines in Karls response are some of the industrial gold standards I mentioned however for the work we do and my needs I didnt have the desire to be held hostage for proprietary parts or tech setup and maintenance for anything other than a bolt-on/plug-unplug part replacement. Budget left the only option to scour and hope to land on a very nice used industrial machine. New fit the bill at the time.
Like Thomas says, your needs and budget pretty much lead the way. The machines you listed initially are far from the industrial big boys which would seem to indicate budget a bit.
SS and Camaster and Id imagine most in that class offer lifetime support so I guess until the manufacturer goes belly up there is support. Every last part on my machine can be replacement purchased from the manufacturer or directly off the shelf from any number of vendors likely at a far lower price and swapped out with little issue. There is not a proprietary part on the machine.
If you have a little time and with the machines youve outlined you could likely land on a super clean 4x8 or 5x10 used from someone who either got in and is opting out or is upgrading. Ive seen several super lightly used machines like ours that are pretty much in new condition, with accessories/tooling, selling for half the cost of new.
A lot of people in this class of mahine are barely above hobby level and care for their machines like a Ferrari.
---
4/1/21 #17: CNC router recommendations for a sm ...

My friend has an onsrud and loves it.
Iím partial to Biesse but we are running schools, Hospitals and dental offices at about 400 sheets in a busy week not including corian. Then it gets ugly
Heavy iron bolted down.
Shop Sabre and cam master are great machines.
BTW we also have a stone shop. Both shops cut everything in 2 passes. Yes. We have the iron to do so, but we donít lose many parts in either shop
---
4/2/21 #18: CNC router recommendations for a sm ...

I understand that bigger and heavier is better when it comes to cncs, there are some drawbacks to consider. A big iron machine has big demands on power. You could end up paying thousands more for a service upgrade. They also have big demands on compressed air and dust collection. If you are on single phase you likely won't have the capacity for a big cnc.
Smaller machines are cheaper to maintain. Everything on my machine is an off the shelf part available from a variety of suppliers. Tech support is there by phone or email. A big Biesse has a much more complex system of electronic and air sensors and I presume specific parts and would be beyond my capacity to trouble shoot and repair. You will have to factor in the cost of technician maintenance.
Consider your future demands. Do you want to grow your business? The rule of thumb for cncs is buy your second one first. or buy with future growth in mind.
Last thought. It's great to have a powerful spindle but in my experience the limiting factor is work holding ability and cnc flex. I have rarely pushed my 5 hp spindle to max amps before losing cut quality.
---
4/3/21 #19: CNC router recommendations for a sm ...

I've owned some of the machines listed, currently own a biesse. I'm single phase as well, 1 person shop. Digital phase converter runs my Rover just fine. My recommendation is buy a solid machine from a manufacture with support. Like you, I'm a 1 person shop and down time kills the budget in the worse way. I was skeptical of Biesse advertised 24/7 support but I've used it a few times (operator error) and even at 5am on mothers day weekend, a sunday I called in after hours support and was called back 30 minutes later, they web'd into the machine and showed me what I was doing wrong. I've had to use support from one of the other manufactures listed in previous posts, and it is awful. Feel free to contact me if you want more details. Go see machines running. Most owners/operators will be very willing to tell you pros and cons and you have to decide what would work best for you. Look at the other machinery in the shop to see if they are all from the same manufacture. They could have a biased opinion, but not always. Look for small shops in your same situation to get the best comparison.
---
4/3/21 #20: CNC router recommendations for a sm ...

Website: Possessionwood.com
Iíve got a ShopSabre IS408. Itís been a great machine. The frame is very heavy, and have had no issues in three years. The support is amazing, if you need it.
---
4/13/21 #21: CNC router recommendations for a sm ...

If I was to buy a small cnc, I would go with an AVID. I've used the machines before, and for an extrusion machine, it is very good. I'm also a big fan of the rotary options available. Mach 4 uses .txt files, I use legacy's CCAM for alot of rotary stuff, very easy.

---
4/14/21 #22: CNC router recommendations for a sm ...

I don't know if you can really appreciate heavy iron until you have used the range from light to heavy. I have 2 machines in the 15,000 pound plus range and I would never go back to a smaller one.
2" solid wood is serious business.
Make sure the spindle can rotate both way and that you have proper left and right hand tool holders.
Look for an old 4X8 Anderson. I know a guy who does lots of solid wood on one.
---
4/30/21 #23: CNC router recommendations for a sm ...

we produce in israel with eurpen structer and america controler and our software,machines high quality ,low cost,please call us
972 504242775
yaakov
---
5/1/21 #24: CNC router recommendations for a sm ...

Ok Iíll chime in on this and itís different from what I said in the past. Nope not a Biesse, look at an Anderson. We needed a machine for a temporary location and I was amazed at the Anderson
1st Fanuc controllers with something like 35 service center through the USA and warranty on all their parts from them with extended options out to 10 years.
2nd they only had a 5x10 in stock but machine itself is smaller than our 4x8
3rd easy to use. Biesse has moved almost all its buttons onto the screen of computer that require multiple clicks to do something. Fanuc has physical buttons for several things just easier. Tool measurements is another, go to tools tab, click tool click measure done. No typing tool name, no premeasuring to get it close, no confirm you actually want to measure tool etc.
We have push off feature and it does an amazing job on cleaning spoilboard regardless of how thick it is
Only down is it doesnít have its own cad software, so you have to do everything in another program and send to machine. Biesse had ability to preview the parts you are going to run Anderson does not
---
8/1/21 #25: CNC router recommendations for a sm ...

Website: https://forsuncnc.com/
Where to buy the best CNC wood router 2021? Stop looking elsewhere! FORSUN wood CNC router supplier has collected them for you here! These automatic wood carving CNC routers are great tools for woodworking project makers. Our machine selection includes affordable CNC wood router, mid-range CNC wood machines, and professional CNC wood CNC machine systems.
---

---
Buy & Sell Exchanges | Forums | Galleries | Other Resources | Site Map
---



Buy and Sell Exchanges



Job Opportunities and Services Exchange
Employment opportunities and services within the woodworking industry

Lumber Exchange
A worldwide buy/sell exchange for lumber and wood products

Machinery Exchange
A worldwide buyer and seller exchange for woodworking machinery and equipment.

Classified Ad Exchange
Classified advertising for the woodworking industry (for advertisements that do not include machinery, lumber products and employment listings)


---



Forums



Adhesives Forum
Discussing topics related to adhesives within the woodworking industry

Architectural Woodworking Forum
Discussing quality standards and production of architectural wood products

Business and Management Forum
A forum for the discussion of business topics: from sales and marketing to dealing with difficult customers.

Cabinet and Millwork Installation Forum
Discussing all aspects of installation issues encountered by cabinet and millwork installers.

Cabinetmaking Forum
Discussing 32mm and face frame cabinet construction including fabrication, casegoods design, and installation.

CAD Forum
Shedding light on the all-too-often shadowy world of CAD.

CNC Forum
Discussing CNC (computer numerically controlled) woodworking equipment, software, and automated product manufacturing.

Dust Collection, Safety and Plant Operation Forum
Discussing topics related to maintaining a safe and productive working environment.

Professional Finishing Forum
Finishing issues for the production environment

Forestry Forum
The science and art of forest cultivation and timber management, planting, surveying, tree diseases, silviculture and timber harvesting

Professional Furniture Making Forum
Helping professional furniture makers improve quality, save time, and increase profits

Laminating and Solid Surfacing Forum
Issues related to laminating and solid surface materials and processes

Commercial Kiln Drying Forum
Discussions covering issues faced be commercial drying operations that process at least 750,000 bd. ft. of lumber per year

Sawing and Drying Forum
Discussing topics related to primary processing and drying of lumber

Solid Wood Machining Forum
Discussing topics related to the machining of solid wood

Value Added Wood Products Forum
Learn how to improve your output, find new markets, and boost sales of your lumber products

Veneer Forum
Discussing topics related to veneer processing, manufacturing, and fabrication

WOODnetWORK
An electronic discussion group for woodworkers throughout the world


---



Galleries



Project Gallery
Where professional woodworkers can post examples of their work

Sawmill Gallery
Professional primary processing companies display and describe their sawmill facilities

Shop Gallery
Professional woodworkers display and describe their shop facilities, products and equipment

Shopbuilt Equipment Gallery
Professional woodworker's jigs, rigs, and shopbuilt equipment


---



Other Resources



Industry News
Late-breaking news from all sectors of the wood industry

Video Library
Index of industrial woodworking related digital videos on the web

Auctions, Sales and Special Offers
Advertisers offering woodworkers discounted prices on good and services, and announcements of upcoming auctions


FORUM GUIDELINES: Please review the guidelines below before posting at WOODWEB's Interactive Message Boards
(return to top)
WOODWEB is a professional industrial woodworking site. Hobbyist and homeowner woodworking questions are inappropriate.
Messages should be kept reasonably short and on topic, relating to the focus of the forum. Responses should relate to the original question.
A valid email return address must be included with each message.
Advertising is inappropriate. The only exceptions are the Classified Ads Exchange, Machinery Exchange, Lumber Exchange, and Job Opportunities and Services Exchange. When posting listings in these areas, review the posting instructions carefully.
Subject lines may be edited for length and clarity.
"Cross posting" is not permitted. Choose the best forum for your question, and post your question at one forum only.
Messages requesting private responses will be removed - Forums are designed to provide information and assistance for all of our visitors. Private response requests are appropriate at WOODWEB's Exchanges and Job Opportunities and Services.
Messages that accuse businesses or individuals of alleged negative actions or behavior are inappropriate since WOODWEB is unable to verify or substantiate the claims.
Posts with the intent of soliciting answers to surveys are not appropriate. Contact WOODWEB for more information on initiating a survey.
Excessive forum participation by an individual upsets the balance of a healthy forum atmosphere. Individuals who excessively post responses containing marginal content will be considered repeat forum abusers.
Responses that initiate or support inappropriate and off-topic discussion of general politics detract from the professional woodworking focus of WOODWEB, and will be removed.
Participants are encouraged to use their real name when posting. Intentionally using another persons name is prohibited, and posts of this nature will be removed at WOODWEB's discretion.
Comments, questions, or criticisms regarding Forum policies should be directed to WOODWEB's Systems Administrator
(return to top).

Carefully review your message before clicking on the "Send Message" button - you will not be able to revise the message once it has been sent.

You will be notified of responses to the message(s) you posted via email. Be sure to enter your email address correctly.

WOODWEB's forums are a highly regarded resource for professional woodworkers. Messages and responses that are crafted in a professional and civil manner strengthen this resource. Messages that do not reflect a professional tone reduce the value of our forums.

Messages are inappropriate when their content: is deemed libelous in nature or is based on rumor, fails to meet basic standards of decorum, contains blatant advertising or inappropriate emphasis on self promotion (return to top).

Libel: Posts which defame an individual or organization, or employ a tone which can be viewed as malicious in nature. Words, pictures, or cartoons which expose a person or organization to public hatred, shame, disgrace, or ridicule, or induce an ill opinion of a person or organization, are libelous.

Improper Decorum: Posts which are profane, inciting, disrespectful or uncivil in tone, or maliciously worded. This also includes the venting of unsubstantiated opinions. Such messages do little to illuminate a given topic, and often have the opposite effect. Constructive criticism is acceptable (return to top).

Advertising: The purpose of WOODWEB Forums is to provide answers, not an advertising venue. Companies participating in a Forum discussion should provide specific answers to posted questions. WOODWEB suggests that businesses include an appropriately crafted signature in order to identify their company. A well meaning post that seems to be on-topic but contains a product reference may do your business more harm than good in the Forum environment. Forum users may perceive your references to specific products as unsolicited advertising (spam) and consciously avoid your web site or services. A well-crafted signature is an appropriate way to advertise your services that will not offend potential customers. Signatures should be limited to 4-6 lines, and may contain information that identifies the type of business you're in, your URL and email address (return to top).

Repeated Forum Abuse: Forum participants who repeatedly fail to follow WOODWEB's Forum Guidelines may encounter difficulty when attempting to post messages.

There are often situations when the original message asks for opinions: "What is the best widget for my type of shop?". To a certain extent, the person posting the message is responsible for including specific questions within the message. An open ended question (like the one above) invites responses that may read as sales pitches. WOODWEB suggests that companies responding to such a question provide detailed and substantive replies rather than responses that read as a one-sided product promotion. It has been WOODWEB's experience that substantive responses are held in higher regard by our readers (return to top).

The staff of WOODWEB assume no responsibility for the accuracy, content, or outcome of any posting transmitted at WOODWEB's Message Boards. Participants should undertake the use of machinery, materials and methods discussed at WOODWEB's Message Boards after considerate evaluation, and at their own risk. WOODWEB reserves the right to delete any messages it deems inappropriate. (return to top)



Forum Posting Form Guidelines

Your Name
The name you enter in this field will be the name that appears with your post or response (return to form).
Your Website
Personal or business website links must point to the author's website. Inappropriate links will be removed without notice, and at WOODWEB's sole discretion. WOODWEB reserves the right to delete any messages with links it deems inappropriate. (return to form)
E-Mail Address
Your e-mail address will not be publicly viewable. Forum participants will be able to contact you using a contact link (included with your post) that is substituted for your actual address. You must include a valid email address in this field. (return to form)
Subject
Subject may be edited for length and clarity. Subject lines should provide an indication of the content of your post. (return to form)
Thread Related Link and Image Guidelines
Thread Related Links posted at WOODWEB's Forums and Exchanges should point to locations that provide supporting information for the topic being discussed in the current message thread. The purpose of WOODWEB Forums is to provide answers, not to serve as an advertising venue. A Thread Related Link that directs visitors to an area with inappropriate content will be removed. WOODWEB reserves the right to delete any messages with links or images it deems inappropriate. (return to form)
Thread Related File Uploads
Thread Related Files posted at WOODWEB's Forums and Exchanges should provide supporting information for the topic being discussed in the current message thread. Video Files: acceptable video formats are: .MOV .AVI .WMV .MPEG .MPG .MP4 (Image Upload Tips) If you encounter any difficulty when uploading video files, E-mail WOODWEB for assistance. The purpose of WOODWEB Forums is to provide answers, not to serve as an advertising venue. A Thread Related File that contains inappropriate content will be removed, and uploaded files that are not directly related to the message thread will be removed. WOODWEB reserves the right to delete any messages with links, files, or images it deems inappropriate. (return to form)