Dealing with humidity in Florida
---
2/7/16 #16: Mystery Discoloration of Doug Fir V ...


Website: http://architecturaldiagnostics.com
Gene: I was taken with your theory that the glue thickness may relate to the pressing process, until I considered the discoloration blooms around penetrations which were cut in the contractors shop, well after the glue had cured. And, the discoloration is progressive, spreading beyond pencil and chalk lines that used to mark its boundaries... Still, chemical reaction between components could really be the cause.
Robert: I agree, and replacement doors are on the way. The million dollar question, is how to finish them.
Paul: I am convinced that moisture penetrating finishes at porous edges is involved. Your suggestion of epoxy to block moisture, followed by 2 part acrylic polyurethane may be the best solution if I could be sure the topcoats contain UV absorbers and inhibitors to protect the wood as well as the coating. I'm running into difficulty getting manufacturers to tell me what the add to their secret sauces..."it's propriatery"... Do you or anyone reading this know any specific clear finish products which contain a combination of hindered amine light stabilizers and other uv inhibitors, which are suitable for interior use on doors and cabinets?
Not included in the photos I posted; one door has a dark spot right in the middle of the door, similar to the spot you noted by the door hardware, but surrounded by natural colored wood. My theory is a pinhole in the finish caused by a surface blemish...
My theories are biased by my belief that both moisture and light are involved, although I'm not sure exactly how. I had guessed it was microbial growth, but Oregon State University looked at a sample and did not detect fungal growth. Oxidized extractive bleeding sounds believable, if we assume humidity without liquid water can move extractives (I will read the link posted with interest). I really appreciate all of the well considered responses, theories, ideas and suggestions that have expanded my thinking.
Specific product suggestions for finishing would be welcome. Clear, satin, interior use, high humidity, blocking moisture and uv (and light wavelengths that oxidize extractives?) OK... Tall order.
---
2/7/16 #17: Mystery Discoloration of Doug Fir V ...



Website: finishing.tips


Phil,

For the 2-part acrylic polyurethane I'll recommend Matthews satin clear (see the link to the tech data sheet below). It's formulated for exterior use and works very well. I've used it in MANY museums with excellent results.

I'll also recommend you use the accelerator (link below) to speed the cure time.

There are other excellent 2K-PUs on the market that are also a great choice for woodwork but I'm not sure if any of them contain HALS and UVAs.



Click the link below to download the file included with this post.

Matthews_Satin_Clear_42_228SP.pdf


Click the link below to download the file included with this post.

Matthews_MAP_Accelerator.pdf


Click the link below to download the file included with this post.

Matthews_MAP_Sales_Sheet.pdf

---
2/7/16 #18: Mystery Discoloration of Doug Fir V ...


Paul, Thanks for your comments. You got me thinking even more and I think I might have a clue. What do you think?
First, Water vapor at room temperature cannot dissolve or move water-soluble extractives. I do recall some chemistry about making solutions with water and non-hygroscopic chemicals.
Now here is my latest thought: Although liquid water is required to make a solution, with highly hygroscopic chemicals, we can have a liquid formed at under 100% RH. (Keep this thought in mind as you read further.)
Technically, water vapor is moving by diffusion, driven by a vapor pressure gradient. There is no way that a water vapor molecule can attach to any extractive molecule...there is no hydrogen bonding or molecular bonding possibility for them to attach. What is needed is a liquid that moves. This is reinforced by the Field discussion on p.5 and the Summary on p.7 in the referenced article. Further, even if vapor could move extractives, this would mean that extractives from one spot in the wood are traveling to another spot. Yet, the OP indicated that the wood veneer was discolored deeply.
It is my experience that when extractives move they are concentrated in a region at the surface, left behind when the liquid evaporates. That is, a liquid can carry an extractive to the surface of wood and then be evaporated, leaving the extractive behind, creating a concentration at the evaporation site--the surface. The extractive than can oxidize forming a new color.
Note that if indeed vapor could move extractives, we would see this occurring time and time again, as vapor is always changing in wood products.
Moisture vapor only moves through wood when there is a difference in vapor pressure. So, what force is creating a substantial difference in vapor pressure between the discolored and normal colored wood? Certainly, liquid water entering on the edge will often make a difference, but this is not likely in this case. So, how do we get a vapor pressure difference that will last for a long enough time? Overall, the humidity at the edge and at the face would seem to be, on the average, identical.
So, let me throw in this possibility. We know that highly hygroscopic chemicals will form a liquid at less than 100% RH. (Example: Table salt will attract enough vapor to become liquid and then cake or harden.) So, is there a highly hygroscopic component in the adhesive or core material? Or maybe it is associated with the edge banding? It would attract liquid moisture at less than 100% RH. With a liquid, I can envision some small movement of chemicals and, more importantly, some changes in chemicals (chemical reactions).
As an example, the formation of iron tannate stain in wood occurs when there is tannic acid, iron AND LIQUID WATER. Humidity alone does not cause or create this reaction. In other words, an iron nail in oak does not form iron tannate until liquid water is present. But we do know that a highly hygroscopic chemical (mainly a salt) can form liquid water which can be used to make this reaction occur even when the humidity is under 100% RH. I do believe that some cedars have such chemicals and so are able to create enough moisture so that fungi (mold) can grow on the wood surface even at humidities under 100% RH.
I am not convinced that light is a factor, as we know that light only penetrates into wood about 1/100". How do we get the color deep into the wood?
I think that with the presence of water liquid, chemicals are formed that are being oxidized, which would happen at the surface and below the surface.
I am still not sure why we do not see this more often. Is it possible that the doors are being cleaned with a chemical cleaner by the maintenance staff? How can entry doors and dresser drawers have the same effect? What is in common? Maybe the adhesive or the core of ??? Why only in this case and not all over the island?
One suggestion. Put some oxalic acid (also called wood bleach) on the stain area (perhaps first sanding through the finish). If indeed this is an oxidation reaction, you will see an almost immediate lightening of the color.
---
2/8/16 #19: Mystery Discoloration of Doug Fir V ...


Website: finishing.tips
Gene - thanks for all your insight.... This is a very unique and interesting problem and your multi-pronged approach to identifying the cause is very informative!
I think the series of questions you ended with sums up this discussion nicely;
"I am still not sure why we do not see this more often. Is it possible that the doors are being cleaned with a chemical cleaner by the maintenance staff? How can entry doors and dresser drawers have the same effect? What is in common? Maybe the adhesive or the core of ??? Why only in this case and not all over the island?"
At this point, I think we need the lab results that define what is causing the discoloration to better understand how it's happening.
---
2/8/16 #20: Mystery Discoloration of Doug Fir V ...


Family Man asked "did the cabinets and interior door veneer come from the same shop/laid up by the same shop?"
I don't see an answer and it's a pretty important question because house and cabinet doors typically have nothing in common - material sources, manufacturing, etc.
What do the house and cabinet doors have in common? Unless I missed something, only the finish has been ruled out (not something they have in common).
---
2/8/16 #21: Mystery Discoloration of Doug Fir V ...


I am just wondering out loud about the moisture. I can understand the end grain of the veneer getting the wicking of water since it is like a straw but I'm a little confused with it coming in against the grain. I would think the discoloration wouldn't be as uniform all around the door. But more at the top and bottom as compared to the sides. Just a thought.
Since the doors are to be replaced, can you somehow damage the finish in areas that have not discolored, mark them and then see over some time if it starts to discolor? Again, just a thought.
---
2/8/16 #22: Mystery Discoloration of Doug Fir V ...


Well ... I learned more today about things NOT in common with the doors vs cabinets:
1) the plywood and veneer were glued up by different shops/suppliers. 2) the glue for the cabinet plywood and veneer was is a soy based product, while the glue for the door components and veneer was a polyvinyl acetate emulsion adhesive.
Paul: Thanks for your input on the Matthews product. I'm looking into it.
Jeff A: That is a really good idea to ding the finish in a good area and see if it gets dark over time. Unfortunately, the darkening took over a year to manifest, so we won't be able to wait and see what happens before we finish the new doors.
I've attached another photo to show the unusual spot growing in the center of a one of the doors ... where I'm suspecting a blemish caused a pinhole in the finish. It was contained within the chalk mark before.
What do the doors and cabinets have in common? ... prolonged exposure to elevated relative humidity for sure. VG Fir veneer for sure. I've been unable to find anything else so far.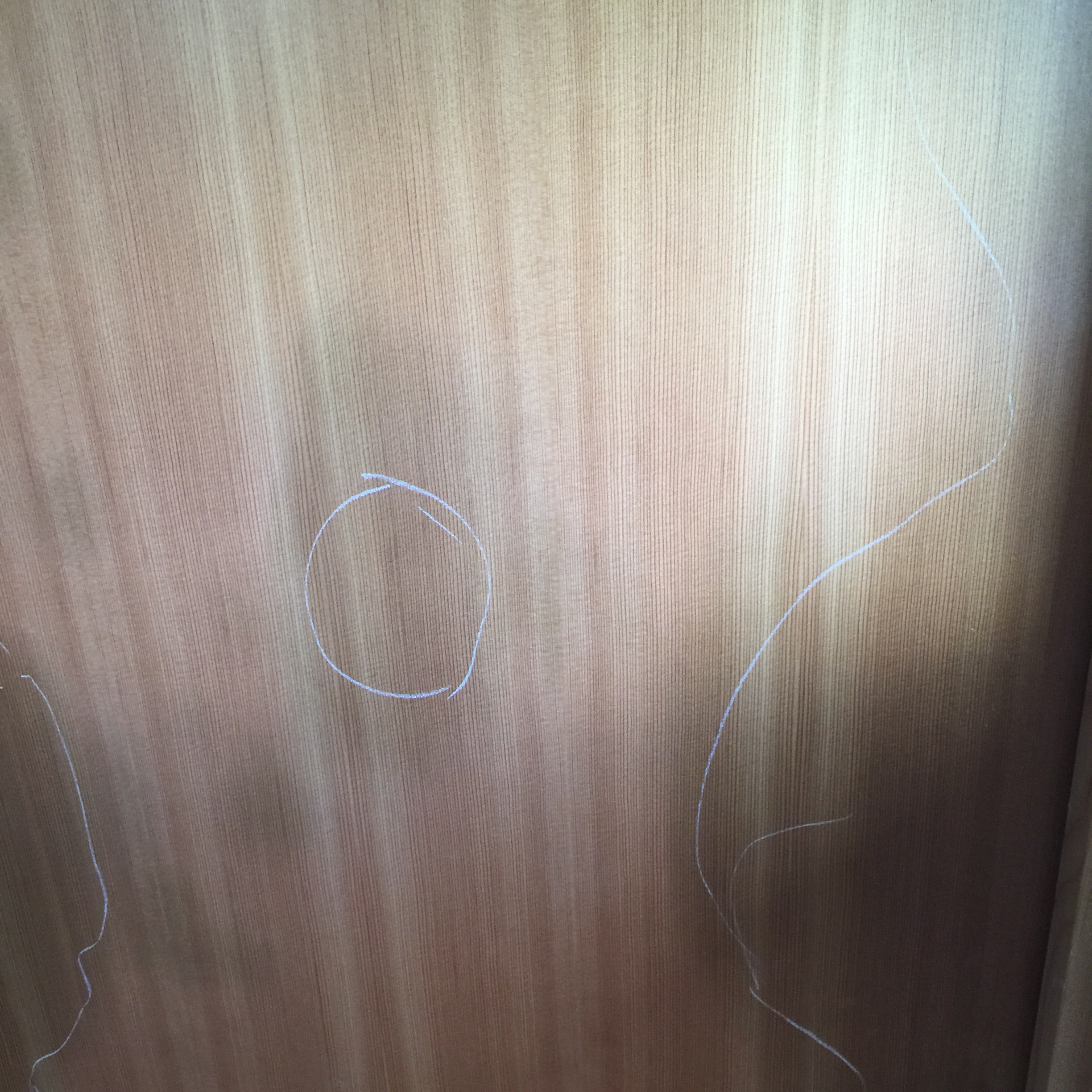 View higher quality, full size image (2448 X 2448)

---
2/8/16 #23: Mystery Discoloration of Doug Fir V ...


I've been racking my brain trying to figure out where i have seen this before on VG Fir.
We use a lot of it here in the Pacific Northwest. I'm going to through out one more scenario and I'm going to ask you to look at the photos one more time. It looks like random orbit marks.
I am going to put forth the theory that the areas that are darkening the veneer is thinner because it was sanded thinner by a random orbit sander. I have no doubt both moisture and sunlight are doing the work but what you are seeing is the wood/veneer where it is thinned down to oversanding being affected.
Anyone who has ever sanded an edgebanded cabinet door and analyzed how almost everyone does it, well you spend more time on the outside edge as you sand the glue from the banding off.
I have seen this on much smaller scale on one or two pieces on several different jobs over the years.
I would say the trick is to make sure the veneer is thick enough and sanded properly and then do a proper finish.
Good luck
---
2/9/16 #24: Mystery Discoloration of Doug Fir V ...


Since there is zero change under the pull, light is required for whatever reaction is taking place.
It's hard to tell from the pictures, but it looks like the light areas still have the red and white/yellow tones of fresh fir, instead of the more even tan/brown tones I would expect. Are the dark areas significantly darker than fir that has been exposed to light for 2.5 years should be (and/or the light ones lighter)?
What has been done to/used on the doors since they arrived at the home - cleaning, polish, etc.?
---
2/10/16 #25: Mystery Discoloration of Doug Fir V ...


Website: http://ArchitecturalDiagnostics.com
Gene - the oxalic acid suggestion made a marked difference! See the image from Director of the Oregon Wood Innovation Center at Oregon State University, who is kindly examining samples for us and exposing them to hot humid and hot dry conditions... He will do moisture readings after a week of 90% humidity exposure, and I will report back.
Dave L: The home owner reports no cleaning chemicals or solutions have been used on the doors since installation. Occasional damp wipe only.
Second photo was furnished by the contractor ... it shows a remarkable difference in color depending on light exposure. He pointed out the "light shadow" on the discolored wood, behind the door lever. Wow. It's clear light plays an important role, even at the interior of the house which only gets indirect light.
Anyone who lives at elevation above 2,000 ft in Hawaii sometimes finds themselves in the clouds. Although the doors don't get wet, the article Paul provided did suggest that liquid water may not be needed. There must be enough moisture entering the wood to cause extractive bleeding in areas around edges and cuts? If the oxalic acid test indicates migration of extractives, and if light has oxidized them, we need a super impermeable sealer, perhaps followed by a super impermeable UV absorber and inhibitor.... (if UV is the oxidizer?).
The darkening effect on areas which have never been exposed to direct sunlight raises another question: Does anyone know what light wavelengths will oxidize extractives?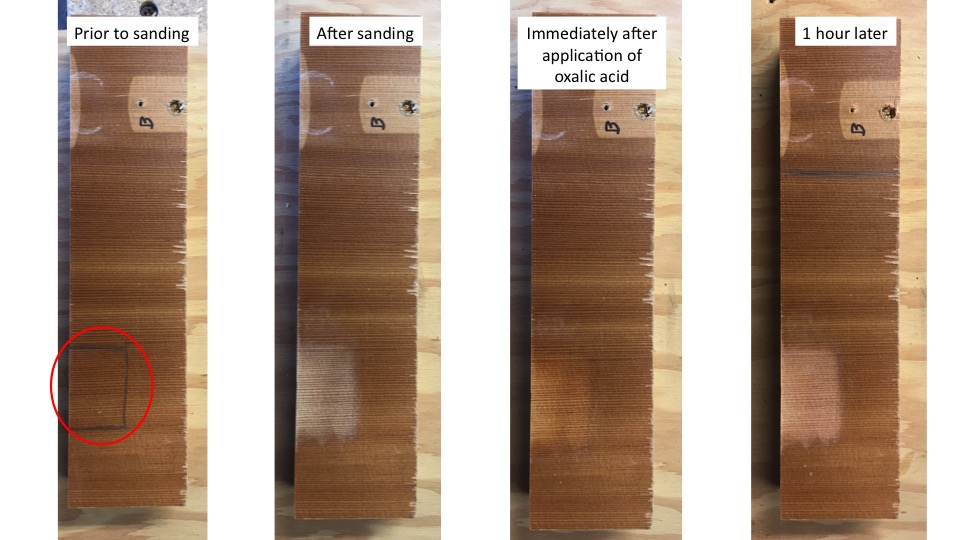 View higher quality, full size image (960 X 540)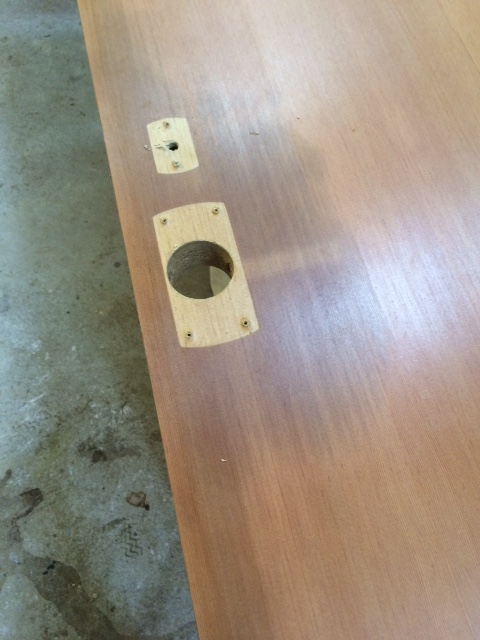 View higher quality, full size image (480 X 640)

---
2/13/16 #26: Mystery Discoloration of Doug Fir V ...


Website: finishing.tips
Phil,
Unfortunately, the oxalic acid test does not confirm or rule out extractive migration. Oxalic acid (aka, deck brightener) does remove water soluble extractives (WSE) (as indicated in the article) but it also removes lignin that is oxidized and discolored. We still don't know why the edges are darker than the center of the doors....
Is it possible for the lab to scrape some of the darker color at the edges and some of the medium color in the center and compare the chemical composition (e.g., mass spec)? That would indicate if there is a chemical difference in the wood surface where it's darker and define which WSE (if any) is involved.
Regarding which wavelengths of light cause photo-oxidation, the spectrum involved includes UV-A, B, and C as well as visible light up to 500 nm. UV has the strongest effect and also breaks down coatings used outdoors. Using a finish that contains UV absorbers and stabilizers will offer the most protection - even indoors.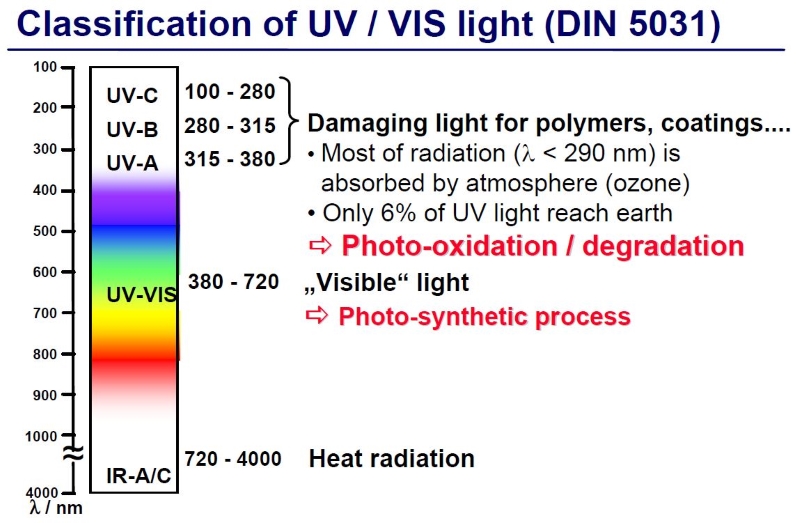 View higher quality, full size image (800 X 523)

---
2/13/16 #27: Mystery Discoloration of Doug Fir V ...


I assume that you did not soak the wood in oxalic acid, but put on a light coating that evaporated quickly. If so, I do not think that the oxalic acid would have time or enough moisture to move the3 extractives. So, it does indeed look like an oxidation reaction, as discussed earlier.
One other thought, if the extractives are moving, then there must be some part of the wood that is deficient in extractives, which means that part of the wood should be non-darkened. As i understand the OP, the wood is dark way beyond the surface. But even more, we cannot move the large extractive molecules with vapor at room temperature.
---
2/17/16 #28: Mystery Discoloration of Doug Fir V ...


Everyone's thoughts and input have been invaluable and very educational, particularly from Gene and Paul. Thank you for your interest and comments.
A technical representative from the coating manufacturer inspected the wood under magnification onsite, and observing tiny black dots, concluded the issue was extractive bleeding, which I had trouble believing before I posted on WoodWeb. Later, the lab at OSU inspected a sample under a microscope and saw "discolored 'black dots' within the parenchyma cells" which they thought suggested oxidation. I don't know enough about wood science to understand what that means, or whether it supports the extractive bleeding theory.
Before posting, I dismissed the extractive theory due to lack of liquid water, but the article shared by Paul made me rethink that. It seemed obvious that light was involved from the sharp difference in appearance behind hardware, and the "light shadow" of the door lever handle. Paul's wavelength chart has given me some confidence that a good UV blocker should go a long way toward reducing oxidation.
Gene: You are correct that the wood was not soaked in oxalic acid, but that the acid was applied to the sanded area and allowed to dry which resulted in pretty dramatic lightening, although it also looked from photos like the sanding itself lightened the wood somewhat. Acid was similarly applied to an unsanded area on the same sample, with no apparent lightening. My comment that the discoloration extends deep into the veneer was not my own observation, but based on the contractor's statement that he tried to sand off the discoloration and was afraid he would sand through the veneer before he removed the discoloration. So, it sounds like darkening extends more than 1/100", but I don't know how deep. I agree with your observation that vapor movement can only happen if there is a difference in vapor pressure, but I can't think of any mechanism that would cause a difference in vapor pressure between the edge of the door and the surface a few inches away. Only presence of hygroscopic material behind the coating made sense to me. Now I'm thinking formation of condensation on the door is plausible, if air is saturated and the door is a degree or two below dew point? This might allow moisture to wick into the edges, then evaporate out through both edges and surfaces?
It is really odd that although wood is from different sources, glues are different, coatings are different, and applied by different people in different locations by different methods, conditions could be so unique that others have not seen this frequently. I'd think that lots of places in the Pacific Northwest would be damper for longer periods.
Because the discoloration happens near cuts and edges, and the home is in a moist climate, I'm theorizing that there must be enough moisture to cause extractives to migrate, and that the clear finish is somewhat permeable to water vapor but not permeable to extractives, which are trapped behind the surface of the coating and oxidizing with exposure to daylight.
So, unless the wood lab is able to perform the spectroscopy Paul mentioned and ID the difference between dark and light areas, we may not completely solve this mystery. I'm reasonably confident that sealing against moisture and protecting the substrate from UV light is our best bet at a solution. If we are able to get more information, I will be back to share.
Aloha
And Mahalo for all of the suggestions and ideas.
---
2/18/16 #29: Mystery Discoloration of Doug Fir V ...


The idea of migration of extractives has several problems...
First, water vapor cannot move the large extractive molecules at room temperature. If water vapor could do that, why is this problem not seen more often? The extractive molecules are very large in size.
Second, if extractives do move, that would mean that some part of the wood now lacks extractives so would be very light in color...lighter than normal.
Third, If extractives could move easily, then why doesn't normal drying, where we have liquid water movement, leave the surface darken than normal almost all the time?
Fourth, if this is a light reaction, why is it deep, as we know light cannot penetrate into wood more than 1/100"? If light, we could sand off the discoloration.
Fifth, the oxalic acid reaction does confirm that this is an oxidation reaction, but not what is involved. Extractives usually do not respond to oxalic acid.
Sixth, this is a really rare event, so what is really odd or different here? Moisture (high humidity) exposure is not rare for D-f.
Seventh, The pattern on the door and drawer strongly indicates that the discoloration is due to something occurring after manufacturing.
Eight, the lack of discoloration behind the fixture could be related to something put on the surface of the door after installation. This chemical could react with other chemicals on other products as well, like drawers.
With drawers, the moisture would be moving from the humid outside to the drier inside, so the front would be free of discoloration if it were extractive migration.
With the drawers, is the discoloration also on the inside where it would be unlikely that the surface chemical would be located...if a cleaner, for example, people would only clean the outside, not the inside?
---
2/18/16 #30: Mystery Discoloration of Doug Fir V ...


Website: http://architecturaldiagnostics.com
Gene: You make a very strong case against the issue being caused by extractives!
Although baffling, everything you have said makes sense to me except point eight. The owner, who had the home built and has been the caretaker of the home since said she has never used any cleaner or chemical on the doors and cabinets, but may have occasionally wiped them with a damp cloth.
I'm going to see if I can get any input from Forest Products Laboratory ... I don't know where else to ask. The problem is intriguing. If I learn anything new I will return and let you all know. Thank you so much for your thoughts and ideas.
---
2/18/16 #31: Mystery Discoloration of Doug Fir V ...


Any chance we could put a wet rag on a spot at the edge of this coloration, on both discolored and non-discolored wood for 6 hours? A little soap or detergent might help as that is a surfactant. Then let it dry with exposure to light.
This will carry moisture into the door away from the surface. Then, as it dries, back to the surface, assuming that the finish is not water and water vapor impervious.
---
2/29/16 #32: Mystery Discoloration of Doug Fir V ...


Gene: side note/update -
OSU did do quite a bit of soaking and scrubbing with oxalic acid at the sanded spot before allowing it to dry. I don't think they immersed it though.
And, I haven't heard back from the folks at Forest Products Lab, or found anyone to do the 6 hr. soak test with a wet rag.
---

---
Buy & Sell Exchanges | Forums | Galleries | Other Resources | Site Map
---

Buy and Sell Exchanges

Job Opportunities and Services Exchange
Employment opportunities and services within the woodworking industry

Lumber Exchange
A worldwide buy/sell exchange for lumber and wood products

Machinery Exchange
A worldwide buyer and seller exchange for woodworking machinery and equipment.

Classified Ad Exchange
Classified advertising for the woodworking industry (for advertisements that do not include machinery, lumber products and employment listings)


---

Forums

Adhesives Forum
Discussing topics related to adhesives within the woodworking industry

Architectural Woodworking Forum
Discussing quality standards and production of architectural wood products

Business and Management Forum
A forum for the discussion of business topics: from sales and marketing to dealing with difficult customers.

Cabinet and Millwork Installation Forum
Discussing all aspects of installation issues encountered by cabinet and millwork installers.

Cabinetmaking Forum
Discussing 32mm and face frame cabinet construction including fabrication, casegoods design, and installation.

CAD Forum
Shedding light on the all-too-often shadowy world of CAD.

CNC Forum
Discussing CNC (computer numerically controlled) woodworking equipment, software, and automated product manufacturing.

Dust Collection, Safety and Plant Operation Forum
Discussing topics related to maintaining a safe and productive working environment.

Professional Finishing Forum
Finishing issues for the production environment

Forestry Forum
The science and art of forest cultivation and timber management, planting, surveying, tree diseases, silviculture and timber harvesting

Professional Furniture Making Forum
Helping professional furniture makers improve quality, save time, and increase profits

Laminating and Solid Surfacing Forum
Issues related to laminating and solid surface materials and processes

Commercial Kiln Drying Forum
Discussions covering issues faced be commercial drying operations that process at least 750,000 bd. ft. of lumber per year

Sawing and Drying Forum
Discussing topics related to primary processing and drying of lumber

Solid Wood Machining Forum
Discussing topics related to the machining of solid wood

Value Added Wood Products Forum
Learn how to improve your output, find new markets, and boost sales of your lumber products

Veneer Forum
Discussing topics related to veneer processing, manufacturing, and fabrication

WOODnetWORK
An electronic discussion group for woodworkers throughout the world


---

Galleries

Project Gallery
Where professional woodworkers can post examples of their work

Sawmill Gallery
Professional primary processing companies display and describe their sawmill facilities

Shop Gallery
Professional woodworkers display and describe their shop facilities, products and equipment

Shopbuilt Equipment Gallery
Professional woodworker's jigs, rigs, and shopbuilt equipment


---

Other Resources

Industry News
Late-breaking news from all sectors of the wood industry

Video Library
Index of industrial woodworking related digital videos on the web

Auctions, Sales and Special Offers
Advertisers offering woodworkers discounted prices on good and services, and announcements of upcoming auctions

FORUM GUIDELINES: Please review the guidelines below before posting at WOODWEB's Interactive Message Boards (return to top)


WOODWEB is a professional industrial woodworking site. Hobbyist and homeowner woodworking questions are inappropriate.
Messages should be kept reasonably short and on topic, relating to the focus of the forum. Responses should relate to the original question.
A valid email return address must be included with each message.
Advertising is inappropriate. The only exceptions are the Classified Ads Exchange, Machinery Exchange, Lumber Exchange, and Job Opportunities and Services Exchange. When posting listings in these areas, review the posting instructions carefully.
Subject lines may be edited for length and clarity.
"Cross posting" is not permitted. Choose the best forum for your question, and post your question at one forum only.
Messages requesting private responses will be removed - Forums are designed to provide information and assistance for all of our visitors. Private response requests are appropriate at WOODWEB's Exchanges and Job Opportunities and Services.
Messages that accuse businesses or individuals of alleged negative actions or behavior are inappropriate since WOODWEB is unable to verify or substantiate the claims.
Posts with the intent of soliciting answers to surveys are not appropriate. Contact WOODWEB for more information on initiating a survey.
Excessive forum participation by an individual upsets the balance of a healthy forum atmosphere. Individuals who excessively post responses containing marginal content will be considered repeat forum abusers.
Responses that initiate or support inappropriate and off-topic discussion of general politics detract from the professional woodworking focus of WOODWEB, and will be removed.
Participants are encouraged to use their real name when posting. Intentionally using another persons name is prohibited, and posts of this nature will be removed at WOODWEB's discretion.
Comments, questions, or criticisms regarding Forum policies should be directed to WOODWEB's Systems Administrator
(return to top).

Carefully review your message before clicking on the "Send Message" button - you will not be able to revise the message once it has been sent.

You will be notified of responses to the message(s) you posted via email. Be sure to enter your email address correctly.

WOODWEB's forums are a highly regarded resource for professional woodworkers. Messages and responses that are crafted in a professional and civil manner strengthen this resource. Messages that do not reflect a professional tone reduce the value of our forums.

Messages are inappropriate when their content: is deemed libelous in nature or is based on rumor, fails to meet basic standards of decorum, contains blatant advertising or inappropriate emphasis on self promotion (return to top).

Libel: Posts which defame an individual or organization, or employ a tone which can be viewed as malicious in nature. Words, pictures, or cartoons which expose a person or organization to public hatred, shame, disgrace, or ridicule, or induce an ill opinion of a person or organization, are libelous.

Improper Decorum: Posts which are profane, inciting, disrespectful or uncivil in tone, or maliciously worded. This also includes the venting of unsubstantiated opinions. Such messages do little to illuminate a given topic, and often have the opposite effect. Constructive criticism is acceptable (return to top).

Advertising: The purpose of WOODWEB Forums is to provide answers, not an advertising venue. Companies participating in a Forum discussion should provide specific answers to posted questions. WOODWEB suggests that businesses include an appropriately crafted signature in order to identify their company. A well meaning post that seems to be on-topic but contains a product reference may do your business more harm than good in the Forum environment. Forum users may perceive your references to specific products as unsolicited advertising (spam) and consciously avoid your web site or services. A well-crafted signature is an appropriate way to advertise your services that will not offend potential customers. Signatures should be limited to 4-6 lines, and may contain information that identifies the type of business you're in, your URL and email address (return to top).

Repeated Forum Abuse: Forum participants who repeatedly fail to follow WOODWEB's Forum Guidelines may encounter difficulty when attempting to post messages.

There are often situations when the original message asks for opinions: "What is the best widget for my type of shop?". To a certain extent, the person posting the message is responsible for including specific questions within the message. An open ended question (like the one above) invites responses that may read as sales pitches. WOODWEB suggests that companies responding to such a question provide detailed and substantive replies rather than responses that read as a one-sided product promotion. It has been WOODWEB's experience that substantive responses are held in higher regard by our readers (return to top).

The staff of WOODWEB assume no responsibility for the accuracy, content, or outcome of any posting transmitted at WOODWEB's Message Boards. Participants should undertake the use of machinery, materials and methods discussed at WOODWEB's Message Boards after considerate evaluation, and at their own risk. WOODWEB reserves the right to delete any messages it deems inappropriate. (return to top)



Forum Posting Form Guidelines

Your Name
The name you enter in this field will be the name that appears with your post or response (return to form).
Your Website
Personal or business website links must point to the author's website. Inappropriate links will be removed without notice, and at WOODWEB's sole discretion. WOODWEB reserves the right to delete any messages with links it deems inappropriate. (return to form)
E-Mail Address
Your e-mail address will not be publicly viewable. Forum participants will be able to contact you using a contact link (included with your post) that is substituted for your actual address. You must include a valid email address in this field. (return to form)
Subject
Subject may be edited for length and clarity. Subject lines should provide an indication of the content of your post. (return to form)
Thread Related Link and Image Guidelines
Thread Related Links posted at WOODWEB's Forums and Exchanges should point to locations that provide supporting information for the topic being discussed in the current message thread. The purpose of WOODWEB Forums is to provide answers, not to serve as an advertising venue. A Thread Related Link that directs visitors to an area with inappropriate content will be removed. WOODWEB reserves the right to delete any messages with links or images it deems inappropriate. (return to form)
Thread Related File Uploads
Thread Related Files posted at WOODWEB's Forums and Exchanges should provide supporting information for the topic being discussed in the current message thread. Video Files: acceptable video formats are: .MOV .AVI .WMV .MPEG .MPG .MP4 (Image Upload Tips) If you encounter any difficulty when uploading video files, E-mail WOODWEB for assistance. The purpose of WOODWEB Forums is to provide answers, not to serve as an advertising venue. A Thread Related File that contains inappropriate content will be removed, and uploaded files that are not directly related to the message thread will be removed. WOODWEB reserves the right to delete any messages with links, files, or images it deems inappropriate. (return to form)