You are not logged in. Consider these WOODWEB Member advantages:

A personal "member history" that displays your posts at WOODWEB
Your forms at WOODWEB will be filled in automatically
Create your personal "My Favorites" page
Numerous automatic notification options
Dining table and bar top - solid vs veneer
11/7

Website: http://www.tnfurnituredesign.com
Hi Folks,
Thank you all for taking time to review my inquiry... I am planning on building, for commission a large dining table with an accompanying bar top. I attached some photos of the full scale section samples to help clarify - the flat cords are for the dining table and the domed cords are for the bar top.
A bit of description to help:
The dining table will be 14.6' long by 4' wide and 2.5" thick with a floating top design - all base structure is tucked (no apron) and will consist of two solid baltic birch laminated rectangles (which will be dressed with the rift cut oak cords) 10" thick by 28" wide and 26"tall - these base blocks sit perpendicular to the length of the table are placed 36" in from the ends, then there will be a laminated tensioned centerline trestle set into the base blocks, spanning the length of the underside to within 18" of the ends. The trestle will be engineered with a slight crown and will be placed convex side up; the trestle and base blocks will have adjustable tensioners which press up on the underside of the top - countering sag and offering support. The top will be centerline bolted to the base blocks by a custom bolt which will be accessed by a relief on the floor face of the base block - the bolt will go up through the base block and thread into a buried custom nut within the top - the top will be able to expand and contract freely without restriction.
So finally getting to my question regarding fabricating the top out of solid rift cut laminations - as per the sample - vs. creating a torsion box structure and veneering... very tedious keeping in mind the finished look. My preference is to go with the solid. The solid approach would be milled out of hand selected, as true to radially sawn as possible white oak all flip-flopped and mixed - breaking up any continuous grain - yet keeping the pieces orientated so that when laminated the tangential face is the width of the cord and the radial face is the 2.5" height or laminating face of the cord - see end grain detail on sample picture... think stave core. The alternating width cords will be treated individually then will be laminated into manageable 12" by 7'-6" blocks with one end having the decorative stagger (shown in the samples) and the centerline end having a finger joint stagger which will marry into its opposing half - at the centerline - to create the 14'-6" length... My concern with the solid approach is the slight possibility of a cupping or crowning across the width (not the length) which would be difficult to deal with - In my mind, the rift/quartered white oak cords mix matched and laminated should be very stable - with the grain orientation the way it is there would be very little exposed continuous cell structure to be deeply affected by the seasonal change in R.H. - causing enough stress to actually crown or cup the top across its width (the piece will live in So Cal and will be created in my shop with a similar R.H.)... My other concern is more of a tedious effect that comes from the laminating of the detailed cords - managing the glue squeeze out so as to keep the very precise sterling seats clean and true to size... taping comes to mind.
The bar top would be approached in a similar manor - the main difference would be that it will attach to base cabinets (already in place). It can be attached with slots for the fasteners to move with any seasonal movement, again with the orientation of the radial sawn cell structure random mixed and laminated it should be very stable.
Any thoughts regarding these processes would be greatly appreciated :)
Thanks again,
Tristan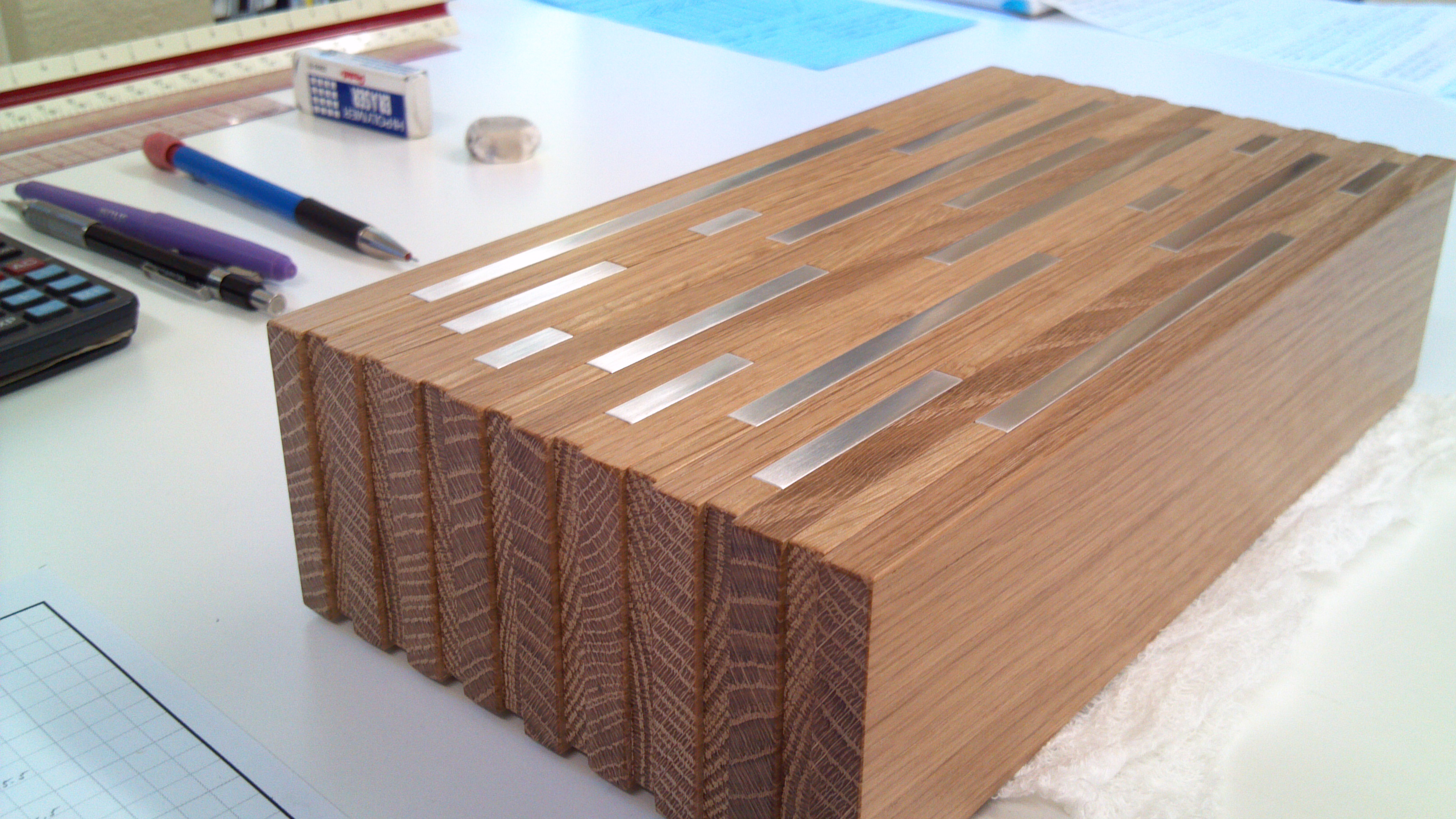 View higher quality, full size image (3264 X 1836)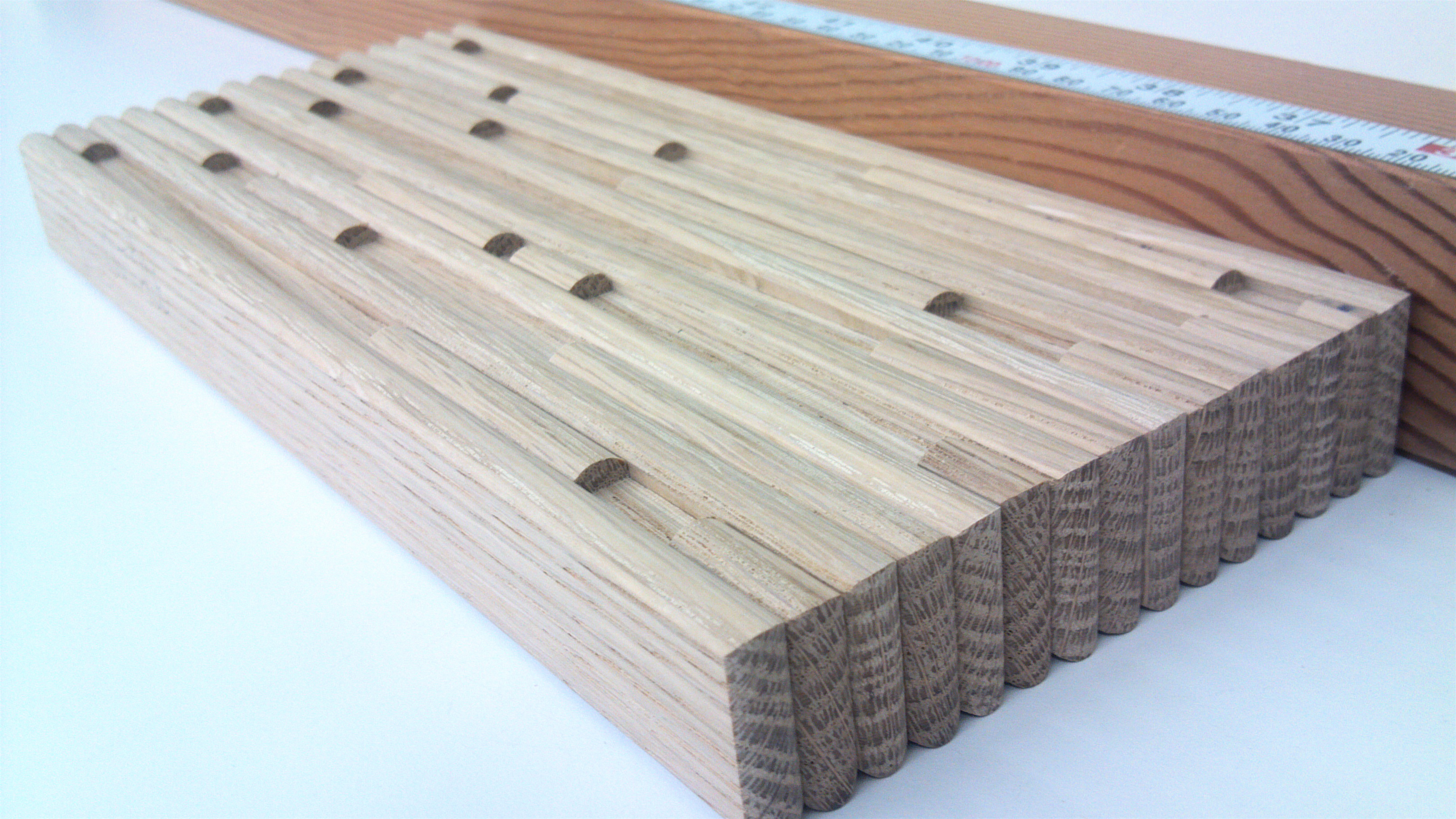 View higher quality, full size image (3264 X 1836)

---
11/7 #2: Dining table and bar top - solid vs ...

... one more picture of the samples, it wouldn't let me load them all together.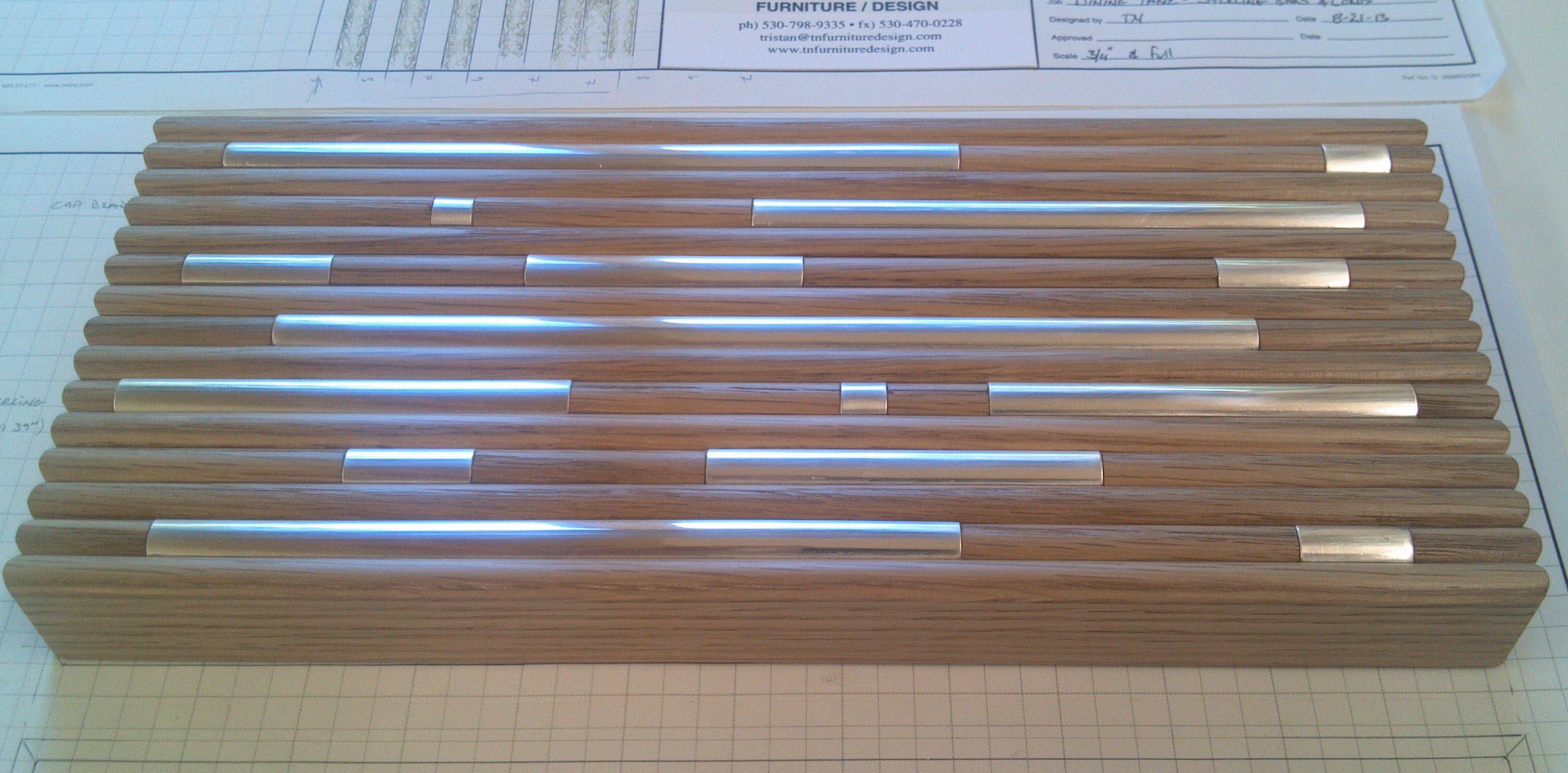 View higher quality, full size image (3057 X 1508)

---
11/7 #3: Dining table and bar top - solid vs ...

...as in silver? Right. I don't suppose it matters much; if it doesn't work, then they'll replace it.
The question of veneer vs solid seems to be answered mostly by the end grain treatment. If it's not visible, then veneer. Another alternative would be to hollow the interior laminates.
You're shipping this out? Who is responsible for assembling the "finger joint", and how does it stay together?
Tedious is an understatement. If the idea is to have unevenness, then perhaps bedding the surfaces, and mechanically fastening is the way to go.
---
11/8 #4: Dining table and bar top - solid vs ...

I would re-think that choice of using QS and rift, the way you plan. It will cost a lot more, not look as good on the edge where you will see it, and transfer most of the seasonal movement across the width of the top, rather than the height.
---
11/8 #5: Dining table and bar top - solid vs ...

thank you Mark for the response - yes the end grain is visible, as shown in the samples creating the in/out stagger. That being said I could produce that look by veneering. To clarify the centerline finger joint will be assembled at my shop. Interesting idea regarding hollowing out the meat of the cords - my concern would be it could change the dimension of the cord - by relieving stress - and could complicate the laminating process if that were the case. I have used hollows in other applications in order to give space for stress to be absorbed - it's an intriguing idea when applied to a laminated block of this size... any other thoughts of experience regarding this? I thought of mechanical fastening - though tempting I feel it just won't offer the same strength as faces glued, also the amount of fasteners would be extreme, all having to be predrilled and countersunk...
Keith thank you, I agree with you regarding the visible edge looking better displaying the radial cut and initially thought that was the better choice, however I was concerned using the tangential face as the laminating face thinking since it would be bound it was getting into the territory of cross-grain restriction...
and also it seemed that transferring the seasonal movement to the height - as those energy vectors travel out from the surface they will follow the the curve of the year ring and have a deeper cell structure from which to develop - which I thought might cause more of a chance of bowing or cupping across the width... In my mind orientating the cords with the radial face as the laminating face transfers (as you state) the energy vectors out through the width of the table but there is very little continuos cell structure with this orientation (.375 and .250) resulting in possibly a smaller energy vector or transfer of energy due to seasonal movement...
Again with either orientation there won't be any large continuous blocks of cell structure... I appreciate the feedback and would truly be open to orientating the the cords for laminating in either way, any more opinions out there? Thanks again :)
---
11/8 #6: Dining table and bar top - solid vs ...

... hopefully to simplify, the fundamental question is which orientation gives a greater chance of stability within a panel of this size; tangential orientation as the laminating face or radial orientation as the laminating face. Again each cord is alternating between .375 and .250 in thickness and is 2.5" tall - there will be 154 cords laminated 2.5" face to 2.5" face to create a 48" wide panel 2.5" thick that will be 14'-6" long... Thank you again for any feedback.
---
11/8 #7: Dining table and bar top - solid vs ...

An edge grain butcher block is more stable than a face grain butcher block. Show quarter-sawn on the top.
I suggested the hollow for two reasons: weight reduction and long-term durability.
If, for instance, you machined each laminate so that it resembled an I-beam (stopped near the ends), then your gluing surface would be concentrated to the important area, and would be stress-relieved, so that any tendency to cup would not translate to a surface separation. You then have a close approximation of a solid wood torsion box.
Weight reduction is helpful, as it reduces the tendancy to sag, and lowers the center of gravity. I don't fully understand your structure, but both characteristics seem likely to help.
I'd probably experiment with judicious hole-sawing first.
How's the feel of that reeded bar top? Fun idea. I'd really like to see some curvature in this; like raked earth.
---
11/8 #8: Dining table and bar top - solid vs ...

That is a very interesting idea Mark - relieving the laminating face of the cord with an i-beam like mill - and if orientating the individual cords with the radial (quartered) face up, as has been suggested, it addresses my concern with locking up the tangential face of the lamination - what do you think about relieving just the wider cords with the i-beam mill and leaving the narrower cords un relieved?
I apologize for going on and on but I must be missing something - in my mind placing the radial or quartered edge up creates a much larger surface area of tangentially oriented cell structure which to my understanding is more susceptible to movement - granted the tangential face is buried and glued within the laminated block. Whereas orientating the cell structure within the cord so the top narrow edge is the tangential relationship and the larger laminating face is the radial orientation - creates a piece with much more radially oriented grain and again to my understanding is therefore more stable...
Maybe a mix of both; the wider cord (.375") could have a radially oriented top edge and the narrower cord (.250") since it is narrower and has sterling inlays could have the tangential relationship to the top edge. This would also give a complete mix of opposing forces and grain structure coupled with the wider cord having the i-beam mill which would allow for absorption of any force that does develop...?
---
11/8 #9: Dining table and bar top - solid vs ...

okay I think I've finally got it. I agree with you Mark and Keith with regards to the orientation of the cell structure. It makes sense orientating radial grain as the top edge and having the laminating face be tangential. First I get the more consistent lineal look on the top, next all across the top 48" wide will be radial grain - very stable - (the tangential laminating face can be opposed with year ring orientation between cords) and finally with this orientation, the force caused by seasonal RH changes will dissipate easier because it is released vertically - through the thickness of the top instead of horizontally through 48" of material which in my mind would be more likely to trap stress which then would only be able to be released through a bow or warp... Now that I can see all the way through this I am going to change the orientation of my cords as suggested. Thank you woodweb for offering us the space to work out these ideas, it really helps!
---
11/9 #10: Dining table and bar top - solid vs ...

As I see it, you are merely making a table top at 2-1/2" x 48" x 14.5'. This is remarkable mostly in its weight.
Despite all the recent fussing and fretting one reads about, it is very unlikely that this will cup or crown. Use good lumber, properly dried, and finish all sides equally. It is that easy, in my opinion.
If the top is made in radial or tangential plies is immaterial to the fact that it will move. You are aware of that and can accommodate it. There will be differences in the rate of movement from radial to tangential, and you are aware of that.
Imagine the top made of solid planks, with the bead pattern routed into the face. How will this behave differently from all those strips being edged first then laminated? Not at all differently as I see it - except in the difficulty of removing glue squeezeout.
In fact, that is how I would make the top - rift boards of random width with matching grain and color. Glue for width, clean up the face and size the width and length, then route the beads in the face and the ends, make a jig with adjustability to route out the inlay pockets, square those corners and do the inlay.
I'd drop the finger joints in favor of scarf joints of about 5 to 1 so they completely disappear. Nothing would look worse here than the teeth of a finger joint in the face - it would look like bad construction lumber.
I'll ask what I have asked a few times recently: Why do you think this is going to cup or crown?
Kiln dried wood is inherently stable and wants to stay flat. What makes you think this will not? You are not doing anything at all in the least bit unorthodox - not pushing the limits, not cross graining anything, not sailing across the Pacific. What is the worry?
---
11/10 #11: Dining table and bar top - solid vs ...

Website: http://www.tnfurnituredesign.com
Thank you David for your thoughtful and candid response - I agree, I'm not sailing across the pacific... I apologize you feel the discussion is about fuss and fret, I have only 27 years of experience as a professional wood worker and furniture designer - I am well aware of my limited knowledge base and appreciate different views... that was my intent - different opinion.
I agree with your third paragraph that radial and tangential plies will move; however, it's the 'difference' of movement and the 'direction' of movement which I feel are important to be aware of when considering a layup of this size.
I have studied Sam Maloof's executive table he made at 20' by 6' by 2" and yes he did use solid (walnut) planks; he also used a series of cross grain cleated pedestals down the length for structure and support. In my experience large continuos series of cell structure moves more than non continuos (i.e. deconstructed and re laminated plies) Isn't that why veneering works where solid won't? Again, I feel being aware of how different cell structure expands and contracts is important to eliminating unintended consequences - and discussing these differences is beneficial and appropriate within Woodweb - for us less experienced folk.
Sam's piece was about a display of natural beauty - which in my opinion he achieved quite nicely. My design is about subtle texture and visual impact - another reason for the independent plies, each being treated prior to assembly vs. gluing up solid lumber and routing into the face. I have seriously considered creating the sterling seats as you suggest - by templating and routing - there will be around 5000 lineal inches of sterling flat inlayed in the table top all at random lengths and spacing. The seats need to be very precise in width and depth - .250" x .040". Milling them prior to assembly gives me easier control of lay out and precision but creates the difficult situation of dealing with glue squeeze out during lamination; milling them post assembly with a router and jig eliminates the concern of squeeze out by greatly complicates layout and precision - the sterling will only be inlayed in the every other, narrower cord, across the whole width and down the whole length... definitely the crux of the project. For routing I've thought about using the Festool guide rail with router - joining two rails together for the 14'-6" length with adjustable indexing. This seems practical.
The finger joint is a deep stagger of the individual plies across the width centerline creating its own detail, not the small construction lumber joint you're referring to.
I'm sure David you have built many tables like this but for me, I am pushing my limits and will continue to do so. Thanks again for your input!
---
11/11 #12: Dining table and bar top - solid vs ...

Website: http://www.tnfurnituredesign.com
Tristan - I did not mean to insinuate that you did not know what you are doing or that were misguided in any way. I apologize if I made you feel that way. I am a bit strident in my observations. Some recent posts have centered on the seeming inevitability of wood 'warping', and for someone like me, that has made a living out of betting that wood will not move unpredictably, that is a bit scary, and worthy of defense.
Solid wood is just solid wood, as I see it. You cannot ignore the movement issues - and you are not. If the top is a flat sawn edge of laminates or a flat sawn face of thicker boards, or a q-sawn edge of laminates or a q-swan face of thicker boards; all make no difference - it will all move in concert. The length will not change, the thickness may change a bit and the width will change a bit more - all can easily be predicted and accounted for.
The unwanted cupping or crowning can only come from moisture on one face penetrating more than on the other. A reasonably stable environment and a decent finish will eliminate that problem simply enough. It is the change of MC from one point to another that causes the movement, and can cause problems. If absorption (or the opposite) is uneven from one face to the other, and is of enough difference to matter, then cupping will result.
I think the solid wood is the desired way to build - a more honest presentation of a natural material. The torsion box will have its advantages (weight), but is an inherently false (proper word?) type of construction, if you know what I mean.
The applied solid wood pieces on one side of the torsion box would need equal size/species/ cut pieces on the opposite side to keep it balanced. To prevent cupping or crowning. At that thickness, it is thought that 'veneer' starts to behave more like solid wood - move - and that would cause problems since the torsion box will restrict movement.
I have built several large solid tables as well as veneered tables. They each had their own reasons for choosing one method over another. I also have made many large island and countertops - some as large a 4" x 60" x 14'. These are always solid wood, as the evolution of the kitchen worksurface historically has been of solid wood. Honesty in materials, perhaps.
I have seen some 1/4" thick solid 'veneer' try to behave like wood - puckered joints, and cracks on glue lines - so I now stay well under that thickness for stable construction (to a stable substrate).
I think your construction is well thought out and will work just fine the way you have it. The largest problem is that of glue squeezeout on the face, and that can be masked or dealt with a number of ways.
---
11/11 #13: Dining table and bar top - solid vs ...

So, Tristian, what is your plan for managing the squeezeout on the face? Big glue-ups can get really exciting: this was all done in one shot.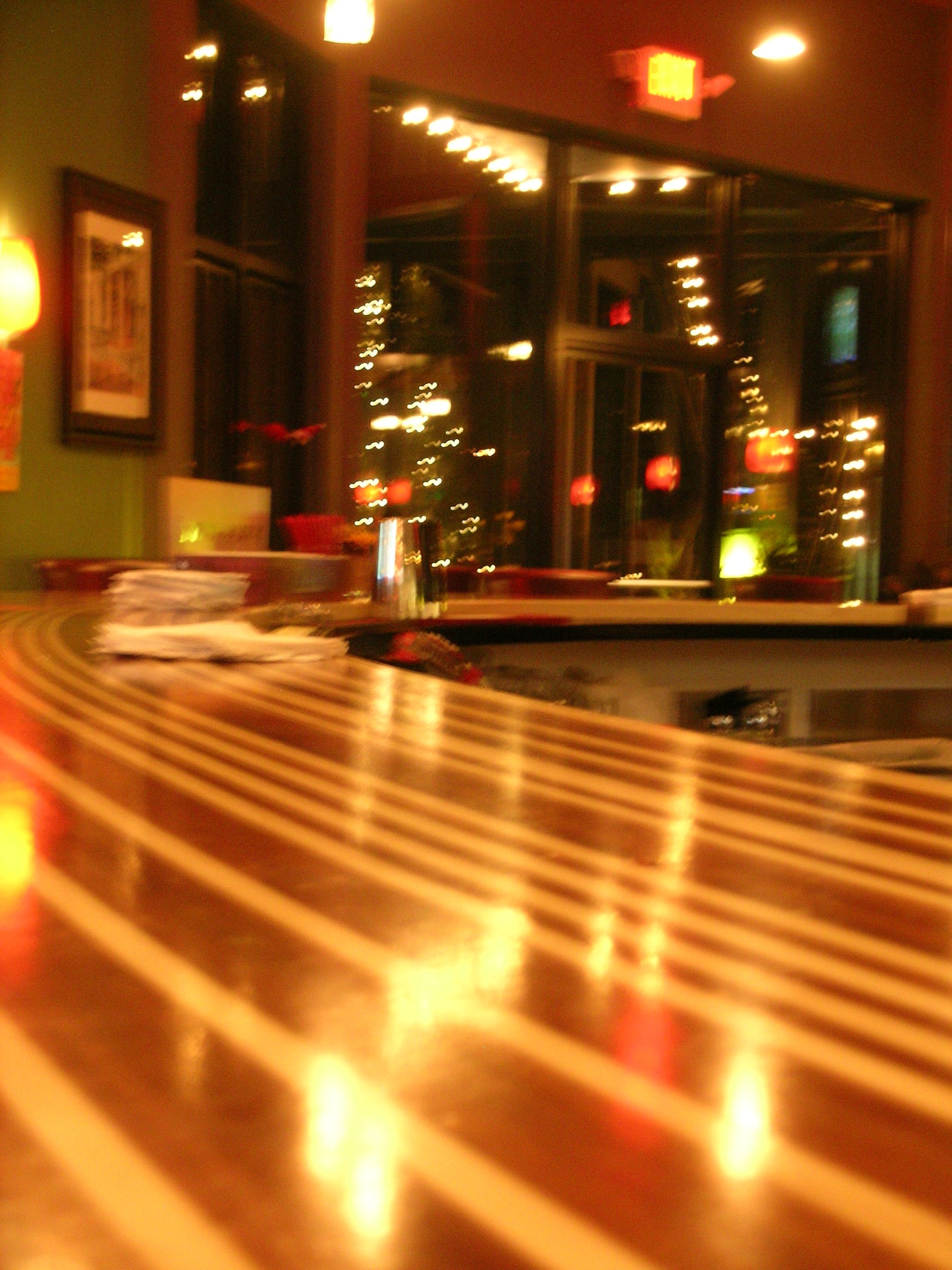 View higher quality, full size image (1944 X 2592)

---
11/12 #14: Dining table and bar top - solid vs ...

Website: http://www.tnfurnituredesign.com
No worries David, I appreciate different views and opinions even if delivered with a bit of spice...
You hit the proverbial nail solidly with your response - discussing the reasons for solid over torsion/veneer with this design - and like you have done both. The main reason I considered veneering for this project was to facilitate the silver inlay and sidestep the problem of glue squeeze out. It would allow me to just cut and fit the sterling as I laid down the strips of oak veneer (CA and pins) working across the table and since the ends of the table will have the end grain stagger the face veneer strips would seamlessly match. - first treating the underside - for balance - flipping the top then treating the face. The solid veneer strips would be milled to match the sterling thickness and width at .040" x .250" - and agree with you getting into much thicker solid wood veneer can cause problems... as I write this out I still see the practicality of it... but as you state David, my resistance to this approach lies with the honesty or integrity of the aesthetics - it can be fashioned out of solid.
So Mark my plan for dealing with the glue squeeze out is to mill my sterling seats after laminating. One of the drawbacks to that is squaring the ends of the seats and creating a correlating start and stop indexing system for each cord which matches my 3" plan. So a solution there is to mark my layout on each cord (prior to laminating) and cross cut just the start and stops - then laminate. No squaring and this would eliminate the need for indexing on the guide rail, and the size of the kerf would be practical to stuff with a tape-twist to prevent squeeze out there. If I decide to still hand treat each cord prior to laminating I will have to tape the faces... Or I will let that go and re introduce that subtle texture after the fact which gives me the option to sand and detail after laminating and assembling.
I find it really helps writing about the processes and having input from other professional woodworkers. Over the years as my knowledge base increases I'm still constantly reminded of how much there is to still learn...
Thanks again for the responses and please any other thoughts are greatly appreciated.
PS that bar top looks great!... love the moody shot!
---
11/12 #15: Dining table and bar top - solid vs ...

I calculate that table top at around 550 pounds. Hope you aren't working by yourself! Also don't envy the installation day. Once did a 4"x5'x12' torsion box conference table. Even that wasn't any fun. Too many jobs like that and it's no wonder my wrists and knees scream at me when a storm is coming in. Good luck!
---
11/12 #16: Dining table and bar top - solid vs ...

Good on you, Tristian; that's some commitment. What you need is an autoclave! Though, truly, you'd likely experience some squeeze-out even with a thermoset. Good luck, and have fun.
---
2/23 #17: Dining table and bar top - solid vs ...

Website: http://v-dubfurniture.com
It will cost a lot more, not look as good on the edge where you will see it, and transfer most of the seasonal movement across the width of the top, rather than the height.
---

---
Buy & Sell Exchanges | Forums | Galleries | Other Resources | Site Map
---



Buy and Sell Exchanges



Job Opportunities and Services Exchange
Employment opportunities and services within the woodworking industry

Lumber Exchange
A worldwide buy/sell exchange for lumber and wood products

Machinery Exchange
A worldwide buyer and seller exchange for woodworking machinery and equipment.

Classified Ad Exchange
Classified advertising for the woodworking industry (for advertisements that do not include machinery, lumber products and employment listings)


---



Forums



Adhesives Forum
Discussing topics related to adhesives within the woodworking industry

Architectural Woodworking Forum
Discussing quality standards and production of architectural wood products

Business and Management Forum
A forum for the discussion of business topics: from sales and marketing to dealing with difficult customers.

Cabinet and Millwork Installation Forum
Discussing all aspects of installation issues encountered by cabinet and millwork installers.

Cabinetmaking Forum
Discussing 32mm and face frame cabinet construction including fabrication, casegoods design, and installation.

CAD Forum
Shedding light on the all-too-often shadowy world of CAD.

CNC Forum
Discussing CNC (computer numerically controlled) woodworking equipment, software, and automated product manufacturing.

Dust Collection, Safety and Plant Operation Forum
Discussing topics related to maintaining a safe and productive working environment.

Professional Finishing Forum
Finishing issues for the production environment

Forestry Forum
The science and art of forest cultivation and timber management, planting, surveying, tree diseases, silviculture and timber harvesting

Professional Furniture Making Forum
Helping professional furniture makers improve quality, save time, and increase profits

Laminating and Solid Surfacing Forum
Issues related to laminating and solid surface materials and processes

Commercial Kiln Drying Forum
Discussions covering issues faced be commercial drying operations that process at least 750,000 bd. ft. of lumber per year

Sawing and Drying Forum
Discussing topics related to primary processing and drying of lumber

Solid Wood Machining Forum
Discussing topics related to the machining of solid wood

Value Added Wood Products Forum
Learn how to improve your output, find new markets, and boost sales of your lumber products

Veneer Forum
Discussing topics related to veneer processing, manufacturing, and fabrication

WOODnetWORK
An electronic discussion group for woodworkers throughout the world


---



Galleries



Project Gallery
Where professional woodworkers can post examples of their work

Sawmill Gallery
Professional primary processing companies display and describe their sawmill facilities

Shop Gallery
Professional woodworkers display and describe their shop facilities, products and equipment

Shopbuilt Equipment Gallery
Professional woodworker's jigs, rigs, and shopbuilt equipment


---



Other Resources



Industry News
Late-breaking news from all sectors of the wood industry

Video Library
Index of industrial woodworking related digital videos on the web

Auctions, Sales and Special Offers
Advertisers offering woodworkers discounted prices on good and services, and announcements of upcoming auctions


FORUM GUIDELINES: Please review the guidelines below before posting at WOODWEB's Interactive Message Boards
(return to top)
WOODWEB is a professional industrial woodworking site. Hobbyist and homeowner woodworking questions are inappropriate.
Messages should be kept reasonably short and on topic, relating to the focus of the forum. Responses should relate to the original question.
A valid email return address must be included with each message.
Advertising is inappropriate. The only exceptions are the Classified Ads Exchange, Machinery Exchange, Lumber Exchange, and Job Opportunities and Services Exchange. When posting listings in these areas, review the posting instructions carefully.
Subject lines may be edited for length and clarity.
"Cross posting" is not permitted. Choose the best forum for your question, and post your question at one forum only.
Messages requesting private responses will be removed - Forums are designed to provide information and assistance for all of our visitors. Private response requests are appropriate at WOODWEB's Exchanges and Job Opportunities and Services.
Messages that accuse businesses or individuals of alleged negative actions or behavior are inappropriate since WOODWEB is unable to verify or substantiate the claims.
Posts with the intent of soliciting answers to surveys are not appropriate. Contact WOODWEB for more information on initiating a survey.
Excessive forum participation by an individual upsets the balance of a healthy forum atmosphere. Individuals who excessively post responses containing marginal content will be considered repeat forum abusers.
Responses that initiate or support inappropriate and off-topic discussion of general politics detract from the professional woodworking focus of WOODWEB, and will be removed.
Participants are encouraged to use their real name when posting. Intentionally using another persons name is prohibited, and posts of this nature will be removed at WOODWEB's discretion.
Comments, questions, or criticisms regarding Forum policies should be directed to WOODWEB's Systems Administrator
(return to top).

Carefully review your message before clicking on the "Send Message" button - you will not be able to revise the message once it has been sent.

You will be notified of responses to the message(s) you posted via email. Be sure to enter your email address correctly.

WOODWEB's forums are a highly regarded resource for professional woodworkers. Messages and responses that are crafted in a professional and civil manner strengthen this resource. Messages that do not reflect a professional tone reduce the value of our forums.

Messages are inappropriate when their content: is deemed libelous in nature or is based on rumor, fails to meet basic standards of decorum, contains blatant advertising or inappropriate emphasis on self promotion (return to top).

Libel: Posts which defame an individual or organization, or employ a tone which can be viewed as malicious in nature. Words, pictures, or cartoons which expose a person or organization to public hatred, shame, disgrace, or ridicule, or induce an ill opinion of a person or organization, are libelous.

Improper Decorum: Posts which are profane, inciting, disrespectful or uncivil in tone, or maliciously worded. This also includes the venting of unsubstantiated opinions. Such messages do little to illuminate a given topic, and often have the opposite effect. Constructive criticism is acceptable (return to top).

Advertising: The purpose of WOODWEB Forums is to provide answers, not an advertising venue. Companies participating in a Forum discussion should provide specific answers to posted questions. WOODWEB suggests that businesses include an appropriately crafted signature in order to identify their company. A well meaning post that seems to be on-topic but contains a product reference may do your business more harm than good in the Forum environment. Forum users may perceive your references to specific products as unsolicited advertising (spam) and consciously avoid your web site or services. A well-crafted signature is an appropriate way to advertise your services that will not offend potential customers. Signatures should be limited to 4-6 lines, and may contain information that identifies the type of business you're in, your URL and email address (return to top).

Repeated Forum Abuse: Forum participants who repeatedly fail to follow WOODWEB's Forum Guidelines may encounter difficulty when attempting to post messages.

There are often situations when the original message asks for opinions: "What is the best widget for my type of shop?". To a certain extent, the person posting the message is responsible for including specific questions within the message. An open ended question (like the one above) invites responses that may read as sales pitches. WOODWEB suggests that companies responding to such a question provide detailed and substantive replies rather than responses that read as a one-sided product promotion. It has been WOODWEB's experience that substantive responses are held in higher regard by our readers (return to top).

The staff of WOODWEB assume no responsibility for the accuracy, content, or outcome of any posting transmitted at WOODWEB's Message Boards. Participants should undertake the use of machinery, materials and methods discussed at WOODWEB's Message Boards after considerate evaluation, and at their own risk. WOODWEB reserves the right to delete any messages it deems inappropriate. (return to top)



Forum Posting Form Guidelines

Your Name
The name you enter in this field will be the name that appears with your post or response (return to form).
Your Website
Personal or business website links must point to the author's website. Inappropriate links will be removed without notice, and at WOODWEB's sole discretion. WOODWEB reserves the right to delete any messages with links it deems inappropriate. (return to form)
E-Mail Address
Your e-mail address will not be publicly viewable. Forum participants will be able to contact you using a contact link (included with your post) that is substituted for your actual address. You must include a valid email address in this field. (return to form)
Subject
Subject may be edited for length and clarity. Subject lines should provide an indication of the content of your post. (return to form)
Thread Related Link and Image Guidelines
Thread Related Links posted at WOODWEB's Forums and Exchanges should point to locations that provide supporting information for the topic being discussed in the current message thread. The purpose of WOODWEB Forums is to provide answers, not to serve as an advertising venue. A Thread Related Link that directs visitors to an area with inappropriate content will be removed. WOODWEB reserves the right to delete any messages with links or images it deems inappropriate. (return to form)
Thread Related File Uploads
Thread Related Files posted at WOODWEB's Forums and Exchanges should provide supporting information for the topic being discussed in the current message thread. Video Files: acceptable video formats are: .MOV .AVI .WMV .MPEG .MPG .FLV .MP4 (Image Upload Tips) If you encounter any difficulty when uploading video files, E-mail WOODWEB for assistance. The purpose of WOODWEB Forums is to provide answers, not to serve as an advertising venue. A Thread Related File that contains inappropriate content will be removed, and uploaded files that are not directly related to the message thread will be removed. WOODWEB reserves the right to delete any messages with links, files, or images it deems inappropriate. (return to form)