You are not logged in. Consider these WOODWEB Member advantages:

A personal "member history" that displays your posts at WOODWEB
Your forms at WOODWEB will be filled in automatically
Create your personal "My Favorites" page
Numerous automatic notification options
finishing massive redwood top on Kauai
7/30/14

I am researching the the various aspects of a job that I haven't committed to yet. The client has asked me to take the lead on recieving a 21'x4" x 48-52" wide old growth redwood slab that will be the top to a dining room table( less a 4'+/- cut off for coffee table).
The top is getting shipped from California this week . It will arrive on Kauai by the end of August.
I talked to the vendor recently to get more info regarding this piece:
1) it isn't green but it was wet, it was put in a kiln and is getting shipped at about 12% mc.
2) he sealed it with a finish(type?) to seal it on its ocean voyage, he said it would gain 6-12% if not sealed.
3) it weighs 1,800-2,200lbs , about a ton!
4) he suggested tenting slab with dehumidifier to remove excess moisture prior to sanding and finishing.
5) he suggested a random orbit floor finisher taken to 100 grit then a porter cable polisher( or equivalent) to finish grit (180-200?)
6) for a finish he suggested type of composite epoxy resin finish.
7) he suggested moving piece by using moving dolleys connected together on a length of 4x4 and standing piece on edge clamped to 4x4.
My big concern is handling such a behemoth slab. It will need to be turned over to work both sides during sanding and then finishing. I can get manpower but will need to devise a safe 'mechanical assist' to safegard the piece and those manhandling it.
My next concern is finishing the top. I will need to work some samples so I'm comfortable with this type of finish.
Please reply to these two main concerns , thanks.
---
7/31/14 #3: finishing massive redwood top on Ka ...

I think moving the slab is the least of your concerns. Becoming a student of mechanical advantage, leverage, and the inclined plane, is the easy part. The tenting, drying, and applying a finish you can stand behind, is the issue. I hope the customers timeline is many many months.
---
7/31/14 #4: finishing massive redwood top on Ka ...

It looks like you have at least 7 problems identified. It already has a finish, and he's telling you to apply an epoxy on top of a finish? Major trouble. Tent it and dry it? How thick is it? How are you going to get the core of the slab up to temp? Plastic isn't much of an insulator and getting the slab inside plastic up to a controlled 135 degrees will take something special. If it's 12% all the way through, that's plenty dry for redwood. But if the surface is just 12%, you have trouble. It will take more than one Porter Cable sander to sand that many square feet. Especially if the abrasive clogs with his finish. Ever tried to mix up enough epoxy to cover over 80 sq ft? Epoxy is exothermic, it will really build the heat in a 5 gallon bucket! I'd rent a forklift and one of those clam clamps they use to handle granite slabs. Injuring someones back will cost you a lot more than the right equipment. Let me take that back, I wouldn't do the job, so wouldn't need the forklift! Sorry, but just had to add my concerns to more than your two issues. I would only bid it time, material, and expenses. No bid will cover all the headaches involved. Just think of the sawhorses you will need to build to hold up a ton!
---
8/2/14 #5: finishing massive redwood top on Ka ...

It seems to me there are a few things going in your favor. Redwood is relatively stable and Hawaii has high humidity.
It also seems to me there are many more things going against you. At nearly 5' wide and only 4" thick even a stable material has a good chance of cupping. The existing finish has be either be removed or a compatible intermediary finish applied. How do you safely move this thing around. A forklift sounds like an absolute necessity.
If you are a small one-man or similar shop I would seriously consider passing on the project. If you know of any large high end production shops nearby passing the project to them of a small fee might be a very good idea. They would be more likely to have the staff and equipment to handle the project.
BH Davis
---
8/3/14 #6: finishing massive redwood top on Ka ...

To B.H.Davis:
I will be looking at shops that have enough space to work his and two other pieces.(The original slab was 8"+ thick and was resawn to produce two 4" slabs. The one slab is left 21' long and will stay that long for dining room table top ,the other slab is getting cut in two unequal sizes to be used elswhere at this residence.
My alternative if that isn't feasable is to recieve it at the residence. The three car garage is big enough and there is ample room outside of garage to manover around. I am thinking of building a 4' x 16' table ( or two 8' put together) x 2.5' high.In conjunction with this I would build two 5' x 6.5" ply/ framing lumber wheels with slots just sloppy enough to slip over ends of big slab. I will use these to turn over the slab safely and with no damage if I chock the slabs in tight with non marring shims.
I can use jack to safely adjust height of slab off table height so wheels will slip over ends. Then it is a simple matter of rolling wheels 180 degrees , jacking up wheels and putting table underneath again. I would use pvc pipes to roll table back to working location in garage.
I'm crazy to even think of taking on this project. It is worth concidering the possibilities of accomplishing this in a safe and efficient manner. It will be a t&m job, i'm not doing it otherwise.
I like the wheel idea and would like feedback on engineering it so it doesn't buckle . I would glue up a 2x ring that is about 3 layers thick and 3.5" minemum width along the radial lenght , frame out a slot and fill frame to perimeter then glue and nail 1/2" ply to both sides.
---
8/4/14 #7: finishing massive redwood top on Ka ...

Website: http://www.curvedmouldings.com
Kim,
My concern with the wheel concept is lateral stability.
When the table is in the vertical position the wheels will be stable so long as your wedges hold.
However when the table is horizontal 4" of wedged table end isn't much to keep the whole thing from shifting left/right and having the wheel collapse sideways. I'm not sure how you could assure that the wheels stay parallel to one another AND at 90° to the table surface.
Good luck !
BH Davis
---
8/5/14 #8: finishing massive redwood top on Ka ...

To BH Davis:
I will add angle plates that can screw onto the wheel and tight to the slab on both sides so I can clamp edge of table on both ends of wheel slot. In addition to that I can angle brace from perimiter of wheel to edge of table minemum of 3-4' from wheel and clamp to edge of table. That should take care of lateral stability. Thanks for the heads up.

---
8/5/14 #9: finishing massive redwood top on Ka ...

Website: http://www.curvedmouldings.com
Tim,
I don't know about the others but I'd really like to see photos of this setup if you end up putting it together.
Thanks,
BH Davis
---
8/5/14 #10: finishing massive redwood top on Ka ...

I'll post pictures of the wheels and maybe a short video of the process of flipping the top.

---
8/7/14 #11: finishing massive redwood top on Ka ...

Kim, I'm a small shop operator too, and often get pretty large projects.
I think your solution for turning is fine, but I would plan on tying the two wheels together with some lumber, and maybe some cross-bracing.
If the piece is going into a location which is under construction, working on it there may have some advantages, like using come- alongs to lift from the roof framing to turn it over in nylon slings for toeing cars.
As for getting rid of the old sealer and flattening a large top like this, I would use my Makita 1806 Powerplane to prepare the top. If you don't have one, just figure it into the job, and you'll be glad to have it forever after.
Redwood is awfully soft to use for a table top, but you can greatly improve that with a penetrating epoxy. Last Thanksgiving, I made a work island for our cabin using Eastern Redcedar, which is about the same density. I heated the top up by using a little space heater blowing under a tarp suspended over the top, then let the contraction of the cooling air inside the wood to draw the epoxy in deeper, because my shop was too cold for the epoxy to kick. You may not need to worry about this out there though.
In the end, my cedar top looked and felt as dense as cocobolo, and seems to be staying redder than the legs and drawer fronts, which normally fade to tobacco color after a bit of exposure. How long it will stay red,,,,,, only time will tell. But the one coat of wipe on poly that I use over it looks great, and far superior to many coat of most finishing products.
I got my penetrating epoxy from Jamestown Distributing, but you may be able to find it at a marine supply near you. It was made by Smith's, and while it is expensive, it certainly will be worth it for the improvement to the surface hardness, and easier finishing that follows.
---
8/7/14 #12: finishing massive redwood top on Ka ...

You bet I would like to see a video of that first turnover. I'm really glad I'm not your helper when the turn over assignments get made! Make sure you have your insurance paid up in case someone gets injured!
---
8/21/14 #13: finishing massive redwood top on Ka ...

Kim,
Had same issue with a walnut slab. Made a rolling table and four half rounds a half inch taller than table. Slipped bottom halves under then clamped and secured the two top halve together. The slab is now 1/2" off the table and you can chalk the slab so it does not roll away, pull the table out of the way, roll slab over slowly and slide table back underneath and remove half rounds. I will try to attach a picture.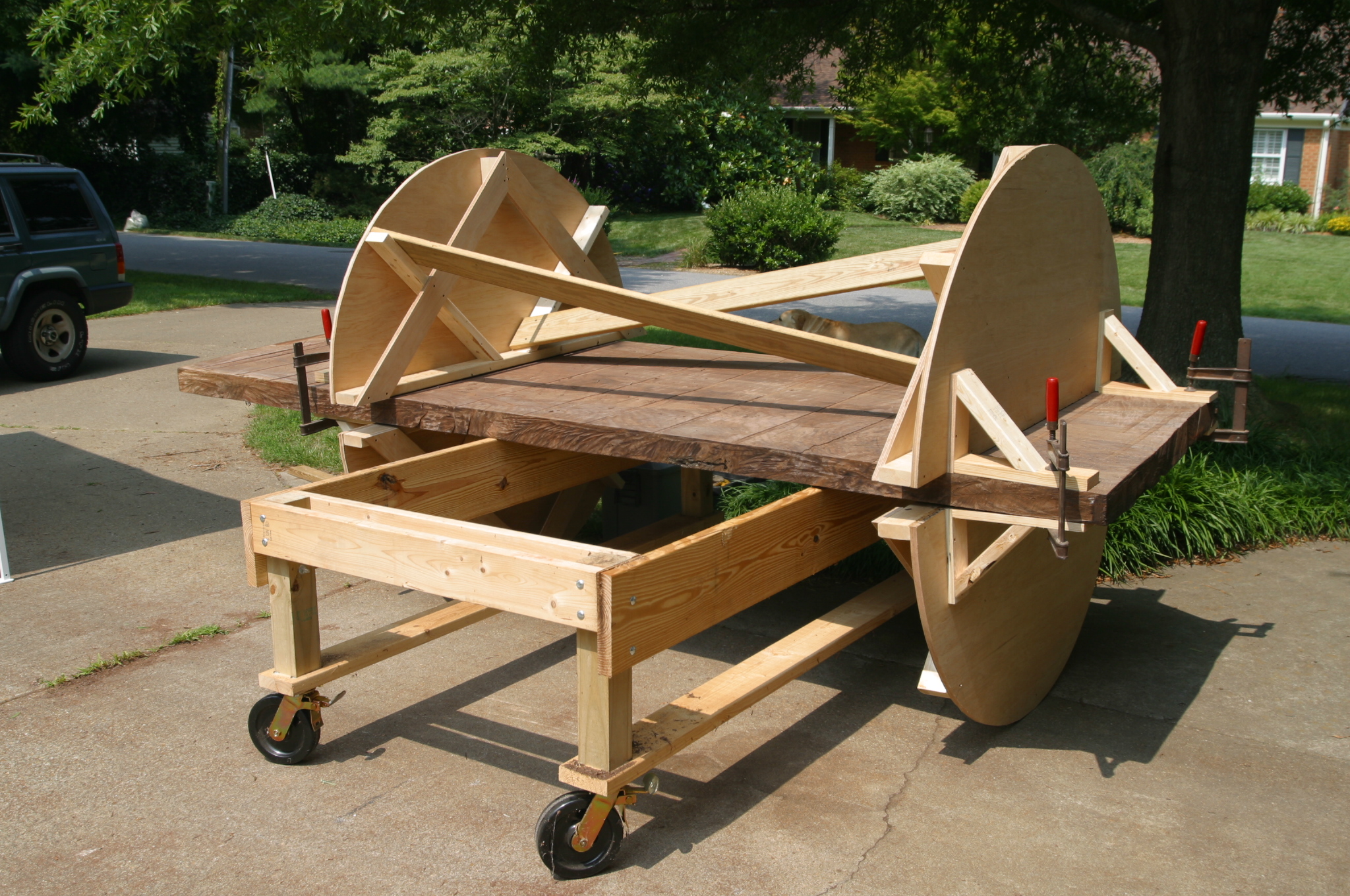 View higher quality, full size image (2048 X 1360)

---
8/24/14 #14: finishing massive redwood top on Ka ...

Hi Kim,
In simple terms. Don't be intimidated by this project, you've got time, tackle 1 problem at a time.
If you have a workshop large enough, that's 1 problem down. Buy some 2 by 4. Make a bench if you need to that supports the piece so that you can work on it 1 side at a time. Put yoga mats down first to cushion the bench and protect the work piece. A bunch of guys can easily help you lift the piece from a fork lift truck truck to the table. Keep backs straight and use a Fork lift as much as you can. Once the piece is in place. You'll need to let it rest in its environment until it is stable. The wood will acclimatize at its own pace and you can't work on it at all until it has.
Hawaii is humid as you know so one option and I've seen this happen, is to believe it or not, find out the average relative humidity year round for the room the piece will live in once completed. You can set up a dehumidifier solution to match that humidity level in your workshop.
Once the piece rests at a stable moisture content and therefore is no longer moving. You are free to work on it.
If it isn't flat at that point, I'd go with the router sled set up and shave off as little as possible to create a perfectly flat and uniform surface on both sides.
As for a finish, I'd consider building up layers of polyurethane by spraying to build up the required sheen and protection level. I think there's too much surface area to attempt an epoxy finish on your own although I'm sure it's not impossible.
Repeat on the other side but you should expect this project to take months not weeks.
Hope that helps...
---
11/16/14 #15: finishing massive redwood top on Ka ...

Website: http://springwoodstudios.com
Sounds like a great project, and the innovations suggest say to me that this is something you will enjoy.
Definitely T&M
Yes, take off the old finish. Power plane sounds like the way to do it. I'd cut it to length (if I understand that shaves off 400# or so, with 20% of it gone) then replace the finish on the ends, or wax them.
Letting it stabilize is a bit tricky. There's a table on Woodweb for equalized MC at a given RH. All I can remember is 50% RH gives about 9.5% in soft maple, but it will be different for redwood. Take the RH in their dining room, several times on several days, and use that as your target.
I distrusted the cheepie Home Depot $10 humidity sensors until I got 3 of them and compared. They agreed within one percent, which I take as verification. What does $30 hurt for a meter combo you can trust?
I'd use both pin and pinless moisture meters. With the bucks involved just buying this wood, let alone shipping it and paying you T&M, go for the gold and do it right. Pinless will average the MC up to their rated depth, once adjusted for density (like knots & crotches). Get a good Delmhorst or some such— the $2-300 will be worth it, and you can sink pins to different depths to check core MC. Test them against each other of appropriately thick samples to make sure they agree and to get a feel for any quirks.
When you mix the penetrating epoxy, beware the exothermic. Mis in a big (read: huge) flat metal pan, for max. heat dissipation. You can set the pan in ice if heat is still a problem, or make smaller batches. Remember, penetrating epoxy sets s-l-o-w-l-y. Some brands say 14 days. If your batches are an hour or two apart the epoxy will never notice.
Jobs like this get me excited. They are scary if you think about solving everything all at once for the first time, but when you take them apart they are just a simple series of engineering issues, leading to amazing outcomes. Go from one intelligent decision to the next, use plenty of common sense and don't be afraid to come back and ask for opinions. You'll get plenty, and I'm sure you are well equipped to cherrypick the best of them.
---
11/16/14 #16: finishing massive redwood top on Ka ...

Aloha fellow woodworkers,
The slabs got delivered to the residence. The big one measures 21' x 4" x 4'-5' wide with about 20% sapwood intact.
The smaller slab is 10' long.
Client rejected both slabs because they didn't meet his specs for sapwood intact. ( I was out of the loop on that one between the sawyer ,designer ,client).
Sawyer sent the wrong slab, not the one he sent picture of.
Designer in California goes to sawyer's yard to pick another slab. Sawyer gives second slab to designer ,designer forks out 1,300.00+\- for shipping to Kauai.
Slab arrives ,it is 25' x4"x44"-63" with slab intact.BUT it is green at about 45% mc!
Three car garage is now filled with redwood slabs on mobile tables . Ready to put up a sign out front ,"Redwood City".
Client rejects the second slab also, it tapers too much over 19' ( about the final length of dining room top).
We use them temporarily as work benches to do small projects up higher on the list. (I want to brag here and say how many of you guys have workbenches with 4" thick redwood tops over 250 years old!)
Got the 'flipping wheels' made, even one for the center of the 25' slab that splits apart in the middle. I found source on island for playground dense foam padding that will protect top during flipping.
Told client that we will use the first top( the 21' w/ o sapwood) . It is mc stable. He wants to put the turkey on a long table top and this is the best interim solution.
The 25' slab is moved outdoors and tarped over .
Work begins on the 21' slab:removing loose sapwood/ cleaning up edges;trimming ends;making 24' runners, mounting brackets & router sled ; ordering 2" wide planner router bit and 3hp router.
The sled works great, wish I had got a few more router bits.I end up diamond honing cutter a few times during flattening of top side .
Rent vibrating floor sander from HomeDepot. Finished top to 150 grit. Sander does bring back more rippled effect into top with softer sections dipping in slightly.
Yesterday: squeegee thin coat of West System epoxy using 207 clear hardener - 1 hour tops. 15 minutes to spread 50 pumps each of mixed batch.
Ready top flip top Monday!
Got Epifanes' flat mat urethane coming from Oahu this week. Slapping on one or two coats when top is in place .
I am hoping client love this top so much that he will keep it. Waiting on base from Bali . I'm setting top on temp blocks for Thanksgiving .
Yes , this is all T&M.I wouldn't have it any other way.I hope to get the Gopro on time laps for the flipping of top tomorrow.
Looking forward to getting my full weekends back soon! Mahalo for all the advise.
Kim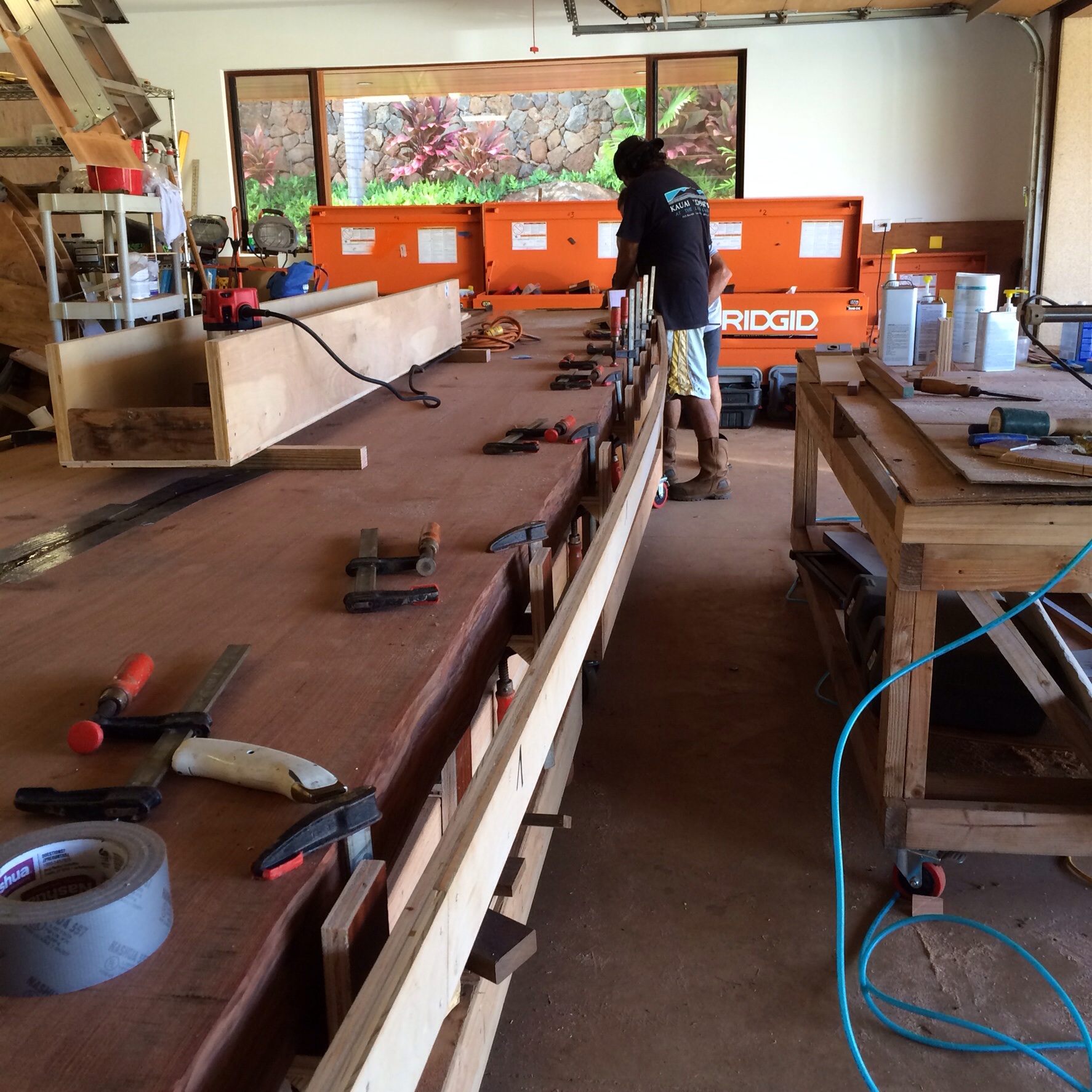 View higher quality, full size image (1774 X 1774)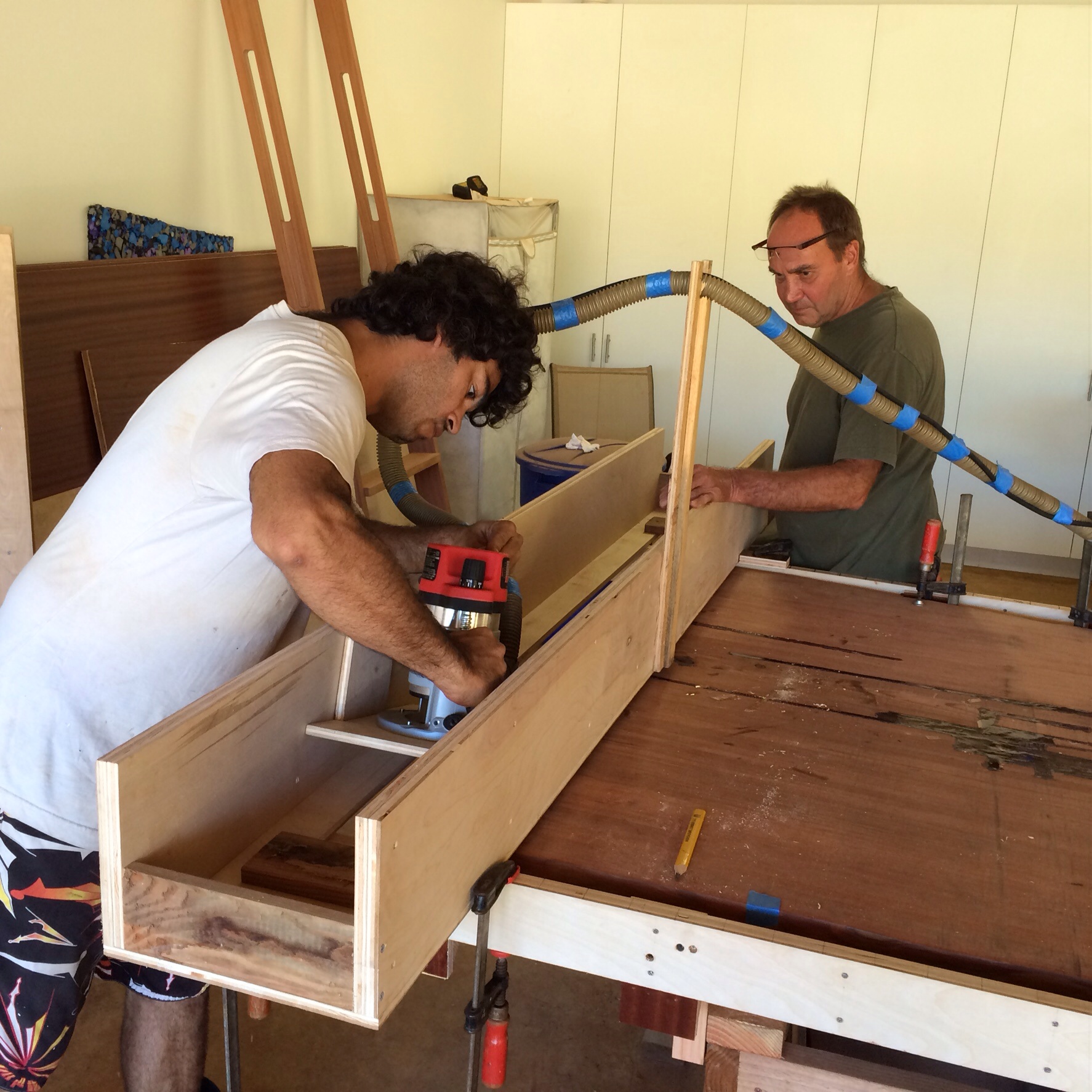 View higher quality, full size image (1774 X 1774)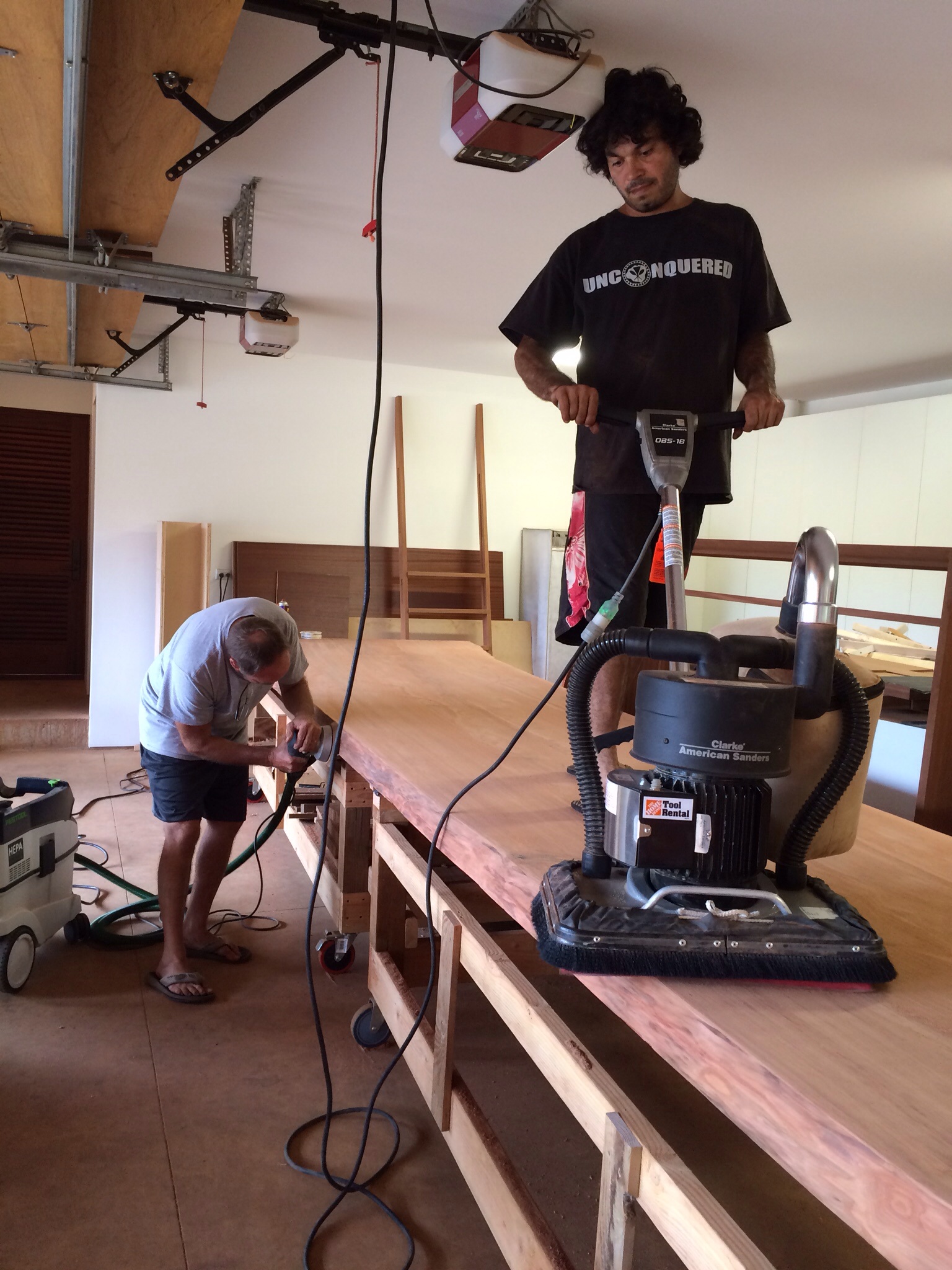 View higher quality, full size image (1536 X 2048)

---
11/16/14 #17: finishing massive redwood top on Ka ...

Footnotes to pictures:
Christian is operating the Home Depot rental sander and Wayne is sanding the edges.

---

---
Buy & Sell Exchanges | Forums | Galleries | Other Resources | Site Map
---



Buy and Sell Exchanges



Job Opportunities and Services Exchange
Employment opportunities and services within the woodworking industry

Lumber Exchange
A worldwide buy/sell exchange for lumber and wood products

Machinery Exchange
A worldwide buyer and seller exchange for woodworking machinery and equipment.

Classified Ad Exchange
Classified advertising for the woodworking industry (for advertisements that do not include machinery, lumber products and employment listings)


---



Forums



Adhesives Forum
Discussing topics related to adhesives within the woodworking industry

Architectural Woodworking Forum
Discussing quality standards and production of architectural wood products

Business and Management Forum
A forum for the discussion of business topics: from sales and marketing to dealing with difficult customers.

Cabinet and Millwork Installation Forum
Discussing all aspects of installation issues encountered by cabinet and millwork installers.

Cabinetmaking Forum
Discussing 32mm and face frame cabinet construction including fabrication, casegoods design, and installation.

CAD Forum
Shedding light on the all-too-often shadowy world of CAD.

CNC Forum
Discussing CNC (computer numerically controlled) woodworking equipment, software, and automated product manufacturing.

Dust Collection, Safety and Plant Operation Forum
Discussing topics related to maintaining a safe and productive working environment.

Professional Finishing Forum
Finishing issues for the production environment

Forestry Forum
The science and art of forest cultivation and timber management, planting, surveying, tree diseases, silviculture and timber harvesting

Professional Furniture Making Forum
Helping professional furniture makers improve quality, save time, and increase profits

Laminating and Solid Surfacing Forum
Issues related to laminating and solid surface materials and processes

Commercial Kiln Drying Forum
Discussions covering issues faced be commercial drying operations that process at least 750,000 bd. ft. of lumber per year

Sawing and Drying Forum
Discussing topics related to primary processing and drying of lumber

Solid Wood Machining Forum
Discussing topics related to the machining of solid wood

Value Added Wood Products Forum
Learn how to improve your output, find new markets, and boost sales of your lumber products

Veneer Forum
Discussing topics related to veneer processing, manufacturing, and fabrication

WOODnetWORK
An electronic discussion group for woodworkers throughout the world


---



Galleries



Project Gallery
Where professional woodworkers can post examples of their work

Sawmill Gallery
Professional primary processing companies display and describe their sawmill facilities

Shop Gallery
Professional woodworkers display and describe their shop facilities, products and equipment

Shopbuilt Equipment Gallery
Professional woodworker's jigs, rigs, and shopbuilt equipment


---



Other Resources



Industry News
Late-breaking news from all sectors of the wood industry

Video Library
Index of industrial woodworking related digital videos on the web

Auctions, Sales and Special Offers
Advertisers offering woodworkers discounted prices on good and services, and announcements of upcoming auctions


FORUM GUIDELINES: Please review the guidelines below before posting at WOODWEB's Interactive Message Boards
(return to top)
WOODWEB is a professional industrial woodworking site. Hobbyist and homeowner woodworking questions are inappropriate.
Messages should be kept reasonably short and on topic, relating to the focus of the forum. Responses should relate to the original question.
A valid email return address must be included with each message.
Advertising is inappropriate. The only exceptions are the Classified Ads Exchange, Machinery Exchange, Lumber Exchange, and Job Opportunities and Services Exchange. When posting listings in these areas, review the posting instructions carefully.
Subject lines may be edited for length and clarity.
"Cross posting" is not permitted. Choose the best forum for your question, and post your question at one forum only.
Messages requesting private responses will be removed - Forums are designed to provide information and assistance for all of our visitors. Private response requests are appropriate at WOODWEB's Exchanges and Job Opportunities and Services.
Messages that accuse businesses or individuals of alleged negative actions or behavior are inappropriate since WOODWEB is unable to verify or substantiate the claims.
Posts with the intent of soliciting answers to surveys are not appropriate. Contact WOODWEB for more information on initiating a survey.
Excessive forum participation by an individual upsets the balance of a healthy forum atmosphere. Individuals who excessively post responses containing marginal content will be considered repeat forum abusers.
Responses that initiate or support inappropriate and off-topic discussion of general politics detract from the professional woodworking focus of WOODWEB, and will be removed.
Participants are encouraged to use their real name when posting. Intentionally using another persons name is prohibited, and posts of this nature will be removed at WOODWEB's discretion.
Comments, questions, or criticisms regarding Forum policies should be directed to WOODWEB's Systems Administrator
(return to top).

Carefully review your message before clicking on the "Send Message" button - you will not be able to revise the message once it has been sent.

You will be notified of responses to the message(s) you posted via email. Be sure to enter your email address correctly.

WOODWEB's forums are a highly regarded resource for professional woodworkers. Messages and responses that are crafted in a professional and civil manner strengthen this resource. Messages that do not reflect a professional tone reduce the value of our forums.

Messages are inappropriate when their content: is deemed libelous in nature or is based on rumor, fails to meet basic standards of decorum, contains blatant advertising or inappropriate emphasis on self promotion (return to top).

Libel: Posts which defame an individual or organization, or employ a tone which can be viewed as malicious in nature. Words, pictures, or cartoons which expose a person or organization to public hatred, shame, disgrace, or ridicule, or induce an ill opinion of a person or organization, are libelous.

Improper Decorum: Posts which are profane, inciting, disrespectful or uncivil in tone, or maliciously worded. This also includes the venting of unsubstantiated opinions. Such messages do little to illuminate a given topic, and often have the opposite effect. Constructive criticism is acceptable (return to top).

Advertising: The purpose of WOODWEB Forums is to provide answers, not an advertising venue. Companies participating in a Forum discussion should provide specific answers to posted questions. WOODWEB suggests that businesses include an appropriately crafted signature in order to identify their company. A well meaning post that seems to be on-topic but contains a product reference may do your business more harm than good in the Forum environment. Forum users may perceive your references to specific products as unsolicited advertising (spam) and consciously avoid your web site or services. A well-crafted signature is an appropriate way to advertise your services that will not offend potential customers. Signatures should be limited to 4-6 lines, and may contain information that identifies the type of business you're in, your URL and email address (return to top).

Repeated Forum Abuse: Forum participants who repeatedly fail to follow WOODWEB's Forum Guidelines may encounter difficulty when attempting to post messages.

There are often situations when the original message asks for opinions: "What is the best widget for my type of shop?". To a certain extent, the person posting the message is responsible for including specific questions within the message. An open ended question (like the one above) invites responses that may read as sales pitches. WOODWEB suggests that companies responding to such a question provide detailed and substantive replies rather than responses that read as a one-sided product promotion. It has been WOODWEB's experience that substantive responses are held in higher regard by our readers (return to top).

The staff of WOODWEB assume no responsibility for the accuracy, content, or outcome of any posting transmitted at WOODWEB's Message Boards. Participants should undertake the use of machinery, materials and methods discussed at WOODWEB's Message Boards after considerate evaluation, and at their own risk. WOODWEB reserves the right to delete any messages it deems inappropriate. (return to top)



Forum Posting Form Guidelines

Your Name
The name you enter in this field will be the name that appears with your post or response (return to form).
Your Website
Personal or business website links must point to the author's website. Inappropriate links will be removed without notice, and at WOODWEB's sole discretion. WOODWEB reserves the right to delete any messages with links it deems inappropriate. (return to form)
E-Mail Address
Your e-mail address will not be publicly viewable. Forum participants will be able to contact you using a contact link (included with your post) that is substituted for your actual address. You must include a valid email address in this field. (return to form)
Subject
Subject may be edited for length and clarity. Subject lines should provide an indication of the content of your post. (return to form)
Thread Related Link and Image Guidelines
Thread Related Links posted at WOODWEB's Forums and Exchanges should point to locations that provide supporting information for the topic being discussed in the current message thread. The purpose of WOODWEB Forums is to provide answers, not to serve as an advertising venue. A Thread Related Link that directs visitors to an area with inappropriate content will be removed. WOODWEB reserves the right to delete any messages with links or images it deems inappropriate. (return to form)
Thread Related File Uploads
Thread Related Files posted at WOODWEB's Forums and Exchanges should provide supporting information for the topic being discussed in the current message thread. Video Files: acceptable video formats are: .MOV .AVI .WMV .MPEG .MPG .MP4 (Image Upload Tips) If you encounter any difficulty when uploading video files, E-mail WOODWEB for assistance. The purpose of WOODWEB Forums is to provide answers, not to serve as an advertising venue. A Thread Related File that contains inappropriate content will be removed, and uploaded files that are not directly related to the message thread will be removed. WOODWEB reserves the right to delete any messages with links, files, or images it deems inappropriate. (return to form)