You are not logged in. Consider these WOODWEB Member advantages:

A personal "member history" that displays your posts at WOODWEB
Your forms at WOODWEB will be filled in automatically
Create your personal "My Favorites" page
Numerous automatic notification options
1st Job
3/4

Website: http://www.northforkecologicalservices.com
Hello, I recently brought a Timberking 1220 sawmill. I used it a little bit, but now my 1st. job is sawing 16' trailer floor boards from a 17.5' long x 31" wide on the fat end. My saw can only mill up to 28.5" wide logs. I guess the best way to go about it is to cut off the fat end at 16.4" or so and then try to shave the log down with a chainsaw till it fits? I don't want to tell him that I can't do it, 1st Customer !
---
3/4 #2: 1st Job ...

I wouldn't cut anything off the length if you can avoid doing so. You might need the full log length to get good board length.
The problem with wide diameter logs is that as you saw into them, your carriage and blade can get stuck. So load the bigger end close to where the saw enters the wood. That way, if you get it stuck, you only have to back out a foot or two, rather than the whole length of log.
When you say "cut" 28.5" I'm guessing your posts will clear the log on both sides to allow the blade to pass through. That is, your blade guides are 28.5" apart, but the posts are wider.
If so, then you can load up the log and make a pass over it, and you won't have to cut the full 28.5" on the first cut. You can cut in about 4" down or so, to remove a chunk from the swelled end. Then turn the log and you will find that you can get through a little more of it, since the width of the log has been reduced.
Do this 4 times and you'll have the log down to a manageable size and will be able to get through it.
Try to cut the decking from around the outside of the log (don't cut right through the middle of the log where the Pith is, or you'll end up with cracked boards).
Where are you located, btw?
---
3/4 #3: 1st Job ...

One other thing... when you get to cutting big logs, you might get into a rhythm and just cut, step it down, cut again... step it down...
Be careful!
Check your posts and your dogs on EVERY cut. Get used to doing it, because the one time you don't you'll probably cut through one of them.
---
3/5 #4: 1st Job ...

Website: northforkecologicalservices.com
Thanks for the good advice Eric, Yes, the way it is the head rails well clear the log so I will check out cutting & turning to get the size down. Would it be best to cut the length of the log the thickness of the decking needed & then cut the width or cut the log the width of the decking & then cut for thickness. If you reply thanks! I'm from Silex, Mo.
---
3/6 #5: 1st Job ...

Hi Donald,
So... Good question.
It depends. (The answer to all good questions, btw is "it depends" :-).
It depends on the trailer and how many boards are needed, and what width those will be.
I've sawed for trailers that need consistent width - 8" for every board.
Some trailers have skinny boards near the edges, or maybe one extra wide one in the center. And the trailer owner might be OK with drilling new holes in the supporting frame, so that might not even matter.
Let's assume for a moment your customer wants 8" width boards for the trailer decking.
When you saw off the bark, and square up the log you'll end up removing some material that might make a good board from the outside of the log. These are called "slabs". If you were trying to get everything you could from the log, you'd try to cut the slabs as thin as possible, and leave the minimum acceptable board width so that on your next cut you'd get a relatively narrow board.
The edges of that board will have bark on both sides, and will need to be trimmed twice (once per side), to make a square edged board. This is called "edging" the board.
Depending on how deep you cut in on the first pass, you can probably take another pass and cut a board from the side of the log. It depends on how thick your customer wants his decking. 8/4 is typical for trailer decking that people ask me to cut around here in Pittsburgh PA.
If you look at the end of the log and imagine (or even just draw it with a marker or crayon right on the log end) you can probably look down the log and see how the board might look after you edge it. If you can get a board from this, you can take it. Then, when you turn the log, you can do the same on the other side.
(When I turn my logs after the first cut, I usually turn them 180 degrees, so that I'm cutting on the opposite face of the log. Many people say this is safer and I agree.)
You can cut down the slab on the other side the same way, and you may get a board on this side too that is the width and thickness your customer needs. You might even get 2 of them (and lets say you do).
Assuming your log is reasonably straight, and your slabs are thin, at this point you have removed at least 6" of thickness from the 31" diameter, and maybe another 4-6" of slab width. So 12" total let's say. You've got 31" - 12" left, so 19" of width on your log.
These boards will have to be edged, since they will have bark on them. So put them aside for a moment (I use my log loader to stack them and lower to the ground).
At this point you can turn it again, and saw off the 3rd slab. This will be a nicer operation as you remove the slab, then cut deeper. As you step down, you'll get into wood with clean / cut edges. As you do this, keep the final width of the boards you need in mind, and don't be afraid to go up and measure the remaining width and height with a tape measure to be sure. Don't saw too deep, just a board or two here, maybe 3. But, as you saw away boards, the log might flex and bow. You can avoid some of this by turning the log again, and sawing off the other side before you take any more boards.
At this point, your height might be 19" - (6-7") or about 12" if we assume the slab was thick. So turn the log 180 again, to put the last face up, and saw off the remaining slab. Then take your next board. As you do, keep the width of the decking in mind, and don't saw down further than this width. You might flip the log one more time, and get a board or two from the other side.
If you had 11" left, and sawed 1 more board, you'd have 9" left. If you took a board now, you'd leave 7" which is less than your 8" width so don't do that. Instead cut out a piece so that you get down to 8" of width exactly.
Then, you're almost done... flip 90" this time, and saw 2 or 3 exact 8" width boards. These can go right onto the "done" pile.
Now flip it again, 180 and you'll have 2 or 3 boards here, that you can also cut out and put right on the done pile.
As you cut these boards, look at both sides and see if you are getting near to the "pith" or center of the tree. If you are, flip 180 to the other side again. You don't want to have the pith exposed, because the boards will crack right down the middle of the pith as they dry, and they will surely split one day.
Rather, try to saw the rest of the boards so that the pith is right in the middle of the last board (height-wise). This is called "boxing" the heart, and it helps make the board more useable.
Is that easy enough to follow? I know it's wordy but I tried to describe each step, so that when you're out there doing it, you can know what you're going to do next.
The last thing is to "edge" the boards with the bark (we call these "flitches") and what I do is stand several of them up on edge (takes some muscle with thick, green boards) and clamp them good and tight. Then I run the saw down the length of the boards in several passes to cut off the bark. Usually I step down 1" at a time when I do this because I will get 1" thickness "sticks" that are 2" wide in this case. I use these for stacking lumber that I will dry myself later, so put those off to the side and trim them to about 48" lengths.
As you edge these boards some of them will "finish" and get a square edge before others. So unclamp those, and flip them over to cut off the other side of the bark.
I keep running the saw down, 1" again, and flip when I need to until I get down to the actual width that I need, which would be 8" in this case.
If you don't need sticks, or you dont' want to tkae the time to step, you can just cut down to your final width in 2 cuts. Just make sure to account for the other side.
And again, check your clamps and posts on every cut. It's very embarrassing to cut a post off your mill, when you're working with the customer. I haven't done that in a while...

---
3/8 #6: 1st Job ...

Website: northforkecologicalservices.com
Thanks again for the good advice, I needed all the help I could get on this log. Well we did it, turning the log was hard but the sawing went good. Used 3 blades maybe 300 bf, have not added up all the boards yet. I posted some pictures, heck of a 1st job!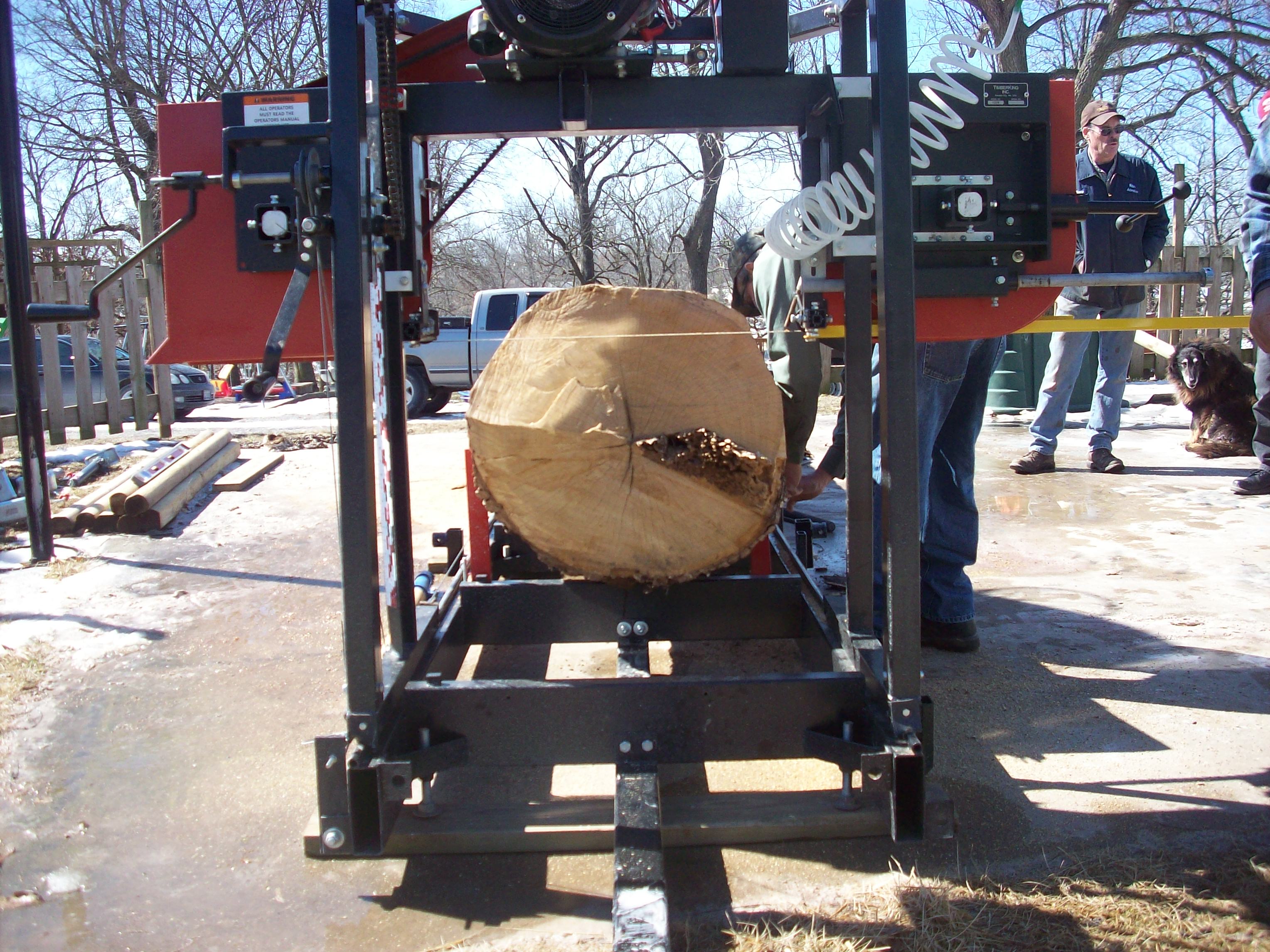 View higher quality, full size image (3056 X 2292)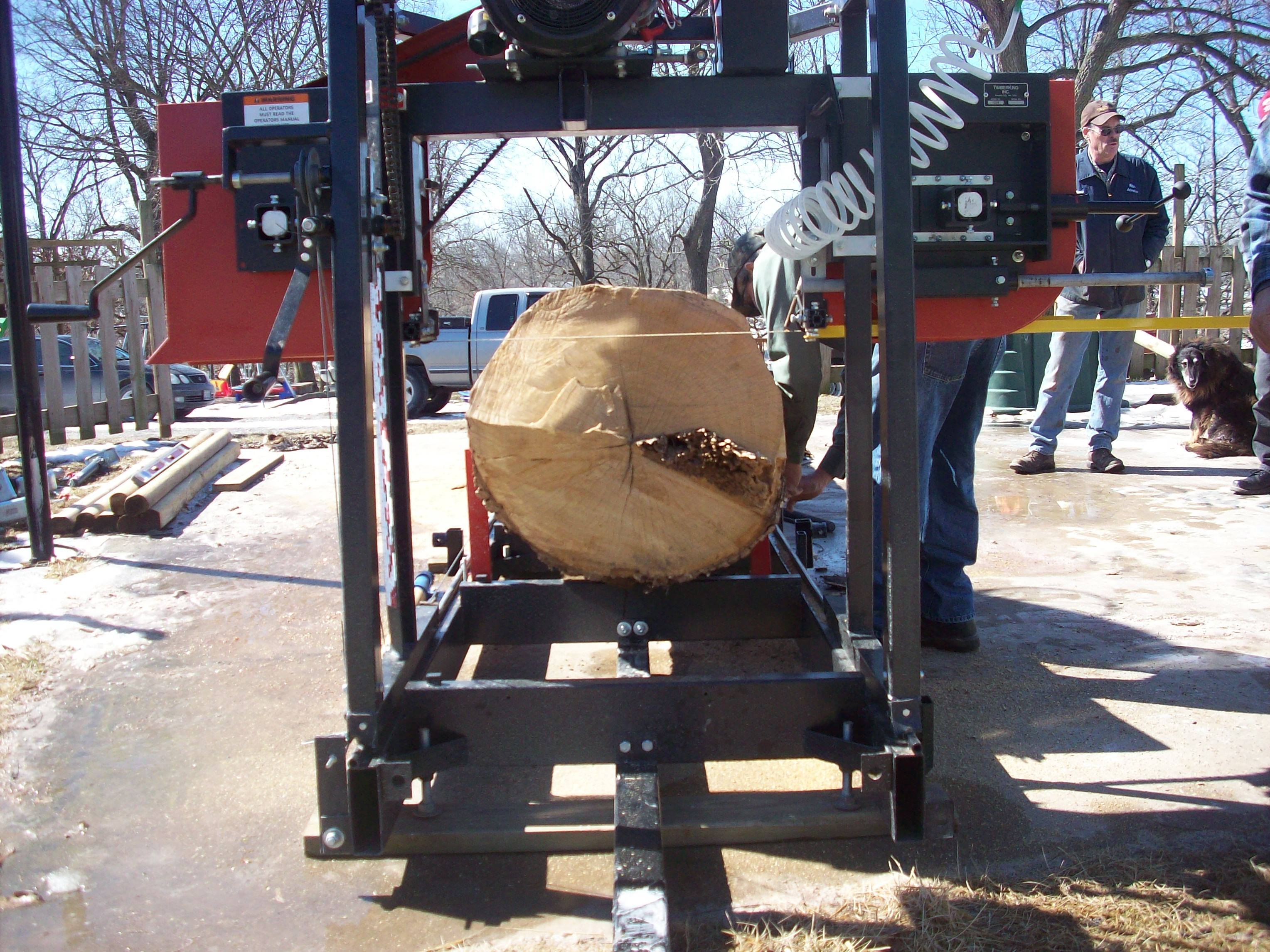 View higher quality, full size image (3056 X 2292)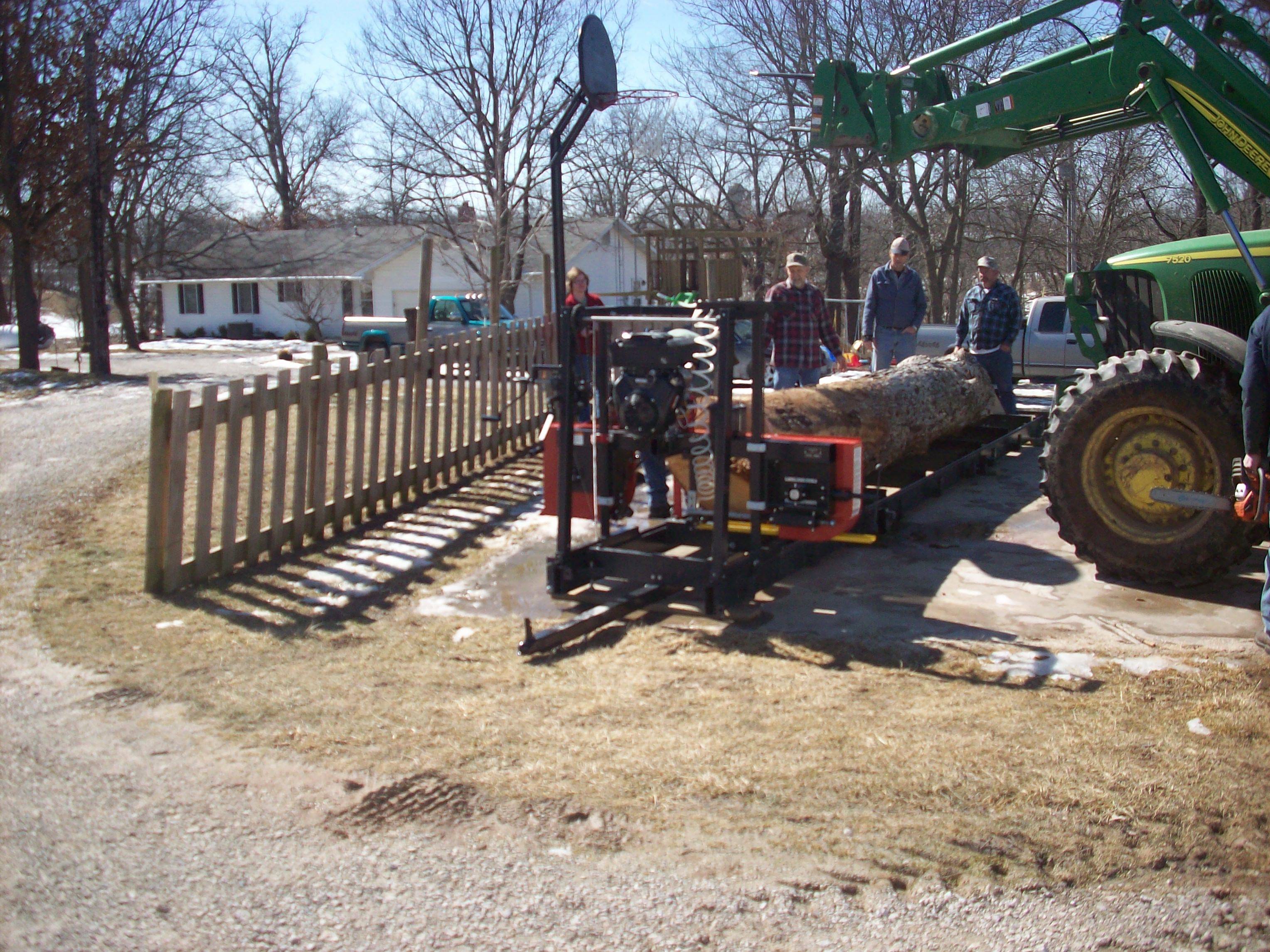 View higher quality, full size image (3056 X 2292)

---
3/8 #7: 1st Job ...

Website: http://www.tsmfarms.com
3 blades @ 300 bd ft....NOT good!!!! #1 damager to blades....DIRTY wood/bark full of mud and tiny rock from skidding...I've been guilty myself BUT then I started brushing and scraping the grooves in the bark to remove trash. IF possible wash them out and it also softens the bark for the blades.
Problems turning???? You've got the nicest turner I ever seen. I love my John Deere 5300 turner AND log loader!!! Mines only 54 pto hp The one in the pic is one for me to drool over...LOL...!!!
Turning....If you'll use chains (x2) down from loader , circle log and hook...I just lift straight up and back the log up and set on 4x4's, then roll with cant hook/peavy and rechain to reset on mill....I have turned on the 4x4's by rotating the chains 90 deg and relifting....I do some turning on mill but the heavier logs are hard on the stabilizer jacks when they bounce hard.
I didn't chime in on the cutting as most was good advice and everyone has a litlle different twist to get the same results and too much info on a beginner at once is a bit to digest.
Better yet.....WHAT did you LEARN???? What not to do again??? What to do better or make easier??
3 blades??? IF not dirty logs, was there cutting issues as dipping or rising down the log. A log that size is SLOW cutting in hardwood....most companies advertise and demo cutting pine because it looks fast.
Check out my website and if there's saw questions I'll see if I can help. Timberking makes a great saw from what I can see and view.... Tim Cook @ Cooks sawmills has a fantastic article on tweaking for ALL sawmills that deals with fine tuning the blade alignments to bed...I highly recommend reading for any sawmill owner!!
Enjoy your cutting AND DON'T forget to post pics!!! We enjoy seeing cut wood!!!
---
3/9 #8: 1st Job ...

Website: northforkecologicalservices.com
Thanks again for the info. very useful. I didn't saw through any dogs or stops! The turning of the log was hard because the sweet John Deere drove away after sitting the log on the mill. Luckily we had 5 guys there to help. Log had very little dirt on it but was very hard being dead for 1.5 years. I cut with the blade too I felt it needed to be changed due to force it took to push it through. No dipping or rising, lumber turn out nice. Eric still reviewing your post on milling the log good stuff I am trying to understand.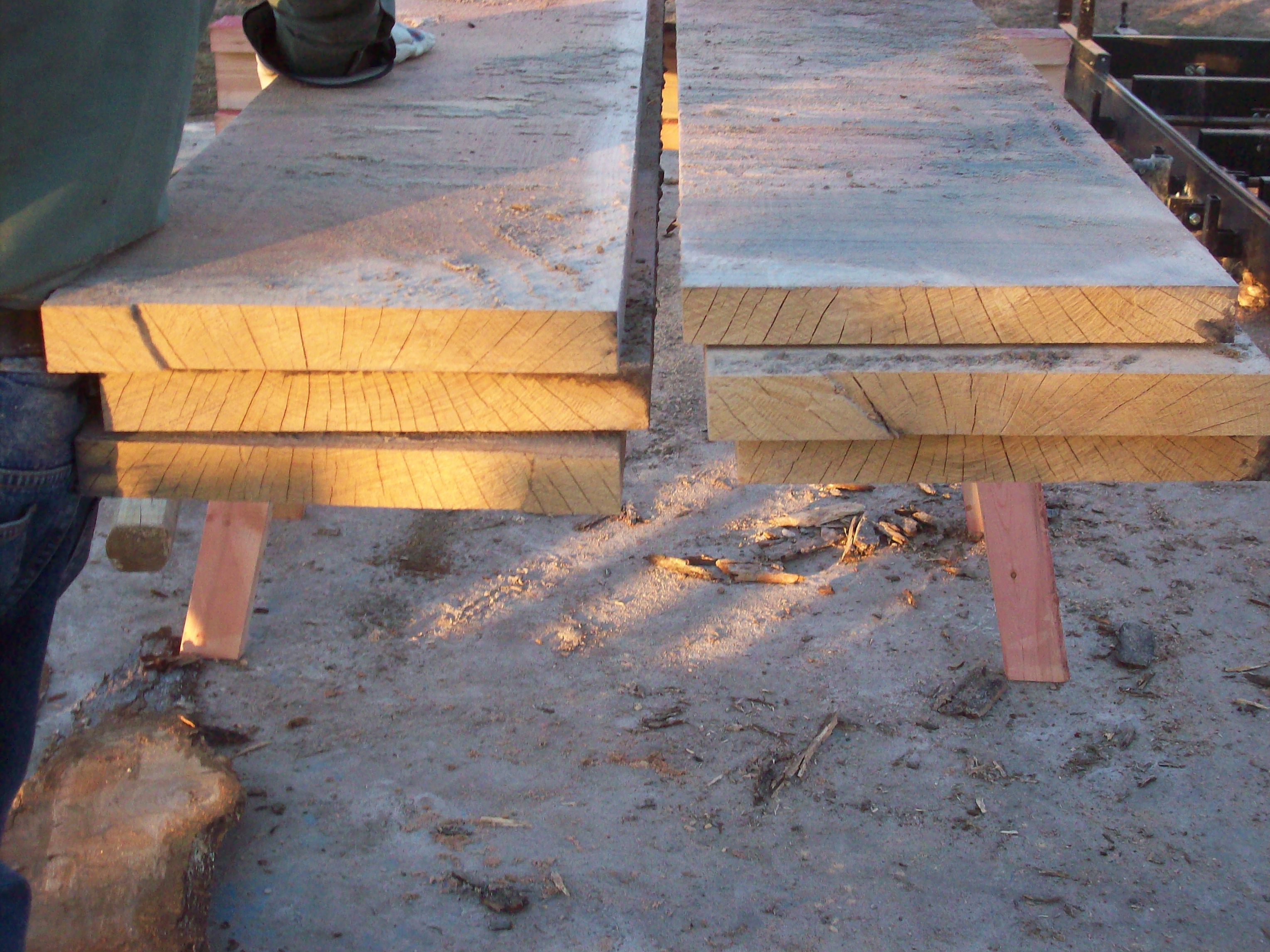 View higher quality, full size image (3056 X 2292)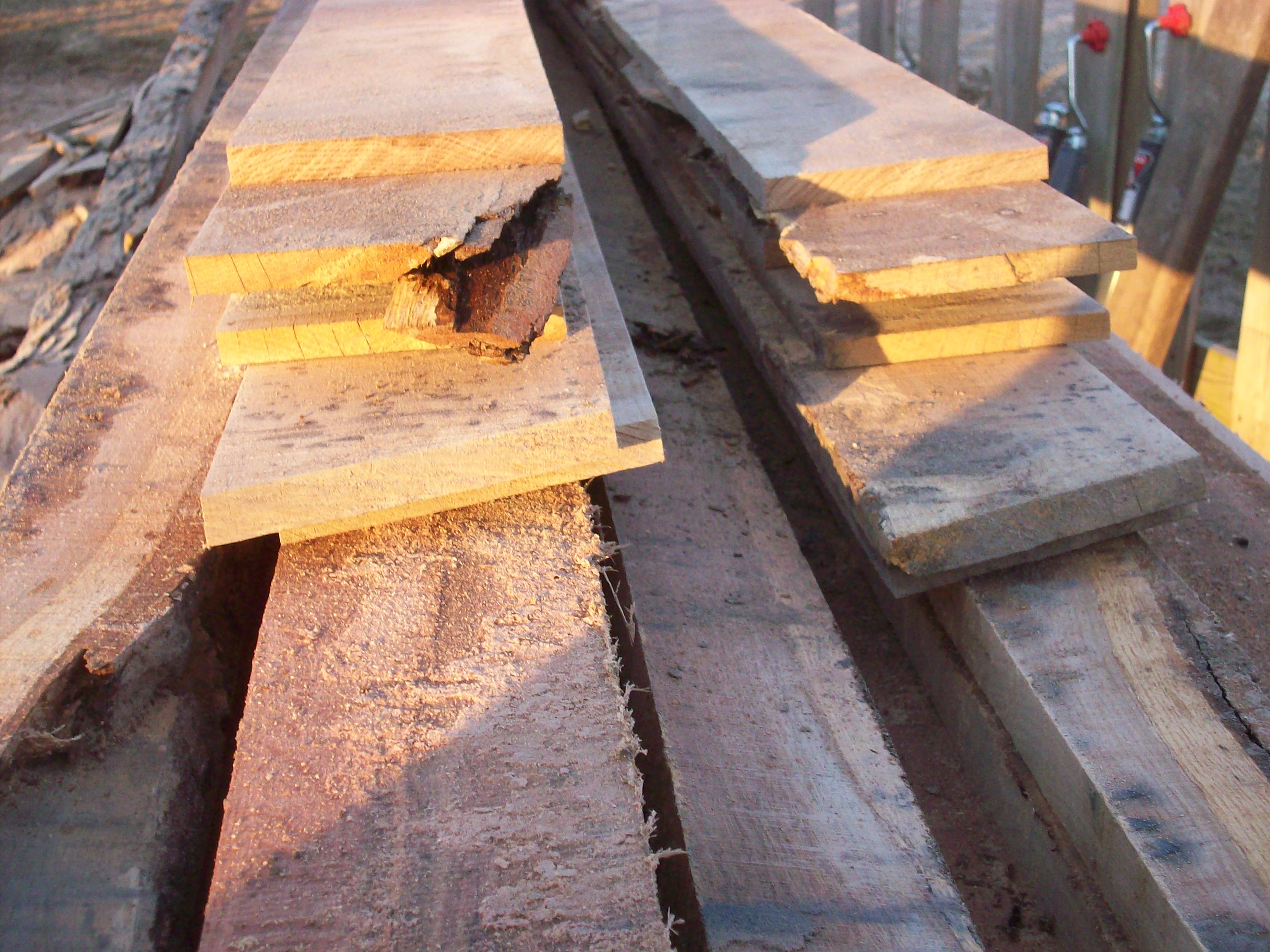 View higher quality, full size image (3056 X 2292)

---
3/10 #9: 1st Job ...

looks like you cut through a couple nails that will kill a blade instantly we all do it you have to watch the blue stains a tell tale sign of metal I the log
---
3/10 #10: 1st Job ...

Not sure about the nails, didn't see any but it was old tree. On a different subject, how much does Sawyers charge per board foot sawing hardwoods like Oak, Walnut etc. ?
---
3/10 #11: 1st Job ...

Great job.... and thanks for the pictures. Bet it was satisfying and fun for you. I also have the 1220. I'm a one man show, but mostly for personal use. The hardest part is loading the log then turning it on the mill as you probably know. I prefer to mill at my place so I built a cover and have a overhead I-beam for turning.
Good advice from Eric too.
I'm not sure what others charge, but for sure add the cost of the blade to it.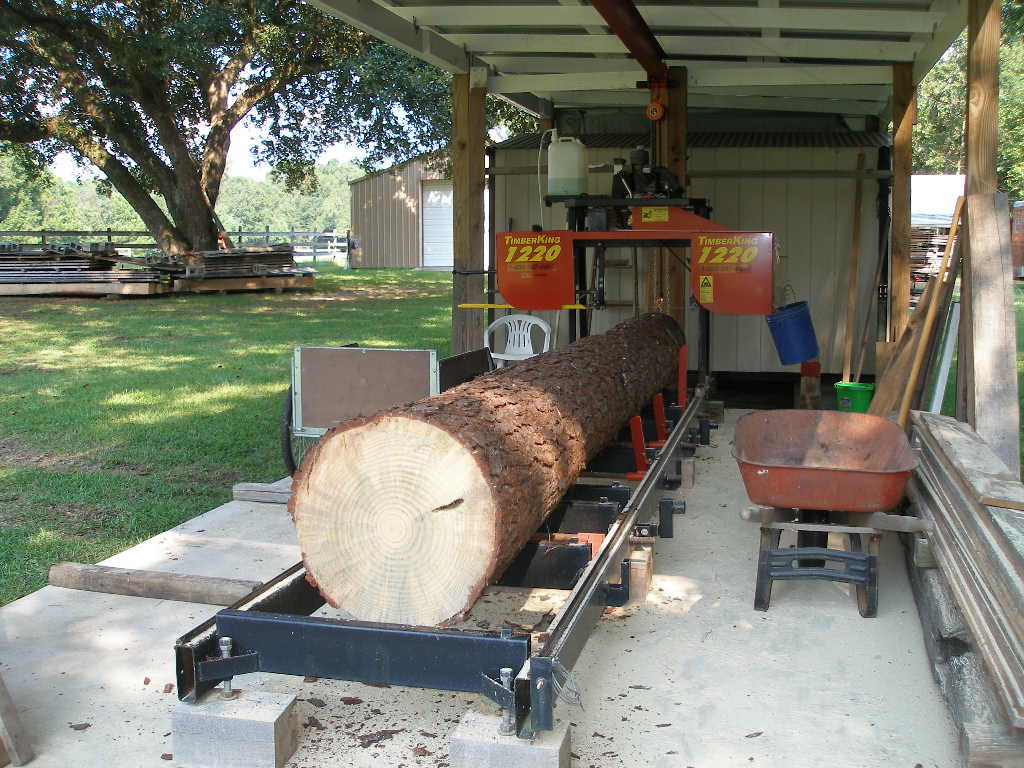 View higher quality, full size image (1024 X 768)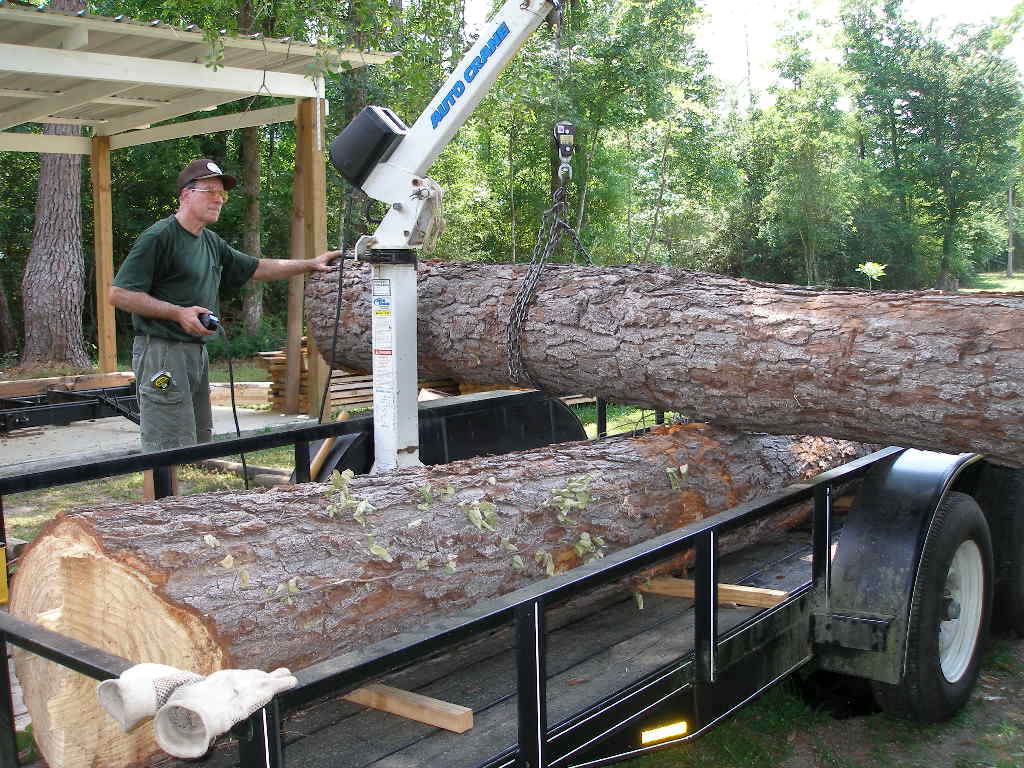 View higher quality, full size image (1024 X 768)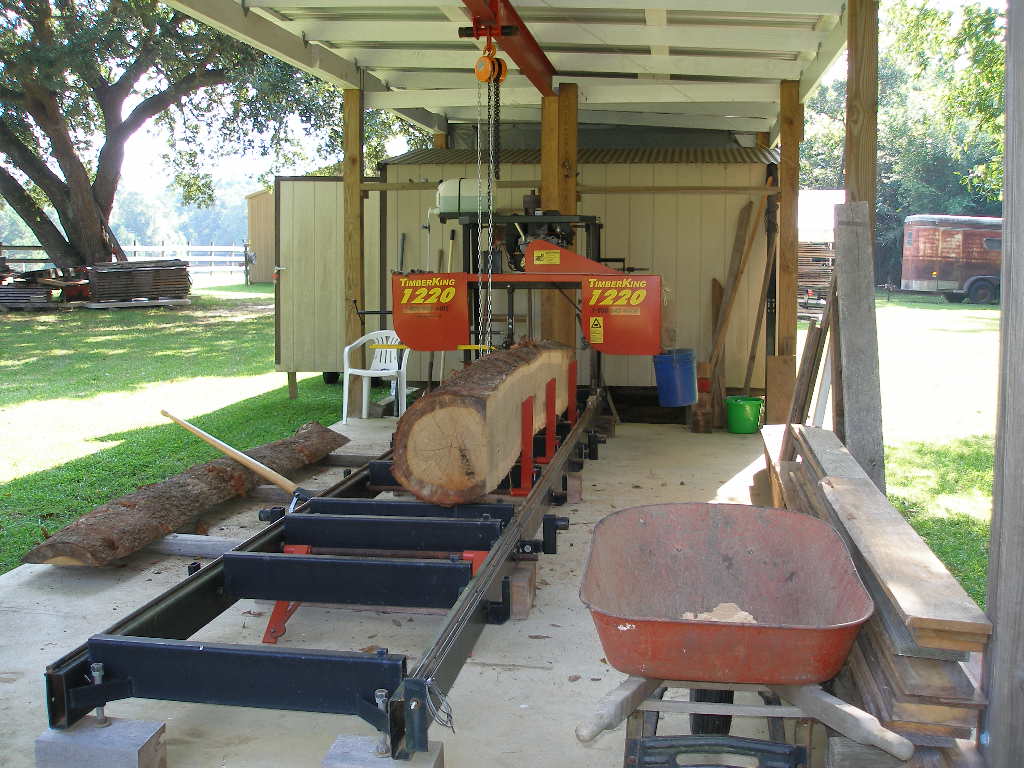 View higher quality, full size image (1024 X 768)

---
3/10 #12: 1st Job ...

Harry,
Where did you get the crane on your trailer? How much will it lift?
Thanks,
Al
---
3/11 #13: 1st Job ...

Al,
Found the Auto Crane Econo II on craigslist for $400 (price new is @2,500) so I got a deal. Will lift 4,000 pounds using the double pulley. Can also use the single pulley for faster loading of lighter loads. It is bolted to the frame of my 16' trailer on top of a 5/16" plate for strength. Being a one man show, this is what works for me. My wife just won't lift a 2,000 pound log for me!! LOL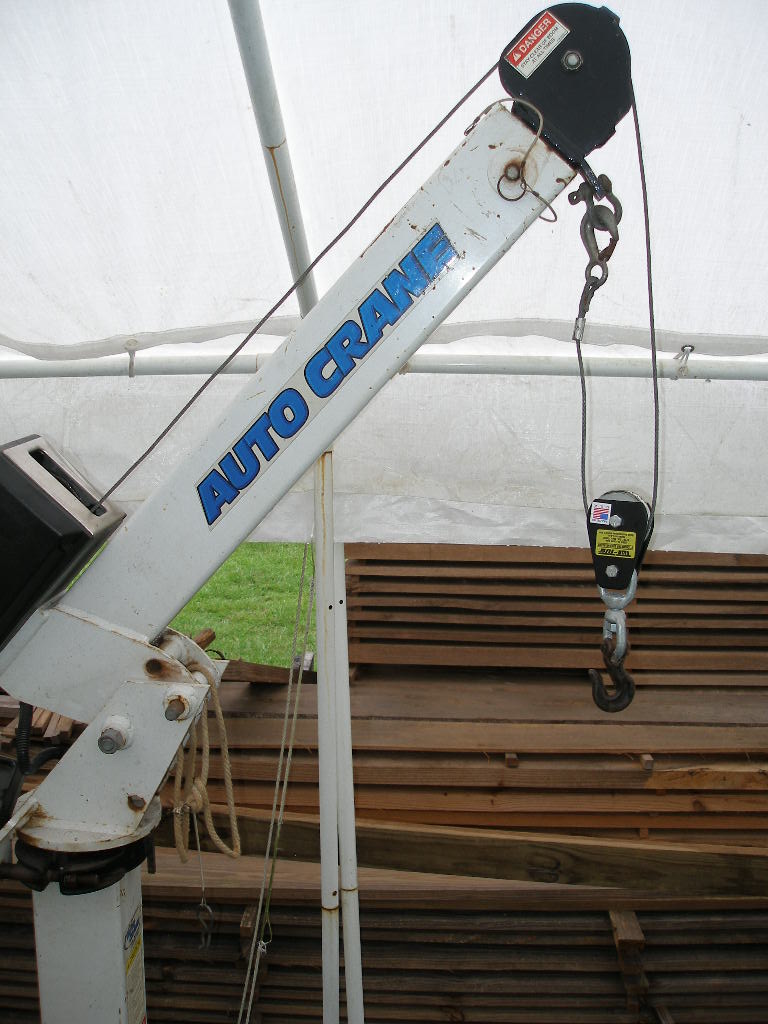 View higher quality, full size image (768 X 1024)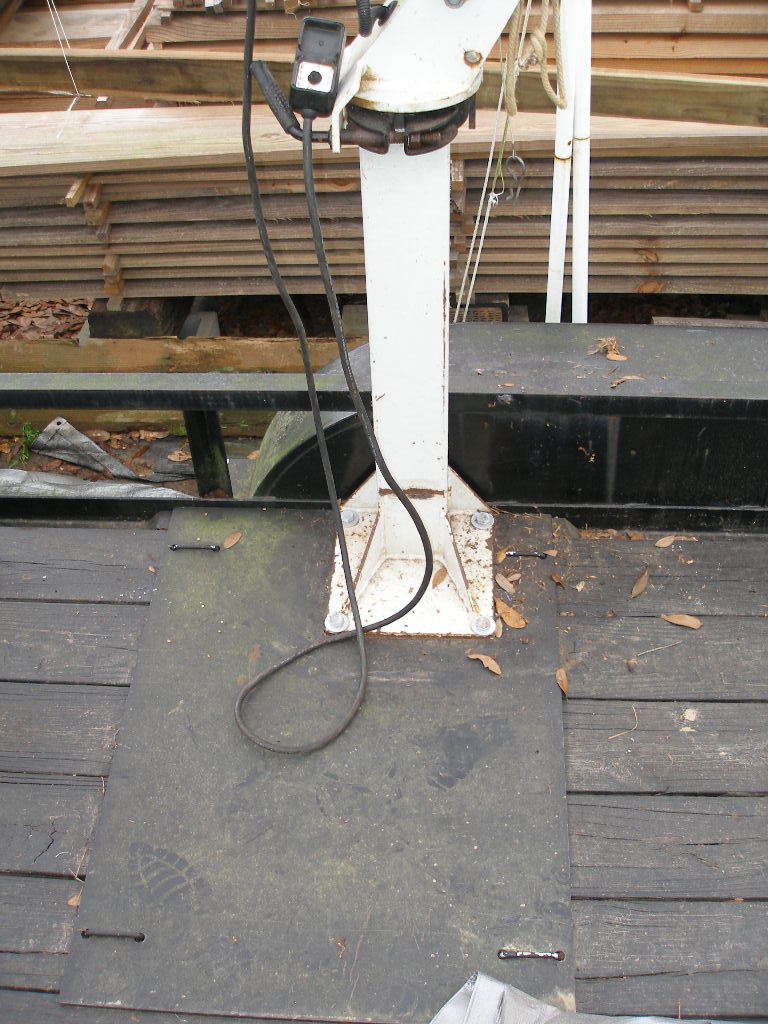 View higher quality, full size image (768 X 1024)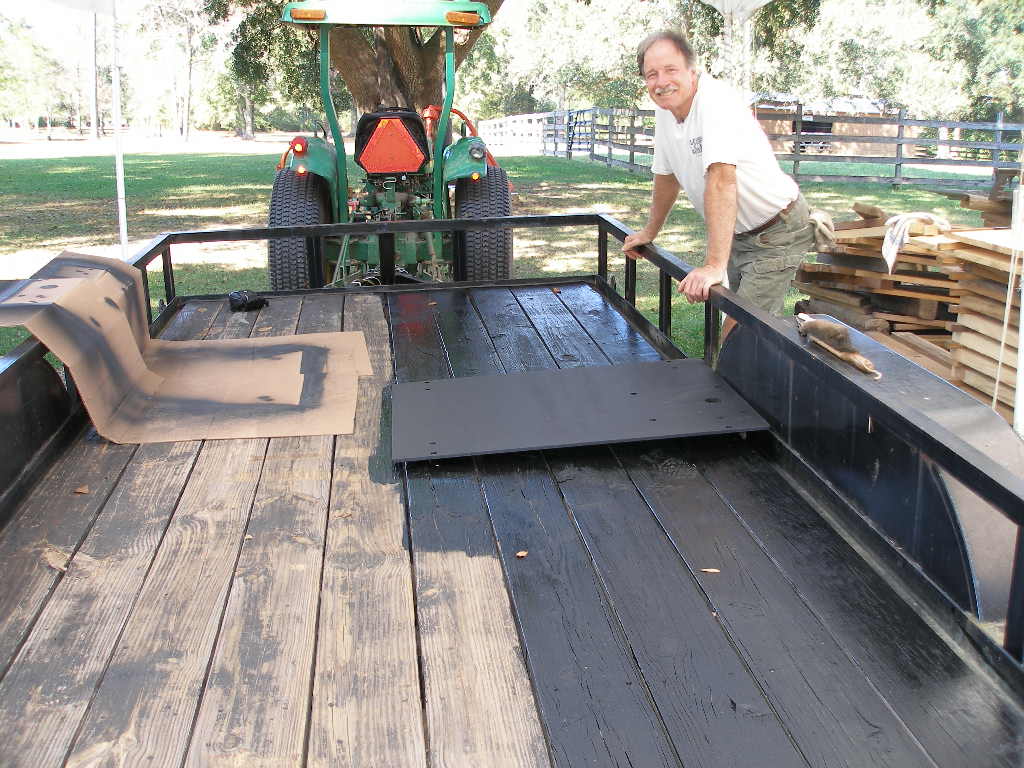 View higher quality, full size image (1024 X 768)

---
3/11 #15: 1st Job ...

Donald and Harry, I like your saws. The band saw has gap enough to cut deep in the log. The blade can cut at, or below, the center of a big log. That is good if you want to quarter cut a big log.
When it comes to turn logs on the saw, I have made two things to make it more easy.
One is the "log taper adjuster" with wheels on it. It is in a thread from 2/2 this year. Then I have a band (a safety belt from a car) over a roller. See the photo. It is hanging on the same type of lift as Harry shows over his saw. A safety belt is strong, I have lifted 2000 Pound log in the big end. The top end of my log rests on the wheels on my "log taper adjuster". The band is placed around the big end of the log and it works like belt over its pulley. With a hook it is then easy to turn the biggest log. (If the band would break the log will only drop 1" or so and the log can't hurt anything.)
You can see that the roller has a crown to keep the belt to run at the center of the roller.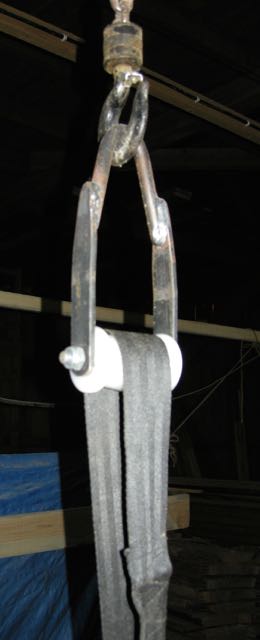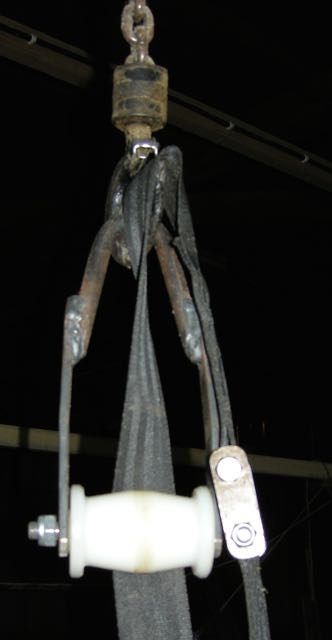 ---
3/11 #16: 1st Job ...

I see the nails that John found now, in the second set of pictures. In the lower right corner of the bottom picture. Those blue stains showing on the upper face are typical of metal in wood, especially acidic oaks.
If they are small, you might not notice, as a good sharp blade will saw through one or two of them. But as they do, the metal bits adhere to the edge of the teeth, and will prevent them from cutting the wood properly.
A large piece of metal will almost certainly destroy the blade, though -- bust teeth, etc. And if that happens, you're saw will scream, then slow down as the blade dips or rises in the cut and goes haywire!
IF this happens, it's helpful to have chainsaw nearby so you can cut the log and get to the blade. Or a pair of tin snips, so you can cut the blade out of the log.
I know you mentioned going through 3 blades, which seemed odd since this log is 200 bf or so, and you should get at least 500 bf out of a good sharp blade. But now that the metal is showing, the problem with blade life is obvious.
This wasn't enough metal to totally destroy the blade, and if you sharpen those blades you'll probably get more life out of them.
While sawing, I can usually recognize a small nail or metal in the log by sound. Even through ear plugs or muffs, a high pitched 'zzzzziiiiipppp' can be heard when you are moving through one. If you hear that, shut the mill down, pull the blade out of the cut, and inspect the blade closely. You'll probably find some metal fragments from the nails on a number of the leading edges of the teeth. If you use a screwdriver or flat metal file, you can scrape these off and remove them, by running it up from the gullet of the tooth, past the edge. This is a way to save a blade to saw with a little longer if you don't have extra blades.
Fortunately, you had some extra blades with you, which was a real good thing to have. Good thinking!
The person who gets this wood will want to plane it at some point, so do them a favor and tell them about those nails, and to remove them before they go through the planer / jointer. That will save them some time and aggravation which I'd bet they will appreciate.

---
3/12 #17: 1st Job ...

Website: northforkecologicalservices.com
Wow good stuff, Nails I didn't see them but they are inside the tree so how would you. Yes, I heard some different sounds while cutting, its making sense now. I was thinking that the seasoned oak was just that hard. I guess that's having nails in the log happens a lot? I have a lot to learn! Thanks
---

---
Buy & Sell Exchanges | Forums | Galleries | Other Resources | Site Map
---



Buy and Sell Exchanges



Job Opportunities and Services Exchange
Employment opportunities and services within the woodworking industry

Lumber Exchange
A worldwide buy/sell exchange for lumber and wood products

Machinery Exchange
A worldwide buyer and seller exchange for woodworking machinery and equipment.

Classified Ad Exchange
Classified advertising for the woodworking industry (for advertisements that do not include machinery, lumber products and employment listings)


---



Forums



Adhesives Forum
Discussing topics related to adhesives within the woodworking industry

Architectural Woodworking Forum
Discussing quality standards and production of architectural wood products

Business and Management Forum
A forum for the discussion of business topics: from sales and marketing to dealing with difficult customers.

Cabinet and Millwork Installation Forum
Discussing all aspects of installation issues encountered by cabinet and millwork installers.

Cabinetmaking Forum
Discussing 32mm and face frame cabinet construction including fabrication, casegoods design, and installation.

CAD Forum
Shedding light on the all-too-often shadowy world of CAD.

CNC Forum
Discussing CNC (computer numerically controlled) woodworking equipment, software, and automated product manufacturing.

Dust Collection, Safety and Plant Operation Forum
Discussing topics related to maintaining a safe and productive working environment.

Professional Finishing Forum
Finishing issues for the production environment

Forestry Forum
The science and art of forest cultivation and timber management, planting, surveying, tree diseases, silviculture and timber harvesting

Professional Furniture Making Forum
Helping professional furniture makers improve quality, save time, and increase profits

Laminating and Solid Surfacing Forum
Issues related to laminating and solid surface materials and processes

Commercial Kiln Drying Forum
Discussions covering issues faced be commercial drying operations that process at least 750,000 bd. ft. of lumber per year

Sawing and Drying Forum
Discussing topics related to primary processing and drying of lumber

Solid Wood Machining Forum
Discussing topics related to the machining of solid wood

Value Added Wood Products Forum
Learn how to improve your output, find new markets, and boost sales of your lumber products

Veneer Forum
Discussing topics related to veneer processing, manufacturing, and fabrication

WOODnetWORK
An electronic discussion group for woodworkers throughout the world


---



Galleries



Project Gallery
Where professional woodworkers can post examples of their work

Sawmill Gallery
Professional primary processing companies display and describe their sawmill facilities

Shop Gallery
Professional woodworkers display and describe their shop facilities, products and equipment

Shopbuilt Equipment Gallery
Professional woodworker's jigs, rigs, and shopbuilt equipment


---



Other Resources



Industry News
Late-breaking news from all sectors of the wood industry

Video Library
Index of industrial woodworking related digital videos on the web

Auctions, Sales and Special Offers
Advertisers offering woodworkers discounted prices on good and services, and announcements of upcoming auctions


FORUM GUIDELINES: Please review the guidelines below before posting at WOODWEB's Interactive Message Boards
(return to top)
WOODWEB is a professional industrial woodworking site. Hobbyist and homeowner woodworking questions are inappropriate.
Messages should be kept reasonably short and on topic, relating to the focus of the forum. Responses should relate to the original question.
A valid email return address must be included with each message.
Advertising is inappropriate. The only exceptions are the Classified Ads Exchange, Machinery Exchange, Lumber Exchange, and Job Opportunities and Services Exchange. When posting listings in these areas, review the posting instructions carefully.
Subject lines may be edited for length and clarity.
"Cross posting" is not permitted. Choose the best forum for your question, and post your question at one forum only.
Messages requesting private responses will be removed - Forums are designed to provide information and assistance for all of our visitors. Private response requests are appropriate at WOODWEB's Exchanges and Job Opportunities and Services.
Messages that accuse businesses or individuals of alleged negative actions or behavior are inappropriate since WOODWEB is unable to verify or substantiate the claims.
Posts with the intent of soliciting answers to surveys are not appropriate. Contact WOODWEB for more information on initiating a survey.
Excessive forum participation by an individual upsets the balance of a healthy forum atmosphere. Individuals who excessively post responses containing marginal content will be considered repeat forum abusers.
Responses that initiate or support inappropriate and off-topic discussion of general politics detract from the professional woodworking focus of WOODWEB, and will be removed.
Participants are encouraged to use their real name when posting. Intentionally using another persons name is prohibited, and posts of this nature will be removed at WOODWEB's discretion.
Comments, questions, or criticisms regarding Forum policies should be directed to WOODWEB's Systems Administrator
(return to top).

Carefully review your message before clicking on the "Send Message" button - you will not be able to revise the message once it has been sent.

You will be notified of responses to the message(s) you posted via email. Be sure to enter your email address correctly.

WOODWEB's forums are a highly regarded resource for professional woodworkers. Messages and responses that are crafted in a professional and civil manner strengthen this resource. Messages that do not reflect a professional tone reduce the value of our forums.

Messages are inappropriate when their content: is deemed libelous in nature or is based on rumor, fails to meet basic standards of decorum, contains blatant advertising or inappropriate emphasis on self promotion (return to top).

Libel: Posts which defame an individual or organization, or employ a tone which can be viewed as malicious in nature. Words, pictures, or cartoons which expose a person or organization to public hatred, shame, disgrace, or ridicule, or induce an ill opinion of a person or organization, are libelous.

Improper Decorum: Posts which are profane, inciting, disrespectful or uncivil in tone, or maliciously worded. This also includes the venting of unsubstantiated opinions. Such messages do little to illuminate a given topic, and often have the opposite effect. Constructive criticism is acceptable (return to top).

Advertising: The purpose of WOODWEB Forums is to provide answers, not an advertising venue. Companies participating in a Forum discussion should provide specific answers to posted questions. WOODWEB suggests that businesses include an appropriately crafted signature in order to identify their company. A well meaning post that seems to be on-topic but contains a product reference may do your business more harm than good in the Forum environment. Forum users may perceive your references to specific products as unsolicited advertising (spam) and consciously avoid your web site or services. A well-crafted signature is an appropriate way to advertise your services that will not offend potential customers. Signatures should be limited to 4-6 lines, and may contain information that identifies the type of business you're in, your URL and email address (return to top).

Repeated Forum Abuse: Forum participants who repeatedly fail to follow WOODWEB's Forum Guidelines may encounter difficulty when attempting to post messages.

There are often situations when the original message asks for opinions: "What is the best widget for my type of shop?". To a certain extent, the person posting the message is responsible for including specific questions within the message. An open ended question (like the one above) invites responses that may read as sales pitches. WOODWEB suggests that companies responding to such a question provide detailed and substantive replies rather than responses that read as a one-sided product promotion. It has been WOODWEB's experience that substantive responses are held in higher regard by our readers (return to top).

The staff of WOODWEB assume no responsibility for the accuracy, content, or outcome of any posting transmitted at WOODWEB's Message Boards. Participants should undertake the use of machinery, materials and methods discussed at WOODWEB's Message Boards after considerate evaluation, and at their own risk. WOODWEB reserves the right to delete any messages it deems inappropriate. (return to top)



Forum Posting Form Guidelines

Your Name
The name you enter in this field will be the name that appears with your post or response (return to form).
Your Website
Personal or business website links must point to the author's website. Inappropriate links will be removed without notice, and at WOODWEB's sole discretion. WOODWEB reserves the right to delete any messages with links it deems inappropriate. (return to form)
E-Mail Address
Your e-mail address will not be publicly viewable. Forum participants will be able to contact you using a contact link (included with your post) that is substituted for your actual address. You must include a valid email address in this field. (return to form)
Subject
Subject may be edited for length and clarity. Subject lines should provide an indication of the content of your post. (return to form)
Thread Related Link and Image Guidelines
Thread Related Links posted at WOODWEB's Forums and Exchanges should point to locations that provide supporting information for the topic being discussed in the current message thread. The purpose of WOODWEB Forums is to provide answers, not to serve as an advertising venue. A Thread Related Link that directs visitors to an area with inappropriate content will be removed. WOODWEB reserves the right to delete any messages with links or images it deems inappropriate. (return to form)
Thread Related File Uploads
Thread Related Files posted at WOODWEB's Forums and Exchanges should provide supporting information for the topic being discussed in the current message thread. Video Files: acceptable video formats are: .MOV .AVI .WMV .MPEG .MPG .FLV .MP4 (Image Upload Tips) If you encounter any difficulty when uploading video files, E-mail WOODWEB for assistance. The purpose of WOODWEB Forums is to provide answers, not to serve as an advertising venue. A Thread Related File that contains inappropriate content will be removed, and uploaded files that are not directly related to the message thread will be removed. WOODWEB reserves the right to delete any messages with links, files, or images it deems inappropriate. (return to form)