Message Thread:
custom shaper idea
1/23/15

Would like to run an idea by the committee to see if it has merit.
What are the pros & cons of a direct drive shaper arbor?
If the the quill was substantial enough and the motor was directed by some kind of inverter that could control RPM, Torque & Start Speed would there be any downside to this approach?
Would the lateral forces of stock removal cause the bearings in the quill to fail?
Do you need to have a belt drive as part of the system to cushion vibration?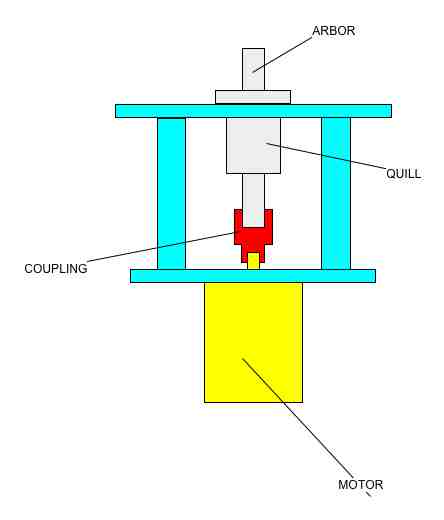 View higher quality, full size image (444 X 520)

---
1/23/15 #2: custom shaper idea ...

A decent quill is a pretty massive thing under any shaper table -12", 14", or 18" or so. Add a coupling of some sort and a decent motor, and that table is going be pretty far off the floor.
As for precedent, I know of planers, joiners, and gang ripsaws that are direct drive, with no couplers. Just one huge massive motor shaft (2" diameter minimum), 3 phase, horizontal, and plenty of space for it all.
I think conventional shapers can easily do whatever is needed, so why reinvent it?
---
1/23/15 #3: custom shaper idea ...

This is a pet project of mine.
The justification for it has to do with overall footprint in the shop. This approach might make a taller system than using a conventional shaper but takes less X-Y space on the floor.
We build all of our own drawer boxes and we use a rabbeted 1/2 thick bottom. This is currently done with two power feeders on a dedicated shaper and dedicated table saw. Overall this takes a footprint of approximately 3 x 14 feet. The size of this footprint is not so unwieldy as the location. There are only so much prime time real estate in my shop so this function is relegated to a corner about 70 feet from the cutout saw. The approach I have in mind would perform both slot & rabbet operations with the same spindle and would only take about as much space as a shopping cart. The top surface for this cart would also double as an assembly station.
I have the same issue going on at my cope shaper. I currently use a 10HP SCM with sliding table. Overall this is a 48 inch footprint when most of my copes are less than 5 inches in length.
The problem I see with most woodworking machinery is versatility. On my shaper you can adjust the left & right fence independently, raise & lower the spindle, change the speed and rotation. We have never utilized a single one of those features since I bought the shaper.
Years ago I built a murphy bed for a guy who worked in the "blue sky" laboratory for Boeing. Their job was to simulate full size machines in styrofoam to see how they fit in the manufacturing process. I think we have a lot of extra walking associated with these oversize "versatile" machines. Walking begets carts and carts require aisle ways and suck up real estate that does not add value.
---
1/23/15 #4: custom shaper idea ...

Website: http://sunvalleywoodworks.com
Faced with a similar situation in my previous (and much smaller) shop, my solution was to build a couple of small but stout router tables with power feeders. They are for dedicated set ups that are rarely if ever changed. 20 years later, I'm still using them in my current shop. I now have 3 large shapers, 3 table saws, 2 molders, ect. but those router tables are still making me money and saving space.
---
1/23/15 #5: custom shaper idea ...

What about an electro spindle. The same as used on a CNC. 9 hp, 12 hp, 15 hp. Pricey but it may be a solution.
---
1/23/15 #6: custom shaper idea ...

No need to re-invent the wheel, there are plenty of old direct drive shapers out there. You can buy an old Whitney or similar and replace the freq convertors with a vfd and be off and running.
Only downside I've heard is there could be a problem using modern vfd's on the older direct drive machines. Had to do with prematurely wearing the bearings. Not sure if there's any definitive evidence on it or if it's just armchair theory though?
As far as your situation I'm not clear on why your custom made direct drive shaper would be able to handle 2 operations where a normal off-the-shelf shaper couldn't?
good luck,
Jeffd
---
1/23/15 #7: custom shaper idea ...

Step 1 is getting the spindle to rotate.
Step 2 is applying linear motion to the spindle assembly.
---
1/24/15 #8: custom shaper idea ...

Website: http://www.handrailer.com
Your idea to convert existing machinery sounds impractical to me for several reasons and I don't understand how a direct drive unit would save floor space? It sounds like you need to design and built some custom machines to do specific operations and fit within your shop.
The question of belt or freq motor operation was mostly decided 50 years ago in favor of belt transmission. This was due mostly to lower manufacturing costs. There is no comparison however, between the power and performance of the old high-speed freq motors and a typical 3450 RPM motor with belt transmission. It's the belt and sheet steel construction which transmits vibration
I have a pair of old Onsrud Routers from the 40's and 50's, which (besides the cast iron, Sherman Tank construction) have heavy motors which actually rotate at @ 10 and 20,000 RPM. They do this via large rotary, frequency converter motors. They scream horrifically @ 20K but there's no stopping them or even slowing them down. Besides the noise and the additional floor space for the converter, there can also be bearing issues. Otherwise, these old machines are invincible. These kinds of machines used to be quite common in cabinet shops.
---
1/27/15 #9: custom shaper idea ...

Website: http://www.handrailer.com
"...applying linear motion to the spindle assembly"
Unique Machine makes several machines that hold a part stationary while a spindle moves laterally. Coping, panel raising, and edge profiling and sanding are all done this way on their machines.
At the Atlanta show, they would make parts for a 5 pc cabinet door in less than a minute or some suitably attention getting time.
---
1/27/15 #10: custom shaper idea ...

Thanks for the heads up about those particular machines from Unique Machinery. I have seen a lot of videos on their products but all of them have so far involved pushing the wood through the spindle rather than vice versa.
Part of the reason for wanting to do this myself is to soften the learning curve. I am never going to be a machinist but I am a pretty clever process designer. I can hire machinists for the parts that need to be custom made. Many of the others are already available off the shelf or off a website. Google "do it yourself CNC" sometime and you will get an idea of how robust the community of backyard machinery builders are.
Woodworking as I see it pretty much consists of getting something to rotate, clamping something down and applying linear motion to one of the components. None of those processes by themselves are rocket surgery.
As I have mentioned before a lot of this is simply to be in control of the scale of the machine. If you can make machines the right size you can array them in a way that could be staffed by one person or five. As soon as you can make one process contiguous with the next you stop having puddles of WIP.
I have a vertical panel saw in my head that is physically impossible to get injured on and captures 100% if the dust. This design also allows you to start with pre-banded rips of plywood or melamine. You don't need to own a bander and therefore don't have all the extra expense of incense, incantations, and offerings to the bander gods each time you turn the machine on.
Look what JR Rutter accomplished with his coping sled. More importantly look at the machinery making skill set he has acquired that can be applied in a million more spots throughout his plant.
---