You are not logged in. Consider these WOODWEB Member advantages:

A personal "member history" that displays your posts at WOODWEB
Your forms at WOODWEB will be filled in automatically
Create your personal "My Favorites" page
Numerous automatic notification options
What is the sketchiest thing you've ever seen done with a machine?
3/1

No one needs to admit if they saw it in their own shop and no one is allowed to ask ;) These sort of stories educate, right?
I'll start with one. Worked with a guy that was too lazy to joint rough lumber so he throws it into the table saw, no fence, entirely free hand, to make a straight edge. After seeing this and stopping dead in my tracks, he boasted of being old school, and explained how he's only ever gotten a peice kick back into him once doing this.
I asked how bad the kick back was and he told me it mangled his hand pretty good.
---
3/1 #2: What is the sketchiest thing you've ...

You can't fix stupid but you can one up it.
Suggest he leave off the fence AND remove the throat plate.
---
3/1 #3: What is the sketchiest thing you've ...

I had started a new job as a production manager of a completely untrained 5 man shop. My office was a little cube with windows in one corner of a 8,000 s/f room. I had a fair view of things, and a table saw that was used mostly for odd things the pre-hung door shop needed was right in front of one window. This place was full of bent and beaten equipment, and rural farm boys that were trying to figger out how to hang doors and do a few other things. Well intentioned, but inexperienced.
On about my 3rd day, as I was on the phone with a boss, I watched - as I talked - as a guy loaded a molding head into the table saw, and proceeded to stop flute some jambs. He used a fence, but since the flutes were stopped, he would set them onto the running molding head and hit his mark and then hand feed until he got to his second mark that told him to stop. Pick it up off the head, and reset the fence and do it again.
Now this was incredibly inefficient and sloppy, but it was all they knew. It was also very dangerous, since there was no stop block from which the stock could be held against to start the cut. If a guy allowed the part to back up just a hair, it would shoot back at speed. I had just read that these heads were no longer allowed in European shops, due to a high rate of injuries.
I watched and resolved I would to stop the one process and substitute a better one, later that day Well, the boss insisted I come talk to him, so I had to leave the shop hand at his task, with me hoping for the best.
So I get a call at the bosses office, telling me they just took Shop Guy #1 to the hospital. Yep, it was him - he backed up a jamb head a bit and it took off on him, and took off the end of his finger, about 3/4" of an inch. The finger tip was lapped over the far end of the part when it kicked.
There was nothing to recover, so to speak, so he had a long painful recovery. The next day we had a jig to do the fluting and a written process to follow. Two guys were taught to do it, and no one else was allowed. Then we evolved things and changed it over to routers to do it, and then we did the jambs ganged, in a batch of 100 at a time instead of one at a time. Labor on a fluted jamb went from 30 minutes to about 5 minutes, and the quality was much better.
And no bloody messes to clean up on the saw.
---
3/1 #4: What is the sketchiest thing you've ...

Website: http://www.rmkdesigns.com
I have 2 for you. The first is the company makes a part that requires drilling holes on the edge of a board for wiring. The right handed models have a jig to drill in the right place but the left handed models are rare so no one wanted to make a jig. Instead one of the guys in the shop would take this board about 1-3/4" thick by 4" wide and 15" long and lower it on the table saw blade to cut a slot on the edge that was 2 inches deep but could not go past the ends. I tried to tell them to make the jig but the guy cutting did not mind. For as long as I was there he never got hurt,
The second one was a custom furniture shop where one person forgot to profile the edge before glue up and did it with a handheld router. The bit was larger than a panel raising bit and needed to be run at a slower speed. He used a router that did not have a speed adjustment so this large bit ran at 22000 rpm. A few seconds into the cut we heard a loud cracking sound a went to see. Turns out the bit bent over and hit the router base shattering the bit and throwing pieces everywhere. Surprising he did not get hit but the table top was damaged.
---
3/1 #5: What is the sketchiest thing you've ...

Jim, I caught this response this morning and I've been chuckling at it all day. Should I also tell him that a real man would use a triple chip at full height? Heheh
So here's another doozie... I didn't see it myself but its recorded as the stupidest injury in the history of this shop. A guy wanted to cut some cheese cloth in half so he rolled it up and took it to the table saw. I couldn't even think this stuff up, to make it up, if I tried.
Result was no lost fingers, but lots of deep gauge cuts. The cloth got tangled in the blade and the blade stalled, but drew his two hands in for a fantastic series of cuts all over his two sets of knuckles.
I keep hearing that its hard to find skilled workers in the area... I guess so!
---
3/2 #6: What is the sketchiest thing you've ...

I didn't see it myself, but one of the architects at our outfit was observed cutting loose bundles of odd size rippings into kindling at the radial arm saw by first making a pull cut, then sliding the bundle over and making a push cut. Fortunately he was stopped before it blew up in his face.
It is curious to see how even experienced workers who ought to know better will do unsafe things on machinery. I have seen a carpenter with 15 years experience do a rabbet with two saw cuts in the wrong order, leaving the offcut trapped between the blade and fence. It's important that people feel able to call others out when they see something unsafe going on. The cost of a serious accident in lost productivity, possible fines and increased insurance costs, quite aside from the devastating effect on the injured person and his family can be very tough to deal with.
---
3/4 #7: What is the sketchiest thing you've ...

Website: http://babic.co
This guy was doing an install in a second floor apartment and set his saw up on the balcony outdoor. This was Winter (I'm in Norway) so he was wearing mittens. Took his thumb off, threw it into the snow, had to get a K9 to find it. Did not end well.
---
3/5 #9: What is the sketchiest thing you've ...

fun diagrams...
http://tablesawaccidents.com/
I hate that I have so many of these, but in other sense, open discourse is better than none.
Free hand groove cutting on a 1/2 thick, 5 1/4 height 4 3/4 wide peices with router. In case that is not clear--take your router, flip it over, hold it in one hand, while you free hand glide the other peice along the running bit to stop cut into the side. Was also told that (wait for this) wearing gloves would help me hold the peice down.
I was actually asked to do this 1 week into my apprenticeship at this shop. Told him politely but firmly, uhn-uhn, no, ain't happening. Got a little dump of animosity, was sent to set up my own router table jig to do it, with angry pass-by glances while I figured it out on my own as a newb. Figured it out, but holy crap eh?
---
3/9 #11: What is the sketchiest thing you've ...

At christmas time we used to get turkeys or hams.
One of the guys hauled his frozen turkey to the band saw and sliced it in half.
Said it was to big for just him and his wife.
Side order of mdf with your salmonela?
---
3/9 #12: What is the sketchiest thing you've ...

On my sliding table saw:
I drilled a hole in a 36" Sthil chain saw bar. Mounted that to my Arbor, Hung the handle end of the chain saw from a beam overhead.
Started the Chain saw.
Ran a honkin huge log through to rip it into slabs.
It worked - - sort of.
Terrifying experience.
Won't do that again.
Bought an Aggazani B20 shortly thereafter
---
3/11 #14: What is the sketchiest thing you've ...

The shop where I worked used to make a table with quarter-round legs with a 3" radius on the outside. The radius would be shaped on a shaper with a 3" radius cutter. It was a massive custom cutter, and it weighed a lot.
I used to run the stock through the shaper freehand, no hold-downs or featherboards.
Thankfully, I didn't have any accidents, but it still makes me cringe. There's no way I'd do that today!
---
3/13 #15: What is the sketchiest thing you've ...

I used to have one of those behemoth De Walt radial arm saws, a massive beast that could crosscut 30", and used an 18" blade. It had a crank on the end of the arm with a gear & chain drive attached to the motor so you could advance the blade through thick timbers with some control. I was making a bunch of log beds at the time, and was trying to make a clean cut through 10" diameter logs that wouldn't involve as much grinding & sanding to clean up as a chain saw. So I built a jig to hold the logs securely, took the guard off, and put a 24" blade on it. Obviously, I didn't understand the correlation of motor rpm and blade diameter... When I turned it on, it took almost 30 seconds to reach full speed and sounded like a turbo prop aircraft taking off. It scared the other guy in my shop so much he ran outside. I went ahead and made the cut, which actually came out pretty good. I went ahead and used it for while, but realized it was too dangerous to continue, not to mention inefficient if my crew was going to leave the building every time I turned it on. I came up with another plan, and made a sliding table for my bandsaw to do these crosscuts which worked better in all respects. 25 years later, the saw is long gone, but the blade is stil hanging on the wall to remind me...
---
3/15 #16: What is the sketchiest thing you've ...

Raul--woah!! Please oh please tell me you have a pic of that set-up. I've heard of alaskan mills but that might be a newfie mill :)
Duster--I'm not sure radial arm saws are as dangerous as people think they are. I have one in my home shop and I love that thing. It's me funky angle wood god.
But even my super sketchy shop is afraid of radial arm saws. School I went to as well. I hear they are getting phased out because climbing cuts are dangerous... But simple kinetics--you hold it right and the cut is against piston forced forearm. No finess to it, just proper body placement. plus the thing has a stop--it's not like the cimlbing cut has free range.
Dunno--I'm pretty safety minded and I for sure love my radial arm saw. I'm not sure if general reticence towards the device is based in fact or superstition.
---
3/15 #17: What is the sketchiest thing you've ...

Mel - I agree radial arm saws can useful tools in the right hands, but I wouldn't have in my shop now. Simply too dangerous in the hands of an untrained and/or oblivious employee. Have you ever tried ripping with a radial arm saw? Now, that really scary...
---
3/16 #18: What is the sketchiest thing you've ...

Yeah, I totally I hear you on radial arm ripping. I had a strange grain-match obsession order for a side gig- and ended up having to make my own crown with a radial arm by ripping at an angle. Made inverted arc crown for a mantle with hard stock. Fun as ever, and turned out great, but I think it's one of those things--know your parallels and perpendiculars that makes your machine safe and you're fine.
But you are right--do you want to trust just anyone with it? Probably not.
---
3/19 #19: What is the sketchiest thing you've ...

About 10 years ago we had just moved into a new location. There was a lot of odd constuction projects going on, and a number of temporary workers who were not around for long. I had sent one "downstairs to get a 2x4", and he was gone for a long time. I went to check on him and he was standing at the table saw, ready to make a cut. He was on the outfeed side of the table, with the throat plate removed and the sawblade fully raised and running. I was able to grab him just before he fed the board into the wrong side of the spinning blade. When questioned, he said he could not find a 2 x 4, and was going to make one. He was holding a board of 8/4 x 6" wide teakwood, which was "too wide". Close call. Everyone needs training, even if they claim to have experience!
---
3/19 #20: What is the sketchiest thing you've ...

Come on Scott, you should have grabbed a video camera for that one!
Body cameras required for all shop personnel just for such an event!
That would rank up there with Zapruder film...
8/4 teak, no throat plate, feeding from the back of the saw-new land speed record
---
3/20 #21: What is the sketchiest thing you've ...

HAH! Jim! I keep thinking I need to pull out the iphone video camera and just document the stupid. For academic reasons, of course....
But wrong side of the blade, I wonder if that would result in the slap stick classic equivalent of stepping on a rack and getting the handle in the face? I seriously wonder how that would go--back blade tooth means force is upwards. Any chance you can get this guy back in the shop for further research? ;)
---
3/20 #22: What is the sketchiest thing you've ...

What would happen? Based on experience with kickbacks and flying wood parts, the board would have launched almost straight away from the operator (standing on the wrong side) at an angle between 15 and 25 degrees above the plane of the table. The blade will start to make a cut, but then the feed speed and upward direction of the blade will combine to both raise and self-feed the wood part. within milliseconds the blade will take larger and larger bites, grabbing the board and accelerating it, depending on how heavy the board is and how much traction the blade can get. The biggest danger would be whether he would be able to let go of the part before it pulled his body into danger, after that it becomes whether the board would richochet off the wall or something else and strike someone. I had estimated before that kickbacks happen at around 90 to 120 miles per hour, and have even seen someone calculate this out. People have told me "Oh I can get out of the way". Not a chance.
---
3/22 #24: What is the sketchiest thing you've ...

Oh right! Forward feed force would suck you in, indeed.
I also got a similar range on speed when I calculated it out, but my upper range was in the 140 mph area, but that is of course depending on horse power.
I love that anyone could think they could even have time to do anything about that on the fly.
Rule of thumb that I like, is when you are performing any machine operation, imagine the stock magically disappears, and think about where your hands are at that momment.
BTW I wish I could make the whole world stop manually pressing stock into dado cuts right over the blade. Feather boards, dudes, feather boards. "Pain in the ass thing to do" is actually 2 minutes of time.
---
3/22 #25: What is the sketchiest thing you've ...

I now realize I have too many responses to your question..... Here is one that shows some people should not be allowed around a table saw.
I once worked for a commercial contractor that started his own wood shop to supply his and other jobs. They would get into some ratty old building and pay low wages to 'apprentices' to tear things out, and build some rudimentary walls and such.
A 10" Sears table saw was on one site and giving them enough problems that the project manager called and demanded I come down to fix it, though it was far from my job description. I asked what the problem was and he said the blade kept coming loose.
When I got there, in the center of a small group of head scratchers was the offending saw. First thing I noticed was that the blade was mounted backwards. I asked them to turn it on. The blade was turning the wrong direction, as a result of the motor rotation being incorrect. Because of this, they had compensated (term?) by mounting the blade backwards and feeding stock into the saw from the back of the machine. This made the blade come loose, of course. Yes, they even walked around to the 'back' of the saw, actually the front, to set the fence, and used the fence on the wrong side of the blade. All this, and it never dawned on any of them what was really wrong.
Turns out it all started when the company electrical apprentice reversed the motor rotation since he thought it wrong to feed the wood into the rotation. The first guy to use the saw, standing in the 'correct' position, had it grab a piece and jerk it from his hands, shooting it across the room, so they all went to the other side. Logical enough, eh?
---
3/22 #26: What is the sketchiest thing you've ...

Woah!!! Now that is completely nuts... I'm putting that one up for the big ribbon winner.
I marvel the most at the guy that had the capacity to reverse motor direction on a machine, yet somehow has no clue about something as basic as directional force.
Or perhaps this man is a genius--it's not a table saw anymore, it's The Lumber Launcher. Inventors convention, here we come. Bring some targets to hang on the wall for our lumber shooting pleasures. Or some sick new variant of dodge ball ;)
---
3/22 #27: What is the sketchiest thing you've ...

Okay, last one.
A former boss, one of the worst I ever encountered, was often complaining about various costs. One day it was the 3'-4' diameter bundles of rippings that came off the ripsaw for the molding operation. We generated a bundle about every 12-16 hours, so they could pile up. We would eventually load a flatbed and take them off to the dump, after hoping someone would cart them away for kindling or whatever.
The owner also owned a concrete company, so one day he shows up with a few guys and they proceed to build up a big formwork that is eventually filled with concrete and re-bar to make 10" thick walls. They make a 6' x 18' x 10' tall open top box of concrete on a pad in the lumberyard. Two 8"x 10" 'draft' holes below, with three 3/8" x 6' x 6' sheet iron lids on hinges of a sort to cover the top. And a 20' tall chimney with an 8"x8" flue. It is an incinerator of epic proportions, detailed out by a man that started his cocktail hour at about 8;30 in the morning.
A few days later, it was time for a test run. I suggested a small bundle to see how it works, he laughs and said to fill it up. We did, and he lit the match through one of the draft doors. It smoked and smoldered for a bit, then it started to spread, and spread, and then roar, and smoke and roar louder, and smoke so intensely that the flue looked like a jet engine gone bad. Thick gray smoke poured out at high velocity. The vents below were loudly, ominously, sucking in air, so he shut them down to limit the draft. Everyone was backing up. 10', 20', 40' and then more. The sheet steel lids curled like potato chips and let more air in. The fire department showed up, alerted by many calls the "lumber yard was on fire". It was like watching a small volcano erupt.
Keep in mind all this is taking place in one of the largest lumber retail yards in the State – 14 acres of softwoods in open sheds, as well as warehouses full of wood products, without a sprinkler or even a pond in sight.
Panic crossed his face, as it already had on everyone else's', but he stood firm, and refused to put it out. Good thing, since there was nothing but a now very ineffective looking wall mount fire extinguisher on hand. No hose, no nothing else. He held the firemen at bay. He hardly flinched when the concrete (yes, it was green, with lots of water in it) cracked with the sound of stone torn asunder. Then again and again, popping and snapping.
He stood there for hours before he left, watching the smoke curl up into the sky. The next day, before sunup, he had a crew there to haul away the failed experiment. They succeeded in getting it all out except for the black burns deep in the pavement. This they sawed and hammered out and re-poured in the next 2 days, until all trace was removed. Never to be spoken of again.

---
3/22 #28: What is the sketchiest thing you've ...

wait a sec---not sure i get it---why was it so ignitable? Are you saying he stuck his offcut bundles into the concrete structure??
So if we veer off woodworking for a bit but keep on the sketch talk.... I used to manage live event tours. Nothing exciting, mostly marketing events. So one day I get a gig on Vancouver Island to set up a bunch of massive tents. Owner sends me over with his cousin and brother, that I didn't know at the time.
2 5-ton trucks full of gear, two drivers, 2 workers. We show up, I go meet the client, they stay at the hotel, and they proceed to get phenomenally shit-faced.
Not just too many beers shit-faced, but like whiskey shit-faced. I come back so we can bring the trucks in to the venue, and they are a) too sloshed to work b) too sloshed to drive. But it's events--tight deadlines, and out of town at night--no chance for resources.
So I bring them to at least off load the gear at the venue, but they had to ride in the back of the 5 ton. They decided to have a fight-club style drunken brawl in the back while the truck is in motion. The clanging and banging was out of this world. I get to site, middle of the night, luckily no one there, and off leash these morons who are now not only drunk, but full of cuts and bruises.
Then I had to grab a cab to go and get the other truck. I left these two idiots to off load, knowing this could only get worse, but too young and too freaked out to know what one even does with this. Came back to an off loaded truck to my surprise.
We somehow pulled off the show, on time at that, but what it took. And the phone call to the owner to explain that we are banned from the hotel and he has extra cab fees and bruised up relatives--not fun.

---
3/24 #29: What is the sketchiest thing you've ...

Not at my shop, but harvested from a machinery shopping trip. PPE required. Self explanantory.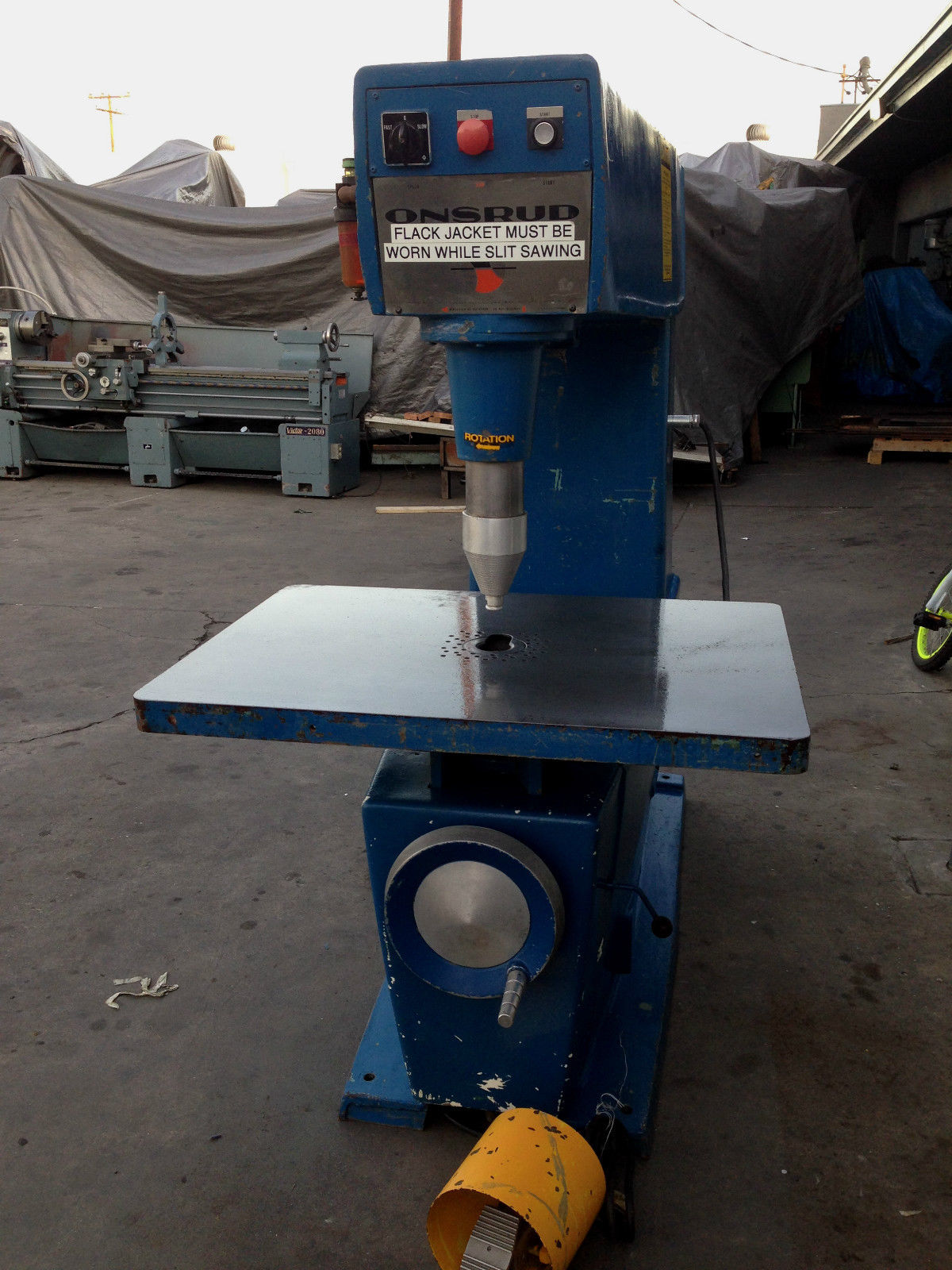 View higher quality, full size image (1200 X 1600)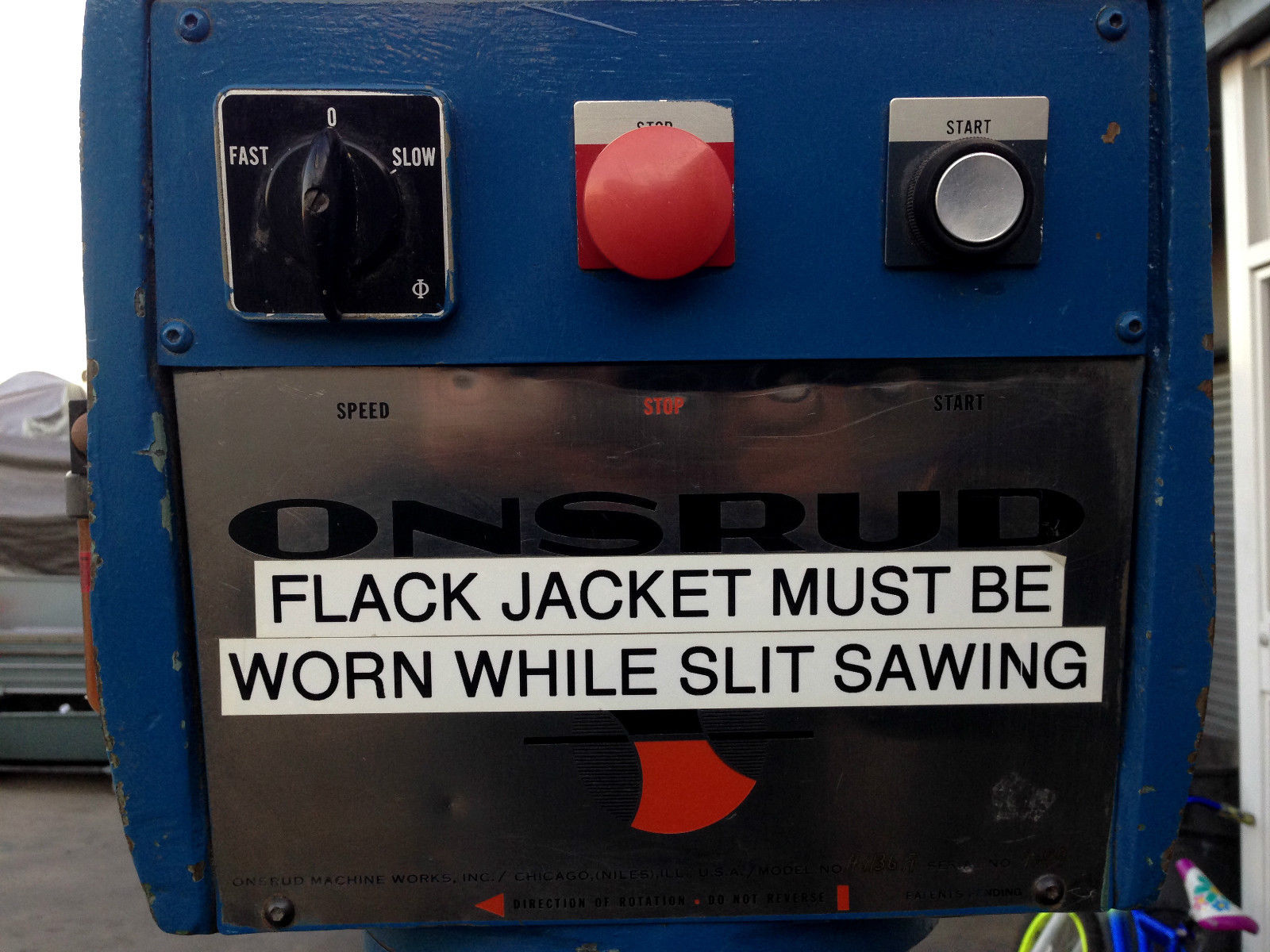 View higher quality, full size image (1600 X 1200)

---
3/26 #30: What is the sketchiest thing you've ...

Holy beast! What is it exactly?
---
3/27 #31: What is the sketchiest thing you've ...

This machine is a pin router. It can be used for many types of pattern work, shaper work, etc. Usually they have 2 speeds, 10,000 and 20,000 rpm. I am assuming that they were using some kind of thin sawblade type tool that was appropriate for the speed, but this type of thing is difficult to guard, and if you lft or mishandle the wood part you were cutting you could probably destroy the saw blade, which might then come to visit you. Even a small blade 3" or 4" diameter could be quite dangerous here. The table is approximately the height of your stomach.
---
3/28 #32: What is the sketchiest thing you've ...

Woah!! Man alive, a blade on that thing??
Sometimes I feel like the whole world has gotten way to overcautious ("This school is a peanut free zone!") but then I look at trades and remember that there are some pretty insane mofos out there :)
What are you going to use it for?
I have a full shop of salvages at home. I once worked for a manufacturer and decided after to never buy anything new again. Except maybe food and underwear.
---
12/26 #33: What is the sketchiest thing you've ...

Maybe not sketchy, maybe not insane, but foolish and stupid-
I set up a shaper, set the fence for the cut, checked the spindle speed and got called to the phone; came back, checked it all again, threw the power switch, turned on the machine and very slowly eased a piece to the cutters to check the cut. When it hit the knives, it grabbed HARD (and I had a Death Grip on it, pucker factor is high on test cuts) and a piece of 2x2x 6" stock flew across the room and hit a co worker in the shoulder, drawing blood. Seems that a smart ass had reversed the shaper while I was on the phone, thinking it would burn the wood and mystify me. Ted, the guy that got hit went after him and we had to pull him off. I've double/triple checked rotation since.
Another one, dumb on my part, was using a thick push block to run and rip long- 4'+ - glass stops. I eventually plowed a groove in the block bigger than the stop and I heard a zzzzip! and a stop shot out under the push block and through the 1/2"back of a cabinet I was working on and stuck in the wall behind. I now keep my push sticks and blocks appropriately sized.
And of course, I've seen the use of dado heads with no throat plates, two handed crosscutting- no miterbar or sled- on a tablesaw and freehanded ripping. Worst I remember was a guy that tried to stack 6 12" blades on an RAS.He hit the switch and the saw caught the fence, jumped over and slammed into the end of the carriage, smashing the stop and almost coming free to fall to the bench. I didn't see it happen, just saw the saw head jammed into the mangled arm stop.
.
---

---
Buy & Sell Exchanges | Forums | Galleries | Other Resources | Site Map
---



Buy and Sell Exchanges



Job Opportunities and Services Exchange
Employment opportunities and services within the woodworking industry

Lumber Exchange
A worldwide buy/sell exchange for lumber and wood products

Machinery Exchange
A worldwide buyer and seller exchange for woodworking machinery and equipment.

Classified Ad Exchange
Classified advertising for the woodworking industry (for advertisements that do not include machinery, lumber products and employment listings)


---



Forums



Adhesives Forum
Discussing topics related to adhesives within the woodworking industry

Architectural Woodworking Forum
Discussing quality standards and production of architectural wood products

Business and Management Forum
A forum for the discussion of business topics: from sales and marketing to dealing with difficult customers.

Cabinet and Millwork Installation Forum
Discussing all aspects of installation issues encountered by cabinet and millwork installers.

Cabinetmaking Forum
Discussing 32mm and face frame cabinet construction including fabrication, casegoods design, and installation.

CAD Forum
Shedding light on the all-too-often shadowy world of CAD.

CNC Forum
Discussing CNC (computer numerically controlled) woodworking equipment, software, and automated product manufacturing.

Dust Collection, Safety and Plant Operation Forum
Discussing topics related to maintaining a safe and productive working environment.

Professional Finishing Forum
Finishing issues for the production environment

Forestry Forum
The science and art of forest cultivation and timber management, planting, surveying, tree diseases, silviculture and timber harvesting

Professional Furniture Making Forum
Helping professional furniture makers improve quality, save time, and increase profits

Laminating and Solid Surfacing Forum
Issues related to laminating and solid surface materials and processes

Commercial Kiln Drying Forum
Discussions covering issues faced be commercial drying operations that process at least 750,000 bd. ft. of lumber per year

Sawing and Drying Forum
Discussing topics related to primary processing and drying of lumber

Solid Wood Machining Forum
Discussing topics related to the machining of solid wood

Value Added Wood Products Forum
Learn how to improve your output, find new markets, and boost sales of your lumber products

Veneer Forum
Discussing topics related to veneer processing, manufacturing, and fabrication

WOODnetWORK
An electronic discussion group for woodworkers throughout the world


---



Galleries



Project Gallery
Where professional woodworkers can post examples of their work

Sawmill Gallery
Professional primary processing companies display and describe their sawmill facilities

Shop Gallery
Professional woodworkers display and describe their shop facilities, products and equipment

Shopbuilt Equipment Gallery
Professional woodworker's jigs, rigs, and shopbuilt equipment


---



Other Resources



Industry News
Late-breaking news from all sectors of the wood industry

Video Library
Index of industrial woodworking related digital videos on the web

Auctions, Sales and Special Offers
Advertisers offering woodworkers discounted prices on good and services, and announcements of upcoming auctions


FORUM GUIDELINES: Please review the guidelines below before posting at WOODWEB's Interactive Message Boards
(return to top)
WOODWEB is a professional industrial woodworking site. Hobbyist and homeowner woodworking questions are inappropriate.
Messages should be kept reasonably short and on topic, relating to the focus of the forum. Responses should relate to the original question.
A valid email return address must be included with each message.
Advertising is inappropriate. The only exceptions are the Classified Ads Exchange, Machinery Exchange, Lumber Exchange, and Job Opportunities and Services Exchange. When posting listings in these areas, review the posting instructions carefully.
Subject lines may be edited for length and clarity.
"Cross posting" is not permitted. Choose the best forum for your question, and post your question at one forum only.
Messages requesting private responses will be removed - Forums are designed to provide information and assistance for all of our visitors. Private response requests are appropriate at WOODWEB's Exchanges and Job Opportunities and Services.
Messages that accuse businesses or individuals of alleged negative actions or behavior are inappropriate since WOODWEB is unable to verify or substantiate the claims.
Posts with the intent of soliciting answers to surveys are not appropriate. Contact WOODWEB for more information on initiating a survey.
Excessive forum participation by an individual upsets the balance of a healthy forum atmosphere. Individuals who excessively post responses containing marginal content will be considered repeat forum abusers.
Responses that initiate or support inappropriate and off-topic discussion of general politics detract from the professional woodworking focus of WOODWEB, and will be removed.
Participants are encouraged to use their real name when posting. Intentionally using another persons name is prohibited, and posts of this nature will be removed at WOODWEB's discretion.
Comments, questions, or criticisms regarding Forum policies should be directed to WOODWEB's Systems Administrator
(return to top).

Carefully review your message before clicking on the "Send Message" button - you will not be able to revise the message once it has been sent.

You will be notified of responses to the message(s) you posted via email. Be sure to enter your email address correctly.

WOODWEB's forums are a highly regarded resource for professional woodworkers. Messages and responses that are crafted in a professional and civil manner strengthen this resource. Messages that do not reflect a professional tone reduce the value of our forums.

Messages are inappropriate when their content: is deemed libelous in nature or is based on rumor, fails to meet basic standards of decorum, contains blatant advertising or inappropriate emphasis on self promotion (return to top).

Libel: Posts which defame an individual or organization, or employ a tone which can be viewed as malicious in nature. Words, pictures, or cartoons which expose a person or organization to public hatred, shame, disgrace, or ridicule, or induce an ill opinion of a person or organization, are libelous.

Improper Decorum: Posts which are profane, inciting, disrespectful or uncivil in tone, or maliciously worded. This also includes the venting of unsubstantiated opinions. Such messages do little to illuminate a given topic, and often have the opposite effect. Constructive criticism is acceptable (return to top).

Advertising: The purpose of WOODWEB Forums is to provide answers, not an advertising venue. Companies participating in a Forum discussion should provide specific answers to posted questions. WOODWEB suggests that businesses include an appropriately crafted signature in order to identify their company. A well meaning post that seems to be on-topic but contains a product reference may do your business more harm than good in the Forum environment. Forum users may perceive your references to specific products as unsolicited advertising (spam) and consciously avoid your web site or services. A well-crafted signature is an appropriate way to advertise your services that will not offend potential customers. Signatures should be limited to 4-6 lines, and may contain information that identifies the type of business you're in, your URL and email address (return to top).

Repeated Forum Abuse: Forum participants who repeatedly fail to follow WOODWEB's Forum Guidelines may encounter difficulty when attempting to post messages.

There are often situations when the original message asks for opinions: "What is the best widget for my type of shop?". To a certain extent, the person posting the message is responsible for including specific questions within the message. An open ended question (like the one above) invites responses that may read as sales pitches. WOODWEB suggests that companies responding to such a question provide detailed and substantive replies rather than responses that read as a one-sided product promotion. It has been WOODWEB's experience that substantive responses are held in higher regard by our readers (return to top).

The staff of WOODWEB assume no responsibility for the accuracy, content, or outcome of any posting transmitted at WOODWEB's Message Boards. Participants should undertake the use of machinery, materials and methods discussed at WOODWEB's Message Boards after considerate evaluation, and at their own risk. WOODWEB reserves the right to delete any messages it deems inappropriate. (return to top)



Forum Posting Form Guidelines

Your Name
The name you enter in this field will be the name that appears with your post or response (return to form).
Your Website
Personal or business website links must point to the author's website. Inappropriate links will be removed without notice, and at WOODWEB's sole discretion. WOODWEB reserves the right to delete any messages with links it deems inappropriate. (return to form)
E-Mail Address
Your e-mail address will not be publicly viewable. Forum participants will be able to contact you using a contact link (included with your post) that is substituted for your actual address. You must include a valid email address in this field. (return to form)
Subject
Subject may be edited for length and clarity. Subject lines should provide an indication of the content of your post. (return to form)
Thread Related Link and Image Guidelines
Thread Related Links posted at WOODWEB's Forums and Exchanges should point to locations that provide supporting information for the topic being discussed in the current message thread. The purpose of WOODWEB Forums is to provide answers, not to serve as an advertising venue. A Thread Related Link that directs visitors to an area with inappropriate content will be removed. WOODWEB reserves the right to delete any messages with links or images it deems inappropriate. (return to form)
Thread Related File Uploads
Thread Related Files posted at WOODWEB's Forums and Exchanges should provide supporting information for the topic being discussed in the current message thread. Video Files: acceptable video formats are: .MOV .AVI .WMV .MPEG .MPG .FLV .MP4 (Image Upload Tips) If you encounter any difficulty when uploading video files, E-mail WOODWEB for assistance. The purpose of WOODWEB Forums is to provide answers, not to serve as an advertising venue. A Thread Related File that contains inappropriate content will be removed, and uploaded files that are not directly related to the message thread will be removed. WOODWEB reserves the right to delete any messages with links, files, or images it deems inappropriate. (return to form)